The Freedmen's Bureau bids a triumphant farewell
Their final show left no eyes dry, uniting their community one last time.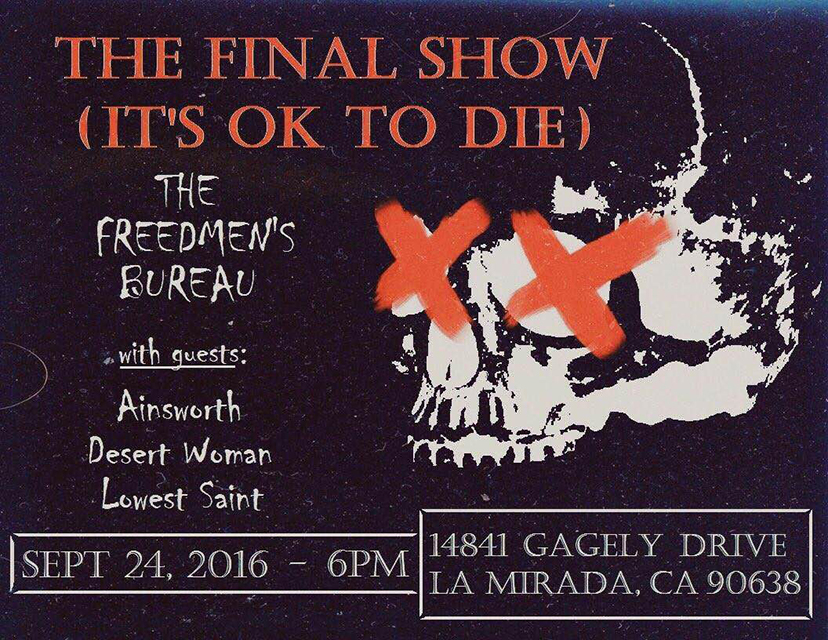 Maxwell Heilman, Writer
September 27, 2016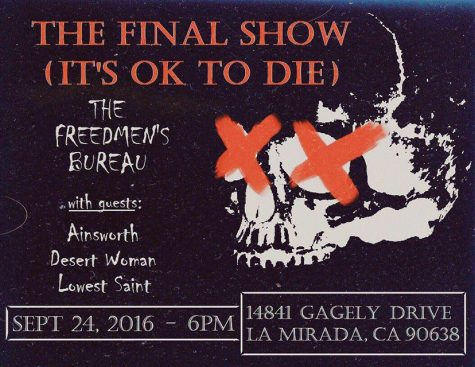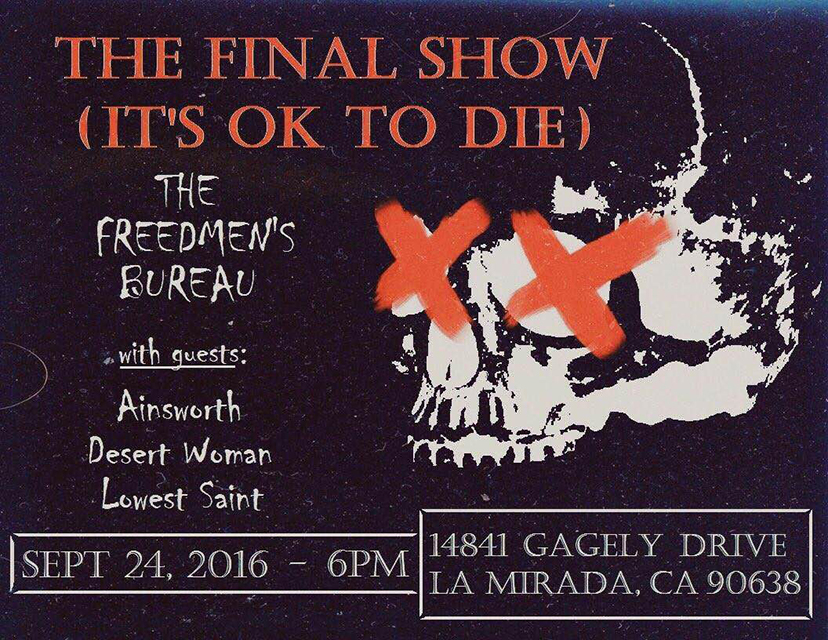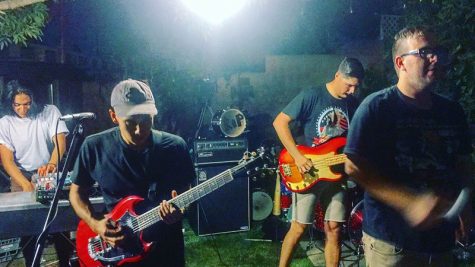 Image 2: Maxwell Heilman/ THE CHIMES
"It all ends right here! Right now!" yelled Ryan Kozycz, junior philosophy major, as he stood on his drum throne. He then counted into the final energetic explosion of "You'll Be Dead," sending almost 100 people circle-pitting around his drum set.
The Last Hurrah
Titled "It's Ok To Die," The Freedmen's Bureau's last hurrah closed a four-year journey for the band and their fans. Originally formed as a one-shot backing band for the spoken word of an enigmatic man named "Skittles" on May 16, 2012, the collective added members and became its own entity. While preserving the spoken-word element, they incorporated The Chariot-style hardcore, anthemic post-rock and Star Wars-themed song titles into a truly unique sound and aesthetic.
With a built-in audience provided by certain members' affiliation with Biola, TFB's sporadic shows garnered attention for their raw emotion and intensely communal presence. Even so, many who arrived this past Saturday for the band's last performance had never seen them before. An unforgettable performance awaited them.
A Reconvening Family
Scheduled for 6 p.m. at the home of Biola alumnus DJ Cortez of longtime lineup buddies Desert Woman, the show started much later simply because the community TFB fostered enjoyed interacting so much. TFB keyboardist Micah Cortez embraced this, saying house shows feature an indubitable sense of brotherhood and sisterhood. Indeed, many audience members only see each other within this context, a reconvening family of likeminded people finding common ground in genuine music.
TFB members Israel Cortez and Joey Aurelio performed singer-songwriter sets before Desert Woman set up to play. Their tightly executed amalgamation of indie rock and surf punk got the crowd moving. Often playing shows with TFB in the past, their straightforward sensibility provided the perfect foil for the headliners' eclectic influences. Vocalist and guitarist Kelsie Grissom gave the set accessible melodic sensibilities which Greg Poblete, DJ and Derrick Cortez transitioned in and out of numerous feels. The members of TFB showed a lot of support for the opening acts, as they do for all of the bands they play with. Their evident love of music and the bonds formed through it illustrates why their fans see them as so much more than a band.
An Indescribable Connection
After Desert Woman finished their set, tension in the crowd grew as they anticipated the coming songs. Kozycz played an appropriately inspiring sample through a laptop before the most impassioned set of The Freedmen's Bureau's existence began. As the center of the audience immediately erupted into a chaotic mosh pit, the band played songs of internal turmoil, theological dialogue and ultimately existential joy.
Whether the aggressive hardcore leanings of "This One's Got a Bad Motivator" or the reverent melodies in "They're Only Younglings" came into play, an indescribable connection between audience and band electrified the neighborhood. Even their facetious cover of "Handlebars" had the crowd singing louder than the PA and grabbing the microphone. Josh Kozycz's impassioned delivery over massive arrangements effortlessly transcended the norms of expression, reaching heart wrenching sublimity. Members fed into the crowd's energy, imparting the message of love they have expressed since their inception.
The crowd-shout finale truly encapsulated the impact The Freedmen's Bureau had on everyone exposed to them, as band and audience alike raised their voices in jubilant abandon. The disbanding of local musicians that may never reach the recognition they deserved cannot diminish what they meant to those who came to the shows and joined in the joyful noise.