Five films to "fall" for
With the Oscars coming quickly, Oscar bait will loom over theaters in the coming season.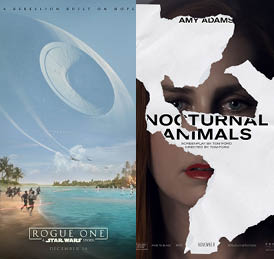 After a barrage of blockbuster brain mutilators consumed the summer, fall brews film festival intrigue from the sticky heat. This warrants the arrival of what many film critics call "Oscar bait." Despite its negative connotation, "Oscar bait" alludes to Oscar quality. These 10 films generate excitement as pumpkin spice lattes hit the back of your throat and dead leaves crunch beneath your feet.
"Goat"- A film of this magnitude exhibiting the dark side of fraternities has never made it to the silver screen. Alternatively, movies like "American Pie" and "Neighbors" have graced theaters the past 15 years, underlining the sexuality and alleged humor of frats. "Goat" debuts as the first of its kind. Director Andrew Neel presents a psychological examination of hazing and all Greek-life related activity. When "Goat" initially premiered at the Sundance Film Festival earlier this year, many praised it for its vulnerable look at sociological masculinity. The inclusion of Nick Jonas makes this film even more compelling with his leading role as Brett Land in this college drama, hopefully elevating his career once the film releases Sept. 23, 2016.
"Nocturnal Animals"- Releasing Nov. 23, 2016, this film's immaculate premise seems airtight. Susan Morrow, played by Amy Adams, receives a cryptic unpublished novel from her ex-husband, played by Jake Gyllenhaal, containing dark mysteries about their severed marriage. Rumors from the Toronto Film Festival say the project's surreal ambience compares to David Lynch's "Mulholland Drive." After his successful directorial debut with 2009's "A Single Man," Tom Ford returns to direct this romantic thriller. With a talented and a loaded cast, pre-screening audiences already see Amy Adams as Oscar material.
"Billy Lynn's Long Halftime Walk"- Ang Lee exudes mastery of filmmaking, specifically going against the grain by courageously examining corruption within traditional American life as seen in "Brokeback Mountain." Yes, "Billy Lynn's Long Halftime Walk" seems like a war movie, but Lee's affinity for exposing traditional fallacies gives this film potential beyond the cliched patriotism of "Zero Dark Thirty" and "American Sniper." Lee's film hits theaters on Nov. 11, 2016.
"Doctor Strange"- This film has "summer blockbuster" written all over it. However, neither Sony nor DC have their hands on this project. Marvel has a slew of successful releases under their belt, providing confidence in Benedict Cumberbatch's charming take on Strange's character, as well as Tilda Swinton and Mads Mikkelsen's respective rolls. This superhero flick looks like Marvel grabbed a hold of Christopher Nolan's "Inception" and made it their own with Biola alumnus Scott Derrickson as the mastermind behind this hopeful success. The Marvel epic will open Nov. 4, 2016.
"Rogue One: A Star Wars Story"- This is inevitably the most anticipated film of the whole year. Director Gareth Edward's addition to the influential film franchise will center around the resistance as they embark on a dangerous mission to steal the Empire's Death Star plans. "Rogue One: A Star Wars Story" poises itself for success. The trailers live up to expectations with each glimpse of beautiful cinematography and effects. Edwards will not have to worry about staying true to a storyline preluded since 1977 due to extensively reshooting and the film. This film should cater to newer fans and provide enough nostalgia for die-hards. To add the cherry on top, the film features the star-studded cast of Felicity Jones, Forrest Whitaker, Mads Mikkelsen and even James Earl Jones as the iconic voice of Darth Vader. The next chapter of a truly prestigious film franchise will release on Dec. 16, 2016.