Mug meals in seconds
Meals like an egg muffin, a pizza and a chocolate brownie easily downsize into a mug in a matter of seconds.
Although people prefer mugs to enjoy coffee or tea, meals in a mug are just as enjoyable. A mug makes it easy for one person to cook a meal, fast than it takes to order a pizza. Take into consideration those late movie nights with friends when stomachs eventually plead to be fed. Mug cooking provides a fun and unique way for a group of friends to take a movie break and treat themselves to a subtle meal. Whether you experience late-night food cravings, or you enjoy making small, portioned meals, these mug recipes are your best interest.
For each recipe, you need to have a microwave and a microwaveable mug. The process for each mug meal requires the combination of ingredients given. Constant stirring needs to be completed before microwaving. However when it comes to the egg-mug muffin, be sure to make a well in the center of the batter with a spoon for an egg to be cracked.
For each recipe, place the mug into the microwave. For each meal, timing can vary from 50 seconds to one minute and 30 seconds. You must be sure to keep an eye on your mug while in the microwave so it does not overcook or overflow. Enjoy your meal while it is hot.
1. Egg-mug Muffin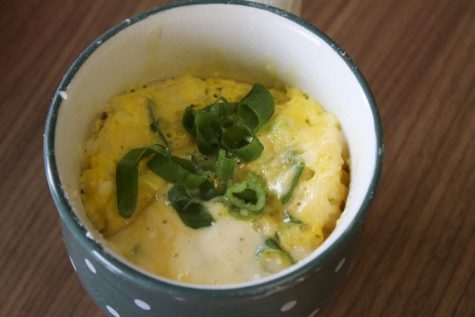 Becky Mitchell/THE CHIMES
5 tablespoons all-purpose flour

¼ teaspoon baking powder

⅛ teaspoon baking soda

⅛ teaspoon salt

2 tablespoons milk

2 teaspoons vegetable oil or melted butter

2 tablespoons egg

1 tablespoon grated cheddar cheese

1 tablespoon chopped scallions

1 small egg
2. Pizza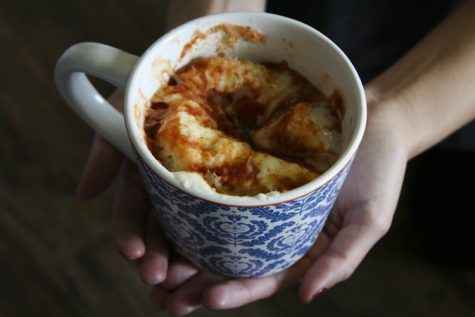 Becky Mitchell/THE CHIMES
4 tablespoons all-purpose flour

⅛ teaspoon baking powder

1/16 teaspoon baking soda

⅛ teaspoon salt

3 tablespoons milk

1 tablespoon olive oil

1 tablespoon marinara sauce

1 tablespoon shredded mozzarella cheese

Mini pepperonis

½ teaspoon dried italian herbs (basil or oregano)
3. Chocolate Brownie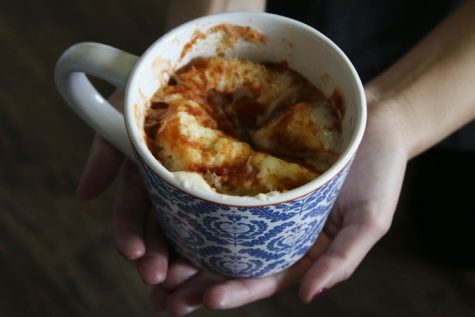 Becky Mitchell/THE CHIMES
3 tablespoons all-purpose flour

3 tablespoons brown sugar

3 tablespoons Cocoa Powder

3 tablespoons flavorless oil (canola oil/ coconut oil/ sunflower oil)

3 tablespoons water

⅛ teaspoons salt

½ teaspoon vanilla extract

2 teaspoon chocolate chips