Rap rock beyond Limp Bizkit
These five collaborations give overlooked insight into the polarized movement.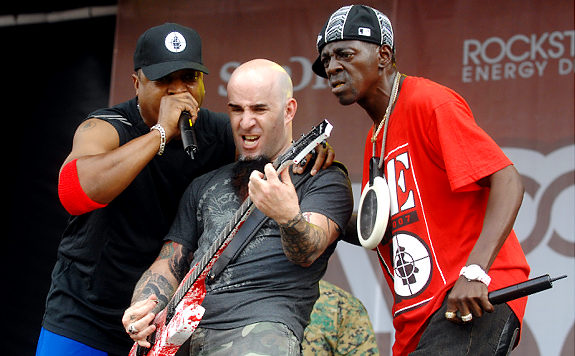 The release of Hacktivist's "Outside the Box" proved the fusion of rap and rock does not have to be atrocious. This was not the case in previous decades. Rap rock has garnered a reputation for pandering to the lowest common denominator of artistic consumers. The scars left by the likes of Limp Bizkit and Disturbed may have distorted the general perception of this amalgamation, but it has produced great things for decades. Listed below are five wonderfully successful collaborations between legendary rock/metal bands and established rappers.
This is easily the most digestible collaboration on face value. The intrinsic connection they have is heard when listening to either of these artists by themselves. Biohazard's New York hardcore groove sported undeniable street smarts, providing a perfect backdrop for the aggressive flow of Onyx. I only have a gripe with the song's excessive use of "HUHs."  I am admittedly less inclined towards this more chest-beating approach. However, I certainly see how seamlessly it was created, and its importance to the legitimization of rap rock.
Teenage Fanclub & De La Soul — "Fallin"
Holding up the relaxed end of the spectrum, Scottish alt-rock and jazz tinged rapping bring a decidedly uplifting mood to the table. Complete with a campfire song-style melody over lackadaisical rhymes, this song accentuates the most feel-good aspects of both genres. This is not music for partying hard or breaking things. It would best be enjoyed during a long walk on the beach, or in every respectable roadtrip playlist. Anyone with a heart could not help but crack a smile while listening to it.
As Faith No More cross-pollinated metal, funk and hip-hop, Boo-yaa T.R.I.B.E. brought rock instrumentation to their sample driven scene. It is no surprise a partnership between the two bands yields amazing results. Each musician brings their unique flare to the mix, whether maniacal screams contrasted with tough-as-nails flow or ominous piano chords juxtapositioned with first pumping groove metal.
Dillinger Escape Plan & Jarren Benton — "Rage"
Mathcore and Hip-Hop? It is not as weird as it sounds. DEP puts their controlled chaos through the filter of Benton's brand of horrorcore, which Benton uses to his advantage. Lopsided flow complements lurching instrumentals, creating a completely alien yet strangely catchy sound. I am especially impressed by Benton's ability to deliver comprehensible lyrics over such a pandemonious backdrop. "Rage" presents a disorienting assault from the initial guitar stabs to the concluding guitar solo.
Even the most hardened music elitists have to tip their hats to this ultimate display of metal and rap meshing together. The thrash metal giants and hip-hop activists bring forth a truly cross-cultural masterpiece. This song could inspire slam dancing as easily as it could break dancing. It thrashes, it grooves, it completely rules. "Bring The Noise" showed the world the true potential of rap rock, becoming a milestone to which modern practitioners should aspire.