GameHäus Cafe for the win
The GameHäus Cafe offers a wide variety of games and good food.
The marvelous world of board games is available to all at the GameHäus Cafe.
BOOKSTORE FEEL
Since opening in 2013, the GameHaus has provided a unique place for anyone — from children to the elderly — to enjoy playing games in a homey ambiance.
Walking into this hole-in-the-wall you will see an array of people playing a large selection of games. At first it feels like you're walking into an underground dungeon where the dark metal shelves and red brick walls surround you. As you are more drawn in there is the "bookstore feel" where you could sit and relax all day.  No one is playing the same game, not because there are not enough to go around, but because there are so many — about 900 games — to choose from.
Though primarily for playing games, you cannot forget about the cafe part of GameHäus Cafe. The choices range from bakery treats, such as scones and pies, to savory items, such as paninis and cornmeal pizza. While there I had a quesadilla cut into perfect bite sizes for eating as you play your game.  
In order to play all the games you want, for as long as you want, you simply pay $5. Tuesdays thru Thursdays also offer a discounted rate after 4 p.m. for only $2. However, to simply enjoy the atmosphere and eat food there is no additional charge.
SHELVES UPON SHELVES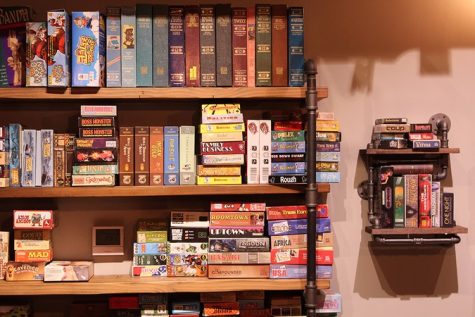 After browsing the shelves upon shelves of games, I decided to play Sherlock, which combines the games Clue and Jenga. Every time you make a guess as to who committed the murder, such as Mr. Green in the library with the rope, and you are wrong you have to pull a block out of the Jenga tower.
Playing Clue the normal way is something I could do all day long, but adding Jenga to the mix was hilarious. I simply cannot properly pull out a block, I must use both hands or risk toppling the entire tower constantly. Needless to say, Clue became a much more entertaining game after adding the Jenga feature.
Of course many options remain, including classic games like Monopoly and Connect Four, and strategy games, such as Ticket to Ride.
AN EVENING AWAY
If you are looking for a great way to spend an evening away from homework the GameHäus is a great place to try. The GameHäus is located at 1800 South Brand Blvd., #107 Glendale, Calif. and is open on Tuesdays through Thursdays from 11 a.m. to 11 p.m., Fridays and Saturdays from 11 a.m. to midnight and Sundays from 11 a.m. to 9 p.m.