Eagles take war out of Warriors
Biola men's basketball extend their winning streak to five games against the Westmont Warriors in dominant fashion.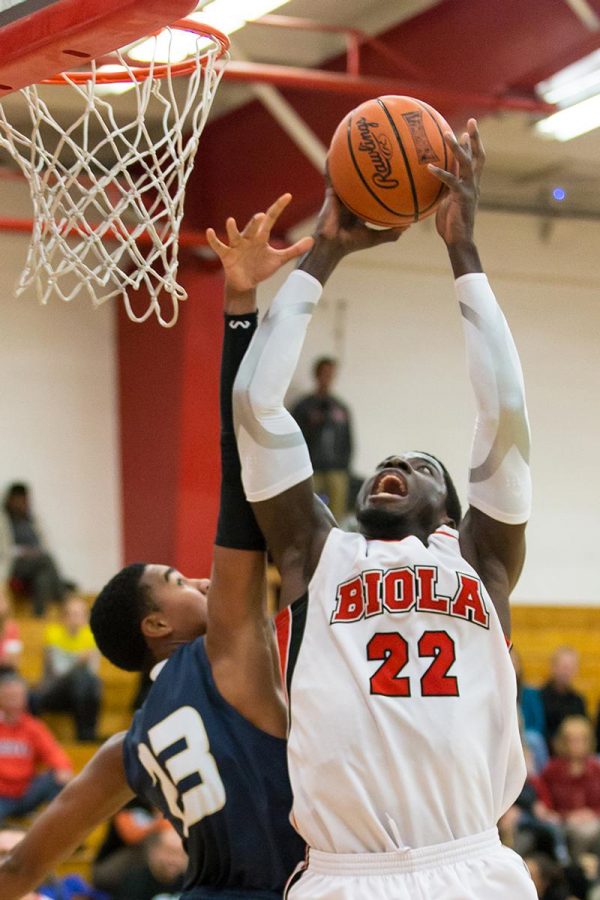 The No. 9 ranked men's basketball team got to a 16-0 start against the Warriors on Saturday. This victory was highlighted by a 17-point effort from junior power forward Jeff Gonzalez to secure a 69-50 victory and a season series sweep against the overmatched Westmont team.
The first half was dictated by Biola, as the defense headlined by sophomore power forward Steve Herve, made shooting the ball a living nightmare for the Warriors' offense. The defensive onslaught aided Gonzalez with numerous scoring opportunities to pull the Eagles ahead 35-14 at the half.
The Eagles got off to a slow start after halftime as the Warriors cut the Eagles' lead down to 11 points. However, the last eight minutes of the game were dominated by senior guard Caelan Tiongson. Tiongson scored 11 of his 15 points in that span to help pull the Eagles away at the end.
Tiongson has been a potent scoring option and spark off the bench the last three games, forming a formidable backcourt with junior guard Dakari Archer and senior guard Terrell Funches. Tiongson's scoring splits the last three games are comprised of 14, 14 and 15 point outings.
The Eagles were dominant in the paint, especially on defense as they accounted for 26 out of their 37 total rebounds, including eight from Gonzalez.
Free throw shooting was also a strength for the Eagles as they finished 18-19 behind the line, including 5-5 from Tiongson.
With the win, the Eagles move to 12-2 in Golden State Athletic Conference play and 24-3 overall.
Biola finishes off the regular season's road schedule against the Arizona Christian University Firestorm on Tuesday Feb. 16 at 7:30 p.m.
About the Writer
Kyle Kohner, Copy Editor & Office Manager
Amid his final year with the Chimes, Kyle is a four-year vet of the publication. Before this year, Kyle began his tenure like most at the Chimes—as a freelancer and an apprentice. He's also held positions as the online editor and the A&E staff writer in the past. He also demands that you all go watch the movie "Hereditary."

Hello there! My name is Kyle Kohner, born and raised in San Bernardino, California. I am a senior journalism student at Biola University and a self-proclaimed film...