Biola clips Hawks, extinguishes Flames
Women's basketball kicks off GSAC play with a comeback win against San Diego Christian and a victory over Bethesda University.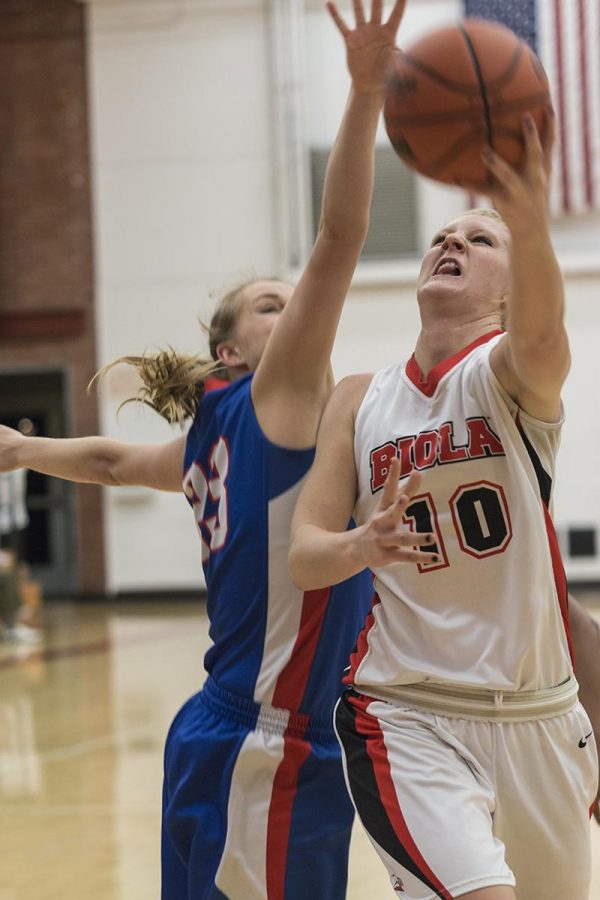 Biola women's basketball is off to a hot start. After Wednesday's win against Bethesda University of California and Saturday's win against San Diego Christian College on Dec. 5 and 9, the team stands at 7-3 overall. A lot of the due diligence can be given to the advancement of play sophomore guard DeMoria White displayed this season.
SOLID CONTRIBUTIONS
Accompanying White's play are the solid contributions from this year's freshman group including, forwards Sara Dougan and Emma Newman, who have been fighting through inexperience and have contributed significantly in the paint and the post.
Dougan was critical to Biola's last second come-from-behind win Saturday night, as she posted a block, rebound, assist and layup within the last two minutes of the game. Her assist became crucial when she passed the ball to White, who drained the game-winning jumper to drop their first GSAC "W" in the win column of the season.
Newman continued her solid play this season Wednesday against the Flames after coming off the bench in the third quarter. Newman tallied up 12 points and grabbed seven rebounds in the second half. Her great movement on the inside contributed in a huge way to Biola's 95-91 win over Bethesda. On the season, Newman is playing past her freshman label by averaging eight points and five rebounds on the year.
SATURDAY'S THRILLER
In his first year, Coach Nakamura has exemplified an ability to accommodate for the freshmen's inexperience and taking advantage of their talent in the paint.
One cannot talk about Biola women's basketball without mentioning White's name this year. On Saturday's thriller against the San Diego Christian College Hawks, White was the hero as she posted 19 points, none as important as her buzzer-beater. However, Wednesday not only showed White as a dangerous scorer after tallying 27 points, she has become a floor general, directing her teammates in the right spots to give them the best chances to score.
GAME-DECIDING MOMENT
The game-deciding moment against Bethesda happened with 53 seconds left. Down 86-88, White took a pass from Newman down the court and ran off 10 seconds, jolted towards the inside and made a layup. The play also resulted in White drawing a foul that eventually led her to make a free throw to take the lead 89-88. Biola did not look back and won 95-91.
"I knew we were down, we needed momentum, we needed energy to increase our tempo and flow of the game," said White. "Coach [Nakamura] told me to make a play and I did, and I could not explain the feeling when I knew it would be a three-point play."
The win over Bethesda foretold how fast Biola can learn from its mistakes, because the last time these two teams met it was a season opening blowout loss of 62-93.
Biola's next game will be a Golden State Athletic Conference matchup at home on Saturday, Dec 12 at 12:00 p.m. against Arizona Christian University.
About the Writer
Kyle Kohner, Copy Editor & Office Manager
Amid his final year with the Chimes, Kyle is a four-year vet of the publication. Before this year, Kyle began his tenure like most at the Chimes—as a freelancer and an apprentice. He's also held positions as the online editor and the A&E staff writer in the past. He also demands that you all go watch the movie "Hereditary."

Hello there! My name is Kyle Kohner, born and raised in San Bernardino, California. I am a senior journalism student at Biola University and a self-proclaimed film...