Christmas time is here
These favorite Christmas flavors can easily be made into easy treats.
Aili Acone-Chavez, Writer
December 9, 2015
With the Christmas season approaching, we will ring in the holiday season with a new and easy take on classic favorites. First, we will make an easy Gingerbread-Flavored Pull-Apart Monkey Bread with a spiced glaze that is to die for. Next we will explore an eggnog that is dorm-kitchen friendly. Lastly, we will make a Christmas latte that beats any festive drink at your local coffee shop.
Gingerbread-Flavored Pull-Apart Monkey Bread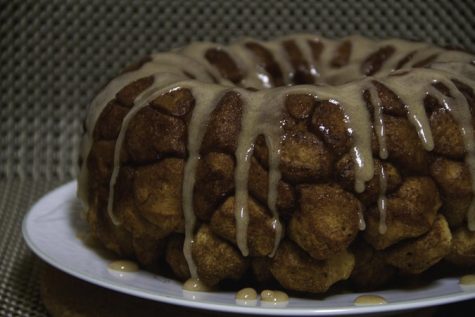 Aili Acone-Chavez/THE CHIMES
INGREDIENTS:
Bread:
4-7.5 oz. cans of Pillsbury biscuits
1 cup brown sugar (not packed)
1 tbs. pumpkin pie spice (1 tsp. cloves, 1 tsp. allspice, 1 tsp. nutmeg)
1 tbs. ground cinnamon
1 tsp. vanilla extract
5 tbs. melted butter
3 tbs. brown sugar
optional: 1 tbs. molasses (added to vanilla/butter/sugar mixture)
Glaze:
1/2 cup spiced powdered sugar (1/2 cup granulated white sugar + 1 tsp. pumpkin pie spice)
1 tbs. melted butter
1-2 tbs. milk
INSTRUCTIONS:
Preheat oven to 350*F and coat the inside of a standard bundt pan with butter.

Mix together sugar and spices in a medium bowl.

In a medium-sized bowl, mix together butter, vanilla, brown sugar and molasses. Microwave in 15-second increments until melted.

Open Pillsbury cans and use scissors to cut each biscuit into four pieces. Roll each piece of biscuit into brown sugar/spice mixture and place in bundt pan. Continue this process and drizzle butter mixture periodically on top of pieces already placed in pan.

Once this process is completed, place bundt pan on the middle rack of the oven and bake for approximately 40 minutes.

For the spice required for the Glaze, mix together ¼ tsp. ground cloves, ¼ tsp. ground allspice, ¼ tsp. nutmeg, and ¼ tsp. cinnamon to create pumpkin pie spice.

For the glaze, mix granulated white sugar and pumpkin pie spice, blitz in a coffee grinder until powdered. Pour powdered sugar into a bowl along with butter. Mix and add milk until the glaze coats the back of a spoon and drips in thick ribbons is reached.

Take the bread out of the oven and let cool for 5-10 minutes. Flip the bread over onto a plate and drizzle the top with glaze. Enjoy!
Homemade Eggnog
INGREDIENTS:
2 cups milk (1% recommended, but all types of milk work)
2 cups half and half (or cream)
3/4 cup white sugar
3 egg yolks
1 tsp. vanilla
5 whole cloves
3 whole allspice (crushed)
1 tsp. cinnamon
INSTRUCTIONS:
Combine milk, vanilla, cloves and allspice in a medium sauce pot and bring to simmer on low heat. Strain when boiling.

In a medium bowl, combine egg yolks, sugar and cinnamon. Whisk until pale and fluffy in texture.

Slowly add hot milk to egg mixture, whisking continuously. Pour mixture back into sauce pot, add half and half and cook over medium heat. Stir constantly and do not let boil. Cook until slightly thickened (3-5 minutes).

Strain nog into glass bottle and chill overnight. Taste and season accordingly (i.e. add more vanilla or spices if desired). Enjoy!
Christmas Latte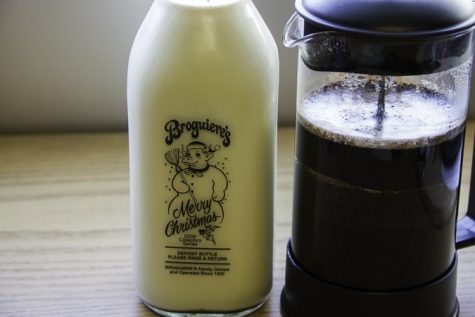 Aili Acone-Chavez/THE CHIMES
INGREDIENTS:
4 tbs. ground coffee
8-12 oz. boiling water
1/4 tsp. nutmeg
1/4 tsp. allspice
1/4 tsp. cloves
1/4 tsp. cinnamon
1-2 tbs. brown sugar
1/4 cup eggnog
INSTRUCTIONS:
In a French Press, add ground coffee, spices and boiling water. Brew for approximately 10 minutes.

Froth eggnog with electric foamer (or you may warm eggnog in the microwave for 20 second increments and whisk until reached desired consistency).

Pour freshly brewed coffee 3/4 full into large mug. Add 1-2 tbs. of brown sugar, depending on desired sweetness, and stir until sugar is dissolved. Pour frothed eggnog into black coffee. Drink up!