Costumes on a budget
Daryn Daniels recommends three original DIY Halloween costumes that won't break the bank.
Perhaps it is the faint hint of crispness in the air or maybe it is the mass amount of pumpkin pictures on Instagram — either way, the weather has reached the mid 80s and it finally feels as though Fall has arrived. Fall is a favorite season of many and for a vast amount of reasons — many of which you will discover do not actually exist in California — like the bright colored leaves falling from trees, hot pumpkin spice lattes and the ability to layer clothing 10 times over. However, the one thing about Fall, that California cannot take away, is Halloween.
If you are like me, you have been planning your costume and googling makeup tutorials since mid-June. However, if you are like any other normal human being in this world, chances are it has not even crossed your mind yet.
Well, consider me your fairy ghost-mother if you will, saving the day with these three D.I.Y. costumes ideas you most likely already have in your closet:
1. Forget Casper, there is a new ghost in town.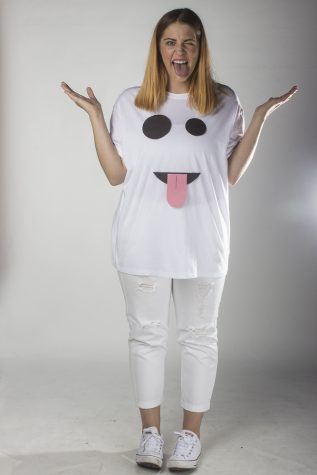 Based off of the ever-loved ghost emoji, this unisex costume is not only quirky and cute, it is unbelievably simple to make.
The traditional ghost costume includes a plain white sheet with some holes cut out, but this year we are giving it an upgrade — and better visibility. So swap out the sheet for a white t-shirt and jeans, or a plain white dress with white leggings and you are halfway there!
All that is left to do is make the face.  For this, you will need black and pink construction paper and scissors.
Out of the black paper, cut out one smaller circle for the left eye, one larger circle for the right. and one long watermelon slice shaped piece for the mouth. Then, grab the pink paper and cut out a rectangle piece with one side completely rounded for the tongue, this will then be attached to the black mouth piece. When you have everything cut out, you can either use a hot glue or tape to secure them onto your dress or shirt. Finally, finish it off by tossing on some white converse and  "Viola!" you have an entire costume in less than 15 minutes and $20 dollars. The only thing left to do is master your pose.
Hint: If you want to add a little extra to the costume, you can use white face paint and put baby powder on your hair to really get that ghostly glow.
Leggings: $4
Shirt: $8
Paper: $4
2. Frida Kahlo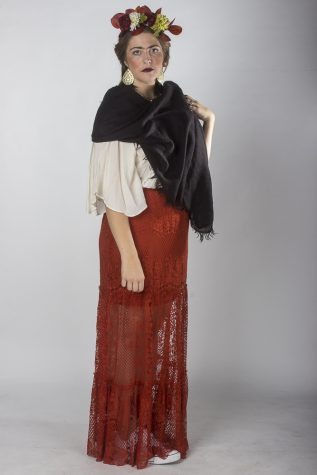 This one is for the art history buff and the funny girl alike. It is one of my favorite costumes because it gives you the opportunity to, not only, be both creative and comical, but also wear the same costume as Beyoncet. However, this one does requires a few more pieces than the last, but you can borrow almost everything.
First things first, you will need Frida's iconic flower crown. You can either go out, get the materials and create one yourself following a tutorial off Pinterest,, or you can buy one for around $5-10 from a store like Forever 21 or Claire's. They are super cheap and they have a good selection.
Next, grab a statement necklace and some drop earrings. Both of which can, again, be found at Forever 21, or in a friend's closet. The last thing you need for the costume is either a maxi dress or long skirt with a Spanish styled top and a scarf to wrap around your shoulders for the true "walking portrait" look.
Now that you have the outfit, the most important part is the hair and makeup. Milkmaid braids are the most accurate, however if your hair is too short, I suggest a low messy bun.
As far as makeup goes, keep the face natural, but go heavy on the blush and be sure to put on some dark red or burgundy lipstick. Last, but certainly not least, use a brown eyeliner or an eyebrow pencil to fill in that famous unibrow and subtle 'stache that makes Frida so recognizably Frida.
Necklace: $5.94
Earrings: $6.90
Top: $12
Scarf: $5.90
3. Risky Business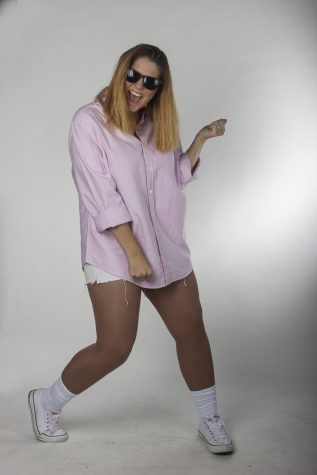 If you're someone who likes to put in the bare minimum when it comes to Halloween, look no further. Channel your inner Tom Cruise with this ridiculously simple and crowd pleasing classic. The best part? I can almost guarantee you have everything you need already in your closet. . . and if not, check Saver's. The essentials to make this look come to life are a pink men's button down shirt –  I found this one for only $8 at Target – some black sunglasses, white crew socks and white shorts in place of the classic tighty whities. Put it all together and you ready to rock n' roll.
Button Down: $11.99
Sunglasses: $1.99
Socks: $4.90
Shorts: $3.90