A Day in the Life: student repairs broken devices
After starting up his own tech repair business, junior Jonathan Schaumloeffel has big hopes for the future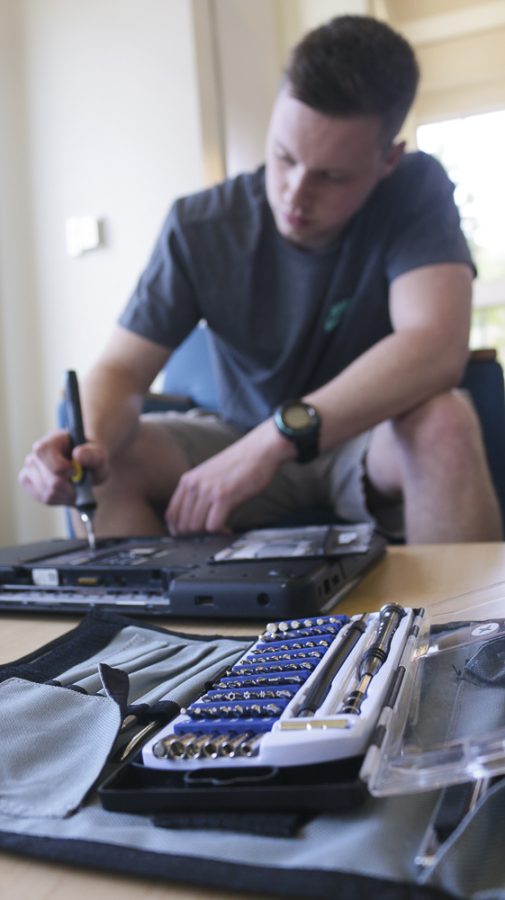 Elise Kelly, Writer
September 2, 2015
From cracked phone screens to slow computers, junior business major Jonathan Schaumloeffel can fix just about any problem the average technology user may encounter. Schaumloeffel started his own business on campus called Biola Tech Repair. The tech-savvy student started out by making small repairs for friends and floor mates before he realized they could use their knowledge to help students on campus.
SHARPENING HIS SKILLS
"It's a way for me to learn more and sharpen my skills," Schaumloeffel said.
Whether it is an issue with your phone, tablet, computer or TV, odds are that Biola Tech Repair is able to fix it. The student business also helps with data backup and storage, upgrades and they even building custom computers for customers.
If students have a problem with their device and are not sure about its warranty, Biola Tech Repair will recommend them to take it into Apple for a lower price or inform them if the warranty has expired.
OTHER INTERESTS
Originally from Bend, Ore., Schaumloeffel has experience working for an IT company in Costa Mesa, TechMD. He believes that he has not come across any problem he cannot  fix. Schaumloeffel does more than tinkering with technological devices and sharpening his skills, however. He enjoys the outdoors and even spent a week summiting Mt. Kilimanjaro to raise money for the Elisha Foundation.
ADVERTISING HIS SERVICES
During the fall semester of 2014, Biola Tech Repair began to advertise their IT services through Biola classifieds, flyers around campus and their Facebook page. The business has continued to grow and even expanded into the city of La Mirada.
"I'm hoping to continue to expand and we are working on hiring more people as well," Schaumloeffel said.
Each time Biola Tech Repair helps a new customer, the issue is tackled and the customer receives a quote for how much the repair will cost. Schaumloeffel loves what he does and strives to offer reasonable prices and work with integrity.
"I'm on the student's side. I love helping Biola out and giving back," Schaumloeffel said.