One last word
The Emerson Farewell Event on April 16 invited past and present residents to share their memories of the beloved dorm before its transition to an administrative building next year.
UPDATED: Apr. 26 at 3:00 p.m.
The Biola community gathered April 16 for the Emerson Farewell Event, as the beloved dorm transitions to an administrative building this May. Past and present residents, including current Resident Director Kevin Cram, recalled their experiences of Emerson.
Built in 1958, the building — initially a women's dorm dubbed "Dorm A", then Gamma Chi and later Emerson in the 1970's after Wallace Emerson, the founder of Biola's undergraduate psychology program — was one of the first dorms after Biola transitioned from L.A. to La Mirada in 1959. Around the end of the 1970's, it transitioned to being an all-male dorm. From 2005 to 2006, the dorm became briefly co-ed during the tearing down and rebuilding of Horton, and at the end of this period resumed its status as the only all-male dorm on campus.
A PLACE OF TRANSFORMATION
Chad Miller, current Director of Spiritual Formation and RA for MOLE — Men of Lower Even — from 1998 to 1999, opened the event.
"If you have lived here for a season, you know that Emerson was stripped of virtually all luxurious amenities. In August, as many of you know, Emerson is a brutal place to be," Miller said. "But none of this detracted, none of this quelled our excitement for returning to the ground zero community of our experience, this was our place."
Matt "Pickles" Davis, an RA from 1997 to 1998 and 1998 to 1999 and currently a pastor at Calvary Church in Santa Ana, shared that as much as he loved his education, he primarily remembers the time spent in the walls of Emerson.
"This is a place of transformation…of identity building," Davis said.
A STRONG SHELTER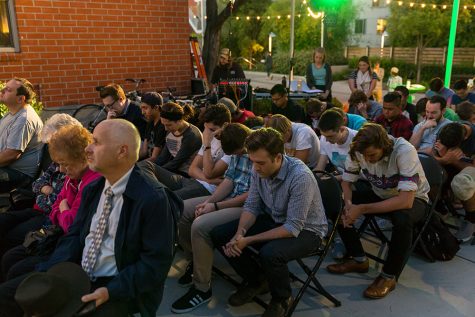 James Delange, an Emerson resident from 1996 to 1999 and now an educator at Orange Grove Middle School in Hacienda Heights, reflected on the community that surrounded him.
"I didn't know anything about community…and I didn't know anything about sharing my story and coming out of hiding…what I didn't know was that there was life in sharing stories and that those times in the hall, as crazy as they might be and as simple as they could be would be starting this deep transformation in me," Delange said.
When Delange was diagnosed with cancer last April, his Emerson brothers surrounded him by creating a signup to visit him so that he was never alone in the hospital, brought him and his wife homemade meals, fundraised for his medical bills and brought communion to him while he was too sick to go to church.
"There was one thing that I was quite certain of and it was that I would not be experiencing this alone…I have this strong shelter that was built right here at Biola," Delange said, who is now in remission.
THE MAKING OF MEN
Junior Bible major and current RA Stefan Vandenkooy, an Emerson resident from his freshman year in 2013, added that Emerson is more than a building.
"It's a building of souls, a collection of hearts, a place where men become aware of each other's faults and their vulnerabilities," Vandenkooy said. "You literally walk in as a boy, as a child, and you walk out as a man."
Freshman film major Bailey Mancini described the dorm as tight-knit, saying that although they have their own rooms, it feels like they all live in the halls with each other. Being a part of others' lives and having them be a part of his life has been important, said Mancini.
"It's been very important to me, to see how it's changed me and how I've been able to be a part of the other students who live in the dorm," Mancini said.
Jimmer Hanggi, an Emerson resident on MOLE from 1986 to 1990, described Emerson from pranks to personal conversations.
"I think about getting saran-wrapped to the light post my senior year, about shooting a water balloon launcher from the back, sending it over to the sundeck on Alpha…and the late night talks with people, opening up and learning what it means to grow up," Hanggi said, adding that Emerson's legacy is the development of men.
Sophomore business major Andrew Divjak, current RA of MOLE, described Emerson as home, saying it feels right to be there.
"I always feel burdens from school and stuff like that, but when I walk into Emerson and I walk through those doors, I feel at ease, like the burden kind of fell off," Divjak said. "This is home, this is where I live and this is where my brothers are."