St. Patrick's celebrations veer from Irish tradition
Biola students and staff discuss the contrast in the American and Irish versions of St. Patrick's Day celebrations.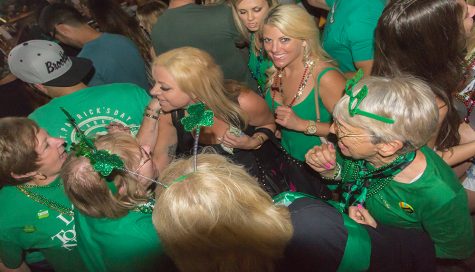 In the United States, the typical idea of St. Patrick's Day includes green-clad crowds, leprechauns and green-dyed food and drink. But for those who have a personal understanding of the holiday's cultural relevance, the celebration becomes quite different — a day to celebrate family, faith and tradition.
Senior music and intercultural studies major Rachel Donawerth visited Ireland two summers ago with her mother while on her way to study abroad in Germany. During their time there, Donawerth experienced the differences between Irish culture and the U.S. interpretations of it.
"I think most people kind of view Ireland as a bunch of drunks, because that's what [Americans] do on St. Patrick's Day. Yes, they have those, like anyone does, but drinking is more part of the culture in the sense that the pub is a family restaurant," Donawerth said. "Parents take their little kids to pubs … that's where community is had, in the pub, because that's where food is and food is so indigenous to the culture."
MISSIONAL LIVING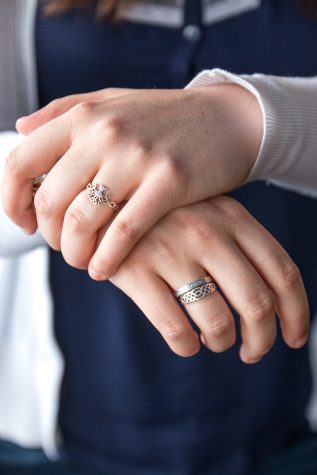 Aaron Fooks/THE CHIMES
Donawerth lists St. Patrick's Day as her second favorite holiday, topped only by Christmas, because of its importance to the Irish culture.
"The reason is because of St. Patrick himself. He was the first known missionary to the British Isles, to Ireland in particular," Donawerth said. "They were very much focused on creation, and he brought the Creator to them."
Donawerth wears rings with two Celtic knots — an eternity knot and a trinity knot — which she purchased while in Ireland. Patrick used the knots, which the Irish used before, to express parts of Christianity, Donawerth said.
Because of this, Donawerth celebrates St. Patrick's Day in a different understanding than the American interpretation of leprechauns and shamrocks.
"I'm celebrating missional living, I'm celebrating living how Christ has called me and in a sense I'm celebrating the British Isles, because they are so dear to me," Donawerth said. "The people he felt called to were the people who kidnapped him. That's not a natural thing, but that's such a picture of Christ in his life. Look where it led — he completely transformed that culture through Christ working in him."
LARGER CELEBRATIONS IN THE U.S.
Junior kinesiology major David Wilson noted that the U.S. celebration of St. Patrick's Day is much larger than in the U.K.
"In the U.K., I would say it's not as big a deal. Here, Americans celebrate a lot of holidays way more extravagantly than they would in the U.K., like Halloween, for example. I can definitely see it growing more in popularity there, but it's not necessarily a big deal," Wilson said. "Churches there definitely make mention of it with the St. Patrick's Day prayer and all of the things he did as a missionary. Apart from all of the green stuff and people pinching each other, it's not as big, but it is a religious holiday."
SENSITIVITY AND AWARENESS
Administrative assistant of Spiritual Development, Noreen Muehlhoff, also celebrates the cultural importance of the holiday as a part of celebrating her own heritage and family.
"I am a hundred percent Irish. I was born in the United States but all four of my grandparents were born and raised in Ireland," Muehlhoff said. "One of my grandmothers was always very sensitive to the characterization of St. Patrick's Day, offended by the U.S. characterization of it, the leprechauns and 'St. Paddy's Day,' and that to her felt kind of like nonsense, and she made me aware of that as well."
While she chooses not to be offended by it because she believes people do not mean it offensively, Muehlhoff said, this sensitivity and awareness of the holiday's importance leads her to celebrate it differently. While she chooses to put a St. Patrick's Day flag in her yard, she specifically avoids flags bearing the stereotypical leprechaun or pot of gold imagery.
"That's not what I want to celebrate. I want to celebrate the Irish heritage, Christianity being brought to Ireland," Muehlhoff said.
Muehlhoff also takes the opportunity on St. Patrick's Day to educate others about its relevance to Ireland.
"Several years ago, we started a St. Patrick's Day dinner," Muehlhoff said. "One of the things we'll do is like a quiz, a 'What do you know about St. Patrick?' Most people … don't understand what he went through to bring Christianity to Ireland, the change that it made culturally, so that is a fun way to educate people on what St. Patrick's Day is about."