Greater MMXV
The 86th Missions Conference launched Wednesday morning with a wide variety of discussions on the Great Commission.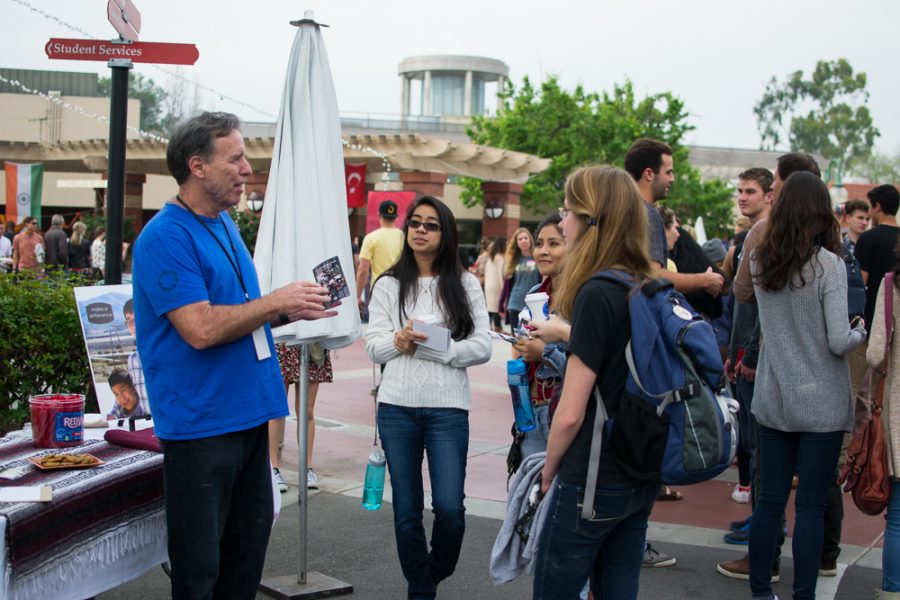 Jenna Schmidt, Writer
March 11, 2015
Students gathered in a massive crowd outside of Chase Gymnasium beneath large, colorful banners embellished with the design of a golden crown. At 8:45 a.m., the students filled the gymnasium and overflow sites around campus for the kickoff of the 86th Missions Conference, themed "Greater: Compelled By the Great I Am."
The first session launched with the highly anticipated parade of nations, as well as a video with the multilingual verse reading. This year's Missions Conference feature band, For All Seasons, opened the parade of nations alongside Bulus Galadima, the dean of the Cook School of Intercultural Studies.
Alum Charlie Meo, who served as last year's Missions Conference co-director, returned this year as the conference emcee. Following the parade of nations and conference kickoff by President Barry Corey, Meo announced Wednesday's keynote speaker, founder and executive director of Proclaim Ministries Henry Joseph, who spoke on the conference's primary theme of being compelled by the Great I Am.
"The redemption story in which God himself would come to earth and dwell in the womb of a woman … He would grow up and experience all the realities of every other human being, but yet he was God," Joseph said, emphasizing the nature of Christ as both God and man. Joseph also spoke on God's hand in Moses' life, focusing on Exodus 3:13-15.
GIVE UP WORLDLY TREASURES
In the first seminar of the day, founder and pastor of Sandals Church, Matt Brown, discussed in "Free to Be Me" how missionaries often forget that although they preach the gospel to others, the message is meant for them as well.
"God cares as much about your calling as he does the rest of the world's calling," Brown said.
Brown used the passage Mark 10:17, where Jesus tells the man to sell all his possessions to illustrate how earthly things can affect our relationship with God.
"If you're ever going to reach the world, you first have to reach into your heart and let go of what's in between you and God," Brown said.
Using Philippians 4:13, Brown discussed how Christians should give up worldly treasures and seek what Christ has to offer. Brown closed the session stating that many spiritual leaders walk away from God due to earthly things. He reminded students to let go of the the things that keep them from having a strong relationship with Christ and seek what he has to offer.
AMBASSADORS OF CHRIST
The second keynote session of the day featured speaker Ed Stetzer, executive director of Lifeway Research and accomplished author, who focused on reconciliation in the passage of 2 Corinthians 5:16-21, looking at the second rebuke to the Corinthians from Paul. However, Stetzer focused on the nature of the second rebuke as a calling to be compelled.
"He encourages them to represent Jesus and his kingdom well. When we're talking about being compelled, it means to represent Jesus and his kingdom well," Stetzer said. "It has to start here, when we're talking about being compelled — we have to see who God is and who we are in Christ."
The session closed with Stetzer encouraging students against taking the Great Commission as simply a passive state of being, but rather as an active preaching of the gospel, stating that Missions Conference is not just for missionaries, but that all Christians are called to be missional, as ambassadors of Christ.
"Sometimes we think 'We won't do, we'll just say,' or even further, 'We'll just be,' and let me tell you, when it comes to the ministry of reconciliation, we need to all be compelled to be good news, to do good news and to tell good news," Stetzer said.
CHURCHES HAVE BECOME MUSEUMS
One of the workshops during the second seminar featured Biola associate professor of Intercultural Studies Marla Campbell, who spoke on the topic "Who is God in the World Today," which looked at the spiritual state of Europe and the United States.
"Those churches throughout Europe are now empty. Our churches have become museums," Campbell said. "The churches are not what they used to be, because they've forgotten who God is, and frankly they just don't care."
The conference continues Thursday and Friday with further discussions on being compelled by God into the missions field.
Jenna Kubiak contributed reporting