Hike with your honey
Outdoor excursions provide alternative to holiday cliches.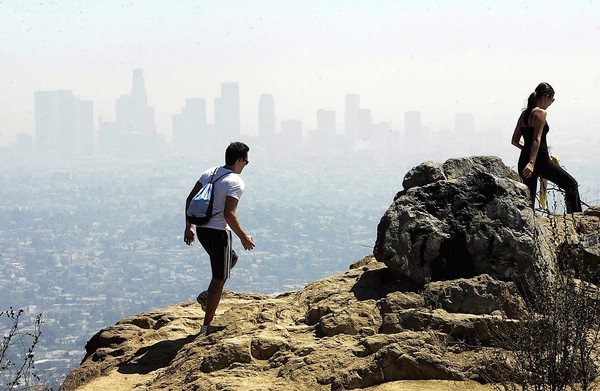 Southern California is well equipped to deliver an excellent date, offering a never-ending list of options for movies, music, coffee or cuisine. Criss-crossed with hiking and biking trails, the state also provides many alternative options to what might become an otherwise mainstream outing. I encourage anyone going out this Valentine's day to try something a little different. Instead of the typical dinner/movie combo, a trek through the great outdoors could add an interesting twist to this holiday.
Several locations within short driving distance from Biola feature scenic outdoor venues where guests can experience the outdoors with their valentine. Besides paying small parking fees, there is no entry fee associated with any of these hiking areas. Plan to go early in the morning or in the late afternoon when the weather cools off, and be sure to bring plenty of water and snacks.
Carbon Canyon Regional Park in Brea presents an intriguing locale hosting a 3.4 mile loop. This trail runs through a little known standing of tall, shady Redwoods trees, an uncommon occurrence in Southern California. The perfect place for a date, hikers can bring a picnic and hang out near a pond centering the loop. All skill-levels can enjoy this trail, located about 20 minutes from Biola.
Another stellar choice is Griffith Observatory in LA. A national leader in public astronomy, the observatory makes for one of Southern California's most popular attractions, providing an opportunity for guests to observe and contemplate the vast expanses of the universe free of admission. Located on the southern slope of Mount Hollywood within Griffith Park, guests can head into the park and  explore 53 miles of trail, including the Mount Hollywood summit where hikers can view the entire Los Angeles basin. Just a 40 minute drive from Biola, the observatory and park provide a unique destination on Valentine's day.
Arroyo Pescadero Trail near Whittier offers a less strenuous option covering a two mile loop featuring small wildlife and a smooth trail. Dog-walkers and joggers frequent this hiking area which opens up over expansive vistas of the valley. Although this trail's short, brief, steep sections offer a challenge to hikers, the trailhead begins only 15 minutes from Biola. A trip here on Valentine's day creates a fun option that will surely leave a good impression on your date.
A 20 minute drive from Biola, Schabarum Trail in La Habra Heights,  located in Schabarum Regional Park, features wide views above the low-lying foliage. A lovely location for an evening hike above the suburbs, this five-mile loop tracks over lightly rolling hills. Hikers can enjoy a groomed path and beautiful vistas along the entirety of this path.
Valentine's day is the perfect opportunity to try out one of these fresh options with a date. Spending time in the outdoors creates a special shared experience between friends.Traversing trails together and seeing new places sparks conversation, and always makes for great memories. Try out one of these trails, you never know where they might lead.