1,100 miles of self-discovery
Reese Witherspoon's incredible performance shines through the rough landscape of "Wild."
The myth of embarking on an epic journey to discover yourself is a tale old as time itself. As adventurers such as Ferdinand Magellan, Marco Polo, and Lewis and Clark filled the blank spaces on the map, adventuring began to take on a different meaning — the opportunity to connect with your true self, rediscovering the center lost amidst the distractions of life and time. Popularized by Transcendentalists such as Ralph Waldo Emerson and Henry David Thoreau, people sought to push their bodies and minds to the limits, closing the gap between their being and the interconnectedness of nature. Some stories, such as Christopher McCandless in "Into the Wild," lead to tragedy. Others, like the harrowing hike of Cheryl Strayed (played by an inimitable Reese Witherspoon) in this year's "Wild," show the triumph and beauty of the struggle and of the world we live in.
Cheryl Strayed, rocked by unfathomable addictions to heroin and random sex brought on by the death of her mother and divorce from her husband, decides to backpack the near entirety of the Pacific Crest Trail — 1,100 miles over the course of three months. She did this alone, despite never having backpacked before. Along the way, Strayed discovered the natural beauty of the American wilderness and its utter brutality and amoral treatment of the creatures who traverse it.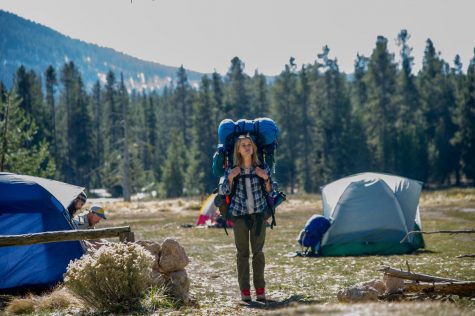 Written by famous novelist Nick Hornby and directed by the recently Academy Award-nominated Jean-Marc Vallée, "Wild" warps you into the broken psyche of Strayed. The virtuoso edits cuts between various seminal and heartbreaking moments of Stayed's life — time with her grand-optimist mother, arguments with her husband and failures to beat addiction — in a way that is motivated by emotional responses and a stream of consciousness during her travels. You see a woman aching and breaking to be the girl she always hoped to be.
Vallée, who directed both Matthew McConaughey and Jared Leto to Oscars in "Dallas Buyers Club," pushes Reese Witherspoon to her limits — and boy, is she up for the challenge. Witherspoon brings to life a wonderfully vivid three-dimensional woman, aching for redemption. In two hours, what feels like the complete portrait of a life is portrayed — at times naive, sexy, strong, wise, humorous and hopeless — eventually circling back to the girl her mother always saw her as — complete.
"Wild" succeeds at showing the cost of not only the physical journey, but of the emotional and spiritual quest we all find ourselves on. At times, we feel disconnected, unanchored and lost in the wilderness of our souls. We catch ourselves in the mirror and ask, "Who is this person? What happened to me?" "Wild" shows us that the journey back to ourselves is wrought with pain, but there is a light at the end of the tunnel — only if we can persevere a few miles more.