Anonymous comments pierce performers
Negative feedback on Biola Confessions and Yik Yak disheartens members of chapel bands.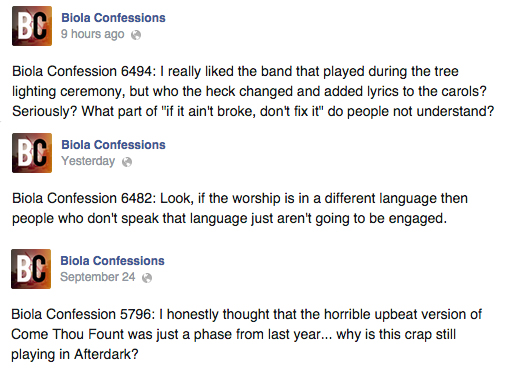 Issuing bold statements under the guise of anonymity has become widely appealing on college campuses. The ability to post a comment without an attached identity is the main attraction in the recently popular social media application, Yik Yak. Anonymity also occurs on the Biola Confessions Facebook page, providing Biola students with a place to freely share their thoughts with their peers.
WORSHIP BANDS SUFFER BACKLASH OF ANONYMITY
Many chapel worship leaders have been exposed to the effects of the rampant negativity shielded by anonymity that pervades these social media sites. These Biola musicians received criticism for leading chapel worship in music genres that other students were unfamiliar or uncomfortable with.
Junior Carla Veliz, who leads the Spanish-English chapel, received heavy backlash on social media regarding the high number of Biola students who felt they could not worship during her multilingual chapel because it was not in English. Students took to social media to tweet, Yak or post their reactions, many of which were negative.
"It wasn't like four likes, it was like 100 likes and 50 comments," Veliz said, referring to a Biola Confessions post about the multilingual chapel.
After performing at chapels, many worship leaders began to notice comments criticizing their style of music or set list.
"I honestly thought that the horrible upbeat version of Come Thou Fount was just a phase from last year … why is this crap still playing in Afterdark?" read a Biola Confession, posted to the page on Sept. 24.
While many students may not think much of comments like these, social media backlash upset those targeted, like Gospel Choir member Thomine Mortenson.
"We're still trying to worship God, but if it's different, then [students] have to tear it down because it's not the same," Mortenson said. "This makes me upset, because why can't we worship God in any way we can instead of just one way of doing it?"
Mortenson, a freshman communications major who originally joined Gospel Choir because it seemed like a fun way to meet new people, said that she was confused by recent anonymous attacks on worship bands.
"We're all singing songs that are glorifying Him, but they're tearing it down because it sounds different. It shouldn't be like this. It should be opening up to whatever's new out there. If it's glorifying God, then just be open to it," Mortenson suggests.
WELCOMING DIFFERENT METHODS OF WORSHIP
Chapel band leaders agree on the necessity for critique in order to develop and improve as worship leaders. The way in which the critique is being conducted proves to be the heart of the issue.
"When it comes to social media, we have become a generation so irresponsible for the words we speak," said senior biblical and theological studies major Isaac Lee.
Lee, who leads a rock-style chapel band, believes that students should utilize the great diversity of Biola's community through different forms of worship.
"I personally think students should come to chapel and be challenged just as they would be challenged in their classes," Lee said. "Worship is not always about how good you feel, it is about God."
Diverse forms of expression, from art to dance to literature, are a big part of the Biola community. Veliz believes that as Christians we should welcome different ways of worshiping the Lord, as He has created us in a unique way with unique experiences, cultures, and languages.
"We are united in Christ and can worship God in Spanish, German, French, and English together, even if the whole body doesn't understand that language," Veliz said. "That reflects how our worship in heaven will look like."
Moses Hooper, the rap artist for one of Biola's chapel bands, encourages students to engage social media with a little maturity. Hooper believes that as Christians students need to be a model for their community.
"I think our social media is a means of preaching the gospel and giving account to our faith. Other people other than Biolans are reading our social media, so when we are bashing each other, the world is watching that," Hooper said. "We need to be conscious of that."