More than a board game
Talbot student's visual design firm launches first language-based project.
Attention word nerds. A new game has reached the market: Roots: A Game of Inventing Words, similar to Apples to Apples, with a twist.
Roots debuts as the first original, in-house product produced by Predicate, a business development firm spearheaded by Talbot philosophy student Joe Ko, who serves as the business' creative director.
A GAME OF NARRATIVE WARFARE
Four or five players gather around a Subject card overturned in the center of the table. Players combine prefix and suffix cards to create a new word matching the subject card, but then must deliver a convincing explanation to fellow game enthusiasts why their new word best relates to the subject, in hopes of winning the vote at the end of the round.
"The result is narrative warfare in which the most creative, best spoken, and craftiest thrive," said James Pianka, lead game designer, who developed the prototype for Roots as a final project completing his MA at California University of the Arts.
The game is casual as well as educational. People interested in studying for GRE or SAT tests benefit from playing, said Ko. Predicate works with with several schools and after school programs interested in introducing Roots into their curriculum.
Funding for Roots came through Kickstarter, an online fundraising platform. The first print run for Roots is now fully funded and all orders will be ready in January. Interest in the game continues to pick up speed with twenty pre-orders placed daily.
"We're doing really well, completely funded in the first week," said Pianka.
THE LAUNCH OF A NEW BUSINESS
Predicate launched in May 2014, specializing in brand name and product design, a service Ko says provides business in a variety of industries needing to lend visual credibility to their products. The firm does not anticipate releasing another game and plans on branching into different types of products.
"Predicate is still evolving. We are walking into a fairly new and innovative business model.  Roots will be only one out of the many products and business that we will bring into the market in the near future," said Ko. "At Predicate, our view is that developing a business is no different than a designer creating products for his clients. It's a skill and we want to get better at it," he said.
Ko's journey in starting Predicate has taught him many lessons about what it means to be an entrepreneur, in fact, he pushes back on the label entirely. Instead, Ko defines himself as a child of God who happens to have entrepreneurial skills. He said it has taken a long and humbling journey to finally place his identity firmly in Christ.
Ko decided to attend Talbot not only for personal growth, but ultimately to make an impact in the design community. His time at Biola did not directly influence the start of Predicate, but has rather helped in its ongoing growth.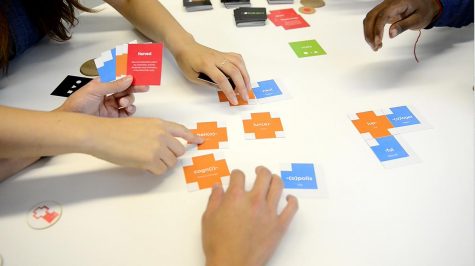 LASTING INFLUENCE
Ko says what he has gained through the education and the relationships from Biola have played a big part in forming some of the values of Predicate.
"My advice to anyone thinking about entrepreneurship as a vocational calling is to make it a habit to remind yourself whatever great idea you currently have, it is just one of many. No one idea will define or 'make' you," Ko says.
Controlling their passion marks one of the hardest challenges for people called to entrepreneurship, as well as exercising caution to ensure their passions do not negate the truth, Ko says. Spiritual struggle lies in leaving God behind after receiving and getting excited about a God-given idea, making it an idol, Ko said.
"Then we go back to God, question his goodness and his vocational calling for us and it's this long and humbling process. Personally, I felt like I must have gone through that like 10 times. Looking back, its just grace, love and needed discipline," Ko said.