Custodians cultivate friendships with students
Biola students continue to cultivate lasting relationships with the janitorial staff.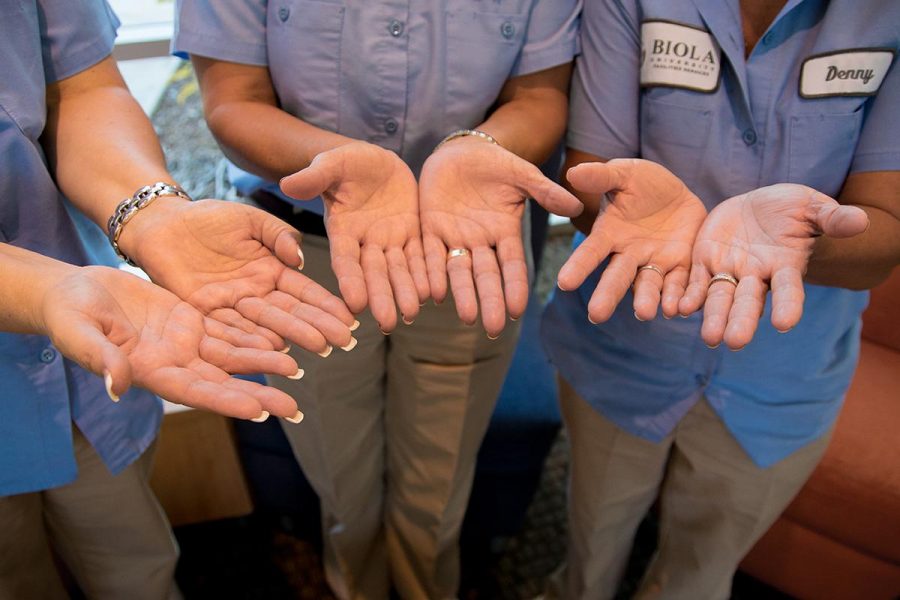 Jenna Schmidt, Writer
October 1, 2014
Hands around Biola focuses on the custodial service staff in the dorms. Students at Biola continue to cultivate lasting relationships with the janitorial staff. | Aaron Fooks/THE CHIMES. See the full gallery HERE.

Every weekday morning, the custodians appear at their designated dorms. Many students say hello, give them hugs or smile. While students thank them for their services in cleaning laundry rooms, bathrooms and lobbies, many of the custodians on Biola's campus come to work each day intending to care for the students beyond dorm maintenance.

"The cleaning is definitely an aspect, but it's mainly the students," said Horton custodian Annette Camareno. "Working here brings us joy and satisfaction. First and foremost, it's being open to how to Lord can use us to speak. Sometimes we need to go the extra mile."

For many students the custodians become like mothers or fathers away from home, or good friends with a shoulder to cry on when times become difficult, said Horton custodian Victoria Castro. A former student still calls Castro about once a month, calling her "Mom".

"For the first few weeks, they don't know us and we don't know them, so they are tentative, but after that, we say we are here for them," Castro said. "We are family, they are our daughters and we are like mothers away from home for them."

After graduation, students spread out across the country and overseas but manage to stay in contact with the custodial employees. The custodians share memories of students who have lived in the dorms and now return with their families to either visit or work at the campus.

"The RD's wife over in Hart, she used to live on my floor many years ago," said Hope custodian Cristina Ramirez-Escobar. "Students graduate and get married, and now they come around with their babies."
FORMING FRIENDSHIPS
Although the female custodians work primarily on the female students' floors, and the male custodians on the male floors, the custodians still foster friendships with both male and female students in the public places around the residence halls.
"There was a girl that before she got married, she and her boyfriend would cook breakfast for each other on Monday mornings in the kitchen, and we got to know them really well," said Hope custodian Carol Leon.
The custodians cultivate these friendships in a variety of ways. Horton custodian Denny Guevara introduces new students to her church in Whittier. Some custodians have lunch with students in the Caf, invite them to their homes for dinner with their families or receive invitations to students' weddings.
"Just last week, I received a bag that had a note on it, and when I opened it up, I just loved it," Camareno said. "There was a banana, there was candy, there were little cereal bars. You know, they do what they can on their student budget, and the girls were saying, 'We're sorry it's so small!' and I said, 'No, it's not, it's wonderful'."
FEELING LIKE HOME
Many students show their appreciation to the custodians by giving them notes, flowers or sketches. Leon has made a tradition of decorating her custodial closet in the girls' bathroom with pictures of the students, their roommates and their friends. Last year, the girls on her floor added to the tradition.
"They put up a bunch of signs saying 'We love Carol', and put them up in the bathroom alongside all my pictures," Leon said. "I absolutely love hanging out with the students. They are very respectful to us, they're always giving us little gifts and cards, little thank-yous. They always ask, 'Is there anything we can do to help you?' We get so much love from them."
For the custodians, working alongside the RAs and RDs of each dorm provides more opportunity to nourish friendships with the students. While the custodians give the students the feel of home away from home, they balance it with the RAs' cultivation of floor community.
"They pretend to be the mama of the floor, and I can see they have that feeling," Castro said. "Mama wants the best for the child, so I'm sure that the RAs want the best for the girls and the boys on their floors."
Although they are present every day as they clean public areas in the dorms, they provide much more than their cleaning services for the students. The custodians develop deep friendships with the students that last even beyond graduation.
"One particular time I was sharing about my daughter and some things she was going through, and one of the girls took me aside and told me about a relationship that she had, and she felt comfortable enough to share that with me. That was special," Leon said. "We just try to give them godly, sound advice."