Xopoc chooses new focus for performances
Xopoc seeks to keep each performance God-centered.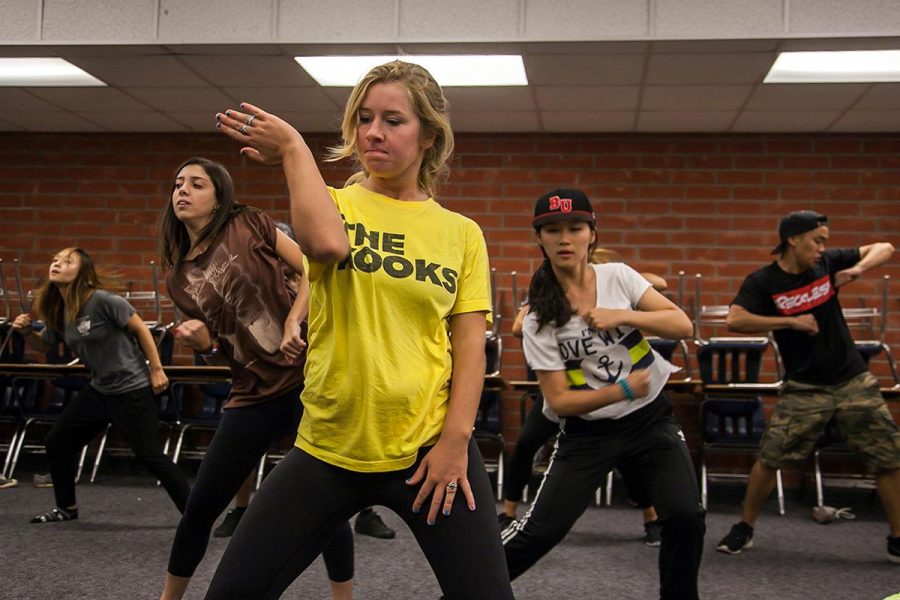 Jenna Schmidt, Writer
September 30, 2014
Freshman cinema and media arts major Maggie Gray dances with XOPOC members during a rehearsal. | Melanie Kim/THE CHIMES

Monday nights may just be another weekday night for most students, but at 9:30 p.m., a group of student dancers turn up the music for rehearsal.

The well-known Biola dance group Xopoc meets every Monday and Wednesday night for practice, preparing to perform at major Biola events such as Midnight Madness and Punk n' Pie. This time, they begin their year with Eagle Fest on Thursday, Oct. 2 at 6 p.m.

"Our team is just really excited to be there and to be dancing," said sophomore journalism major Dylan Sapanza, one of Xopoc's leaders. "But it's also hard because it's the beginning of the year and we have to put together all this stuff really quickly, and not just throw it together but really put in work and make it look like a good piece."

The number of practices increase just before a performance and tend to decrease just after, giving dancers a break after a major event, said sophomore cinema and media arts major Danae Mitchell. However, Mitchell considers the practices themselves a sufficient break from studying and homework.

"All day you're focusing on homework and classes, and it's a good stress reliever," Mitchell said.

Keeping their performances both God-honoring and modern proves difficult but definitely not impossible, Sapanza said.

"We take about 10 to 15 minutes before practice to meet and catch up and immerse ourselves in the word, because we're definitely dancing for God's glory," Sapanza said. "This year we want to really make it a goal to find songs that are clean, not necessarily speaking straight worship every time, but if we were to play it in front of the Lord, we want it to be acceptable."
KEEPING THE FOCUS ON GOD
Xopoc not only dances at Biola events but also performs at organized meetings, such as youth groups. In light of this, the whole group takes the responsibility to keep the focus of the group on God.
"We try to emphasize the point that the main point of dancing is to bring glory to God, because he's the one that's given us the gifts to do that," Mitchell said. "The leaders are very good about not choosing inappropriate songs or inappropriate dance moves, because we're not going to compromise our beliefs."
As for their first performance of the year this Thursday, many of the dancers feel excited since Xopoc will dance at Eagle Fest for the very first time. However, some hope that this will differ from other performances like Midnight Madness.
"I think it'll be good just because none of us have ever done it before, so there's not so much pressure and expectations," said junior sociology major Bailee Bac, who has helped lead Xopoc for two years. "Some of the other stuff we do, like Punk n' Pie is this competition, and then Midnight Madness has so many expectations from previous years and stuff, there's a lot of pressure there."
Xopoc provides a vibrant and energetic community for both the dancers and their audiences at each performance. As other Xopoc performances and Biola events such as Midnight Madness approach, the leaders prepare the group for a roller coaster of hard work and good fun.
"We want to come harder than we've ever come before, we want to put on a show rather than just be expected to perform. We really want to wow people and blow what we've done in past years out of the water," Sapanza said. "Dancing's fun, and that's the thing, it's something God's given us to enjoy, and this year we want to make that an important part. We're Xopoc and what Xopoc is, is we're God's dancers, and we want to show that."