Small spaces, new ideas: students and their residence hall decor
Students around Biola share how they have made their space unique.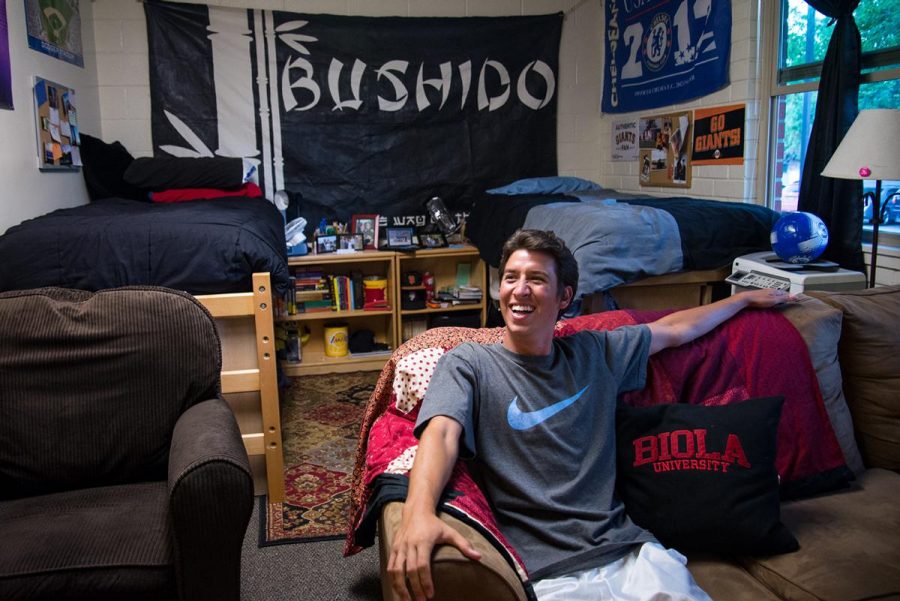 Jenna Schmidt, Writer
September 3, 2014
Amidst the excitement of either coming to campus for the first time or returning to familiarity, students in the residence halls all face the same question: how to make this their own space for the next nine months.
The challenge only intensifies with the presence of roommates. Will you like the same colors? Will you like the same sports teams, movies or bands?
Across campus, students design inventive and impressive living areas to study, sleep and hang out. Whether planning for the Rate My Space contest, in which students enter their dorm rooms for prizes, or simply decorating their dorm to their liking, these students have created some special spaces.
JONATHAN BLEA & JACOB ADDINGTON (STEWART)
Junior Jon Blea explains the significance of the Bushido banner that covers his wall along with other decorations in his room, including the handmade pillow from his mother. | Jenny Oetzell/THE CHIMES

Life as a resident advisor in the dorms comes with certain advantages along with responsibilities. Junior English major and Stewart resident advisor Jonathan Blea, along with his roommate, junior sociology major Jacob Addington, mapped out their plan for their room early on.

"In Stewart, there's only one RA on the floor, and the room is the same, kind of in the middle," Blea said. "We checked out the space, planned where some things would be, and the decorations themselves just kind of happened."

Even though Blea and Addington root for different sports teams, they manage to make their individual spaces blend well.

"It's funny because he's a huge Chelsea soccer fan, and I'm a Dodgers fan, and we have posters on our sides of the room. But we get along," Blea said.

Amidst the personal decorations, a Bushido flag passed down among the male Stewart RAs adds unique personality to the room. Biola traditions, whether something passed down in the dorms or in the student's own family, provide great additions to a student's decor.

"The guy who was the RA from 2007-2008 came with the flag, and now it's a thing," Blea said. "We sign the back. Bushido's like the samurai code about nobility, and synonymous with chivalry."

Along with this RA tradition, Blea has added personal touches with handmade items from his mother. His freshman year, his mother crafted a pillow from a Biola sweatshirt from when his sister attended Biola, as well as a blanket that now hangs on his wall. Blea advises students to make their spaces as homey as possible.

"Open up the space, take advantage of the wall space you have," he said. "As an RA, I really wanted to have a room people felt invited into."
YASSMIN BAIRES & SAVANNAH MORRA (ALPHA)
Savannah Morrah and

Yassmin Baires sit on the couch that Morrah reupholstered herself. The Alpha residents combined their design tastes to make their dorm room feel more like a home. | Jenny Oetzell/THE CHIMES

The all-female residence hall, Alpha, may be one of the oldest dorms on campus, but it provides a distinct advantage for residents: larger rooms than many other dorms. With extra space to work with, Alpha residents Yassmin Baires and Savannah Morra have created an area full of personality and color.

"It started last semester when we moved in, we both just liked the color blue and we brought our own stuff, it was just by coincidence that most of it matched," said sophomore biological science major Yassmin Baires.

Combining favorite pieces from last year along with new additions, Baires and Morra pulled together their individual tastes to design a bright, joyful space. Baires credits Morra's artistic flair for the handmade creations around the room.

"Pretty much half of the stuff I have, I made," said sophomore art major Savannah Morra. "I didn't make the pillows, but I made the corkboard and reupholstered the couch. . . This lamp I had was a baby blue color, so I spray painted it and found this lampshade for it."

Even with the additional space Alpha offers its residents, it remains important to maximize the space in a dorm room. Between shelving, boxes and different styles of bed, students can pick and choose the best ways to organize their rooms.

"We just take control of our space and when we come in, we move things to our liking," said Baires. "We have boxes everywhere — bring good storage."

Designing a dorm room combines storage with everyday life as well, when you simply want a cool space to hang out, study and relax.

"It makes it feel roomier if you keep things along the walls and give yourself a big open space somewhere," said Morra. "That always works, even with the triples if you line the walls with your beds, instead of having them stick out in the middle of the room. That cuts up the space a little bit. This makes it flow for your eye and makes it feel very open."