Explore southern California this summer
Take advantage of summer in SoCal with these wallet-friendly day trips.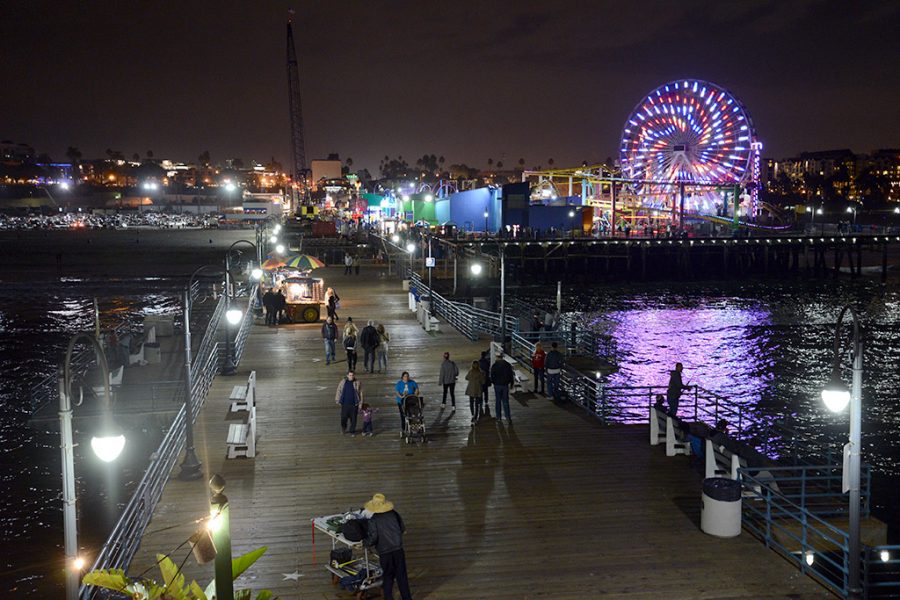 Jenna Schmidt, Writer
May 13, 2014
It is that time of the year — the last essays are being printed, final exams are being issued and we are packing up our boxes for home. If you are a native Californian or staying for summer classes, take advantage of your summer in southern California. There are plenty of opportunities to soak up the culture besides In-n-Out and trips to the beach, although those are certainly nothing to sneeze at. Pick a day, grab a few friends and a sweet playlist and hit the road for these wallet-friendly day trips that are sure to spice up your summer.
Santa Monica Pier
Jenny Oetzell/THE CHIMES

200 Santa Monica Pier # A, Santa Monica, CA 90401
Open 24 hours
Check their website for individual business hours
Admission: free, but bring pocket money
Drive: around 45 minutes

Complete with an idyllic boardwalk, Ferris wheel and carousel, Santa Monica Pier gives you every opportunity for a postcard-perfect day strolling the pier, chowing down at one of the many tasty burger joints or simply people watching. Rent a bike from Blazing Saddles if you are feeling active, or hit up Playland Arcade or the Pier Aquarium for indoor fun. There are a few hidden treats too — such as the free Twilight concerts. From 7-10 p.m. every Thursday night during the summer, you can pack up a picnic, set your blanket out under the open sky and experience a variety of different bands — all for free.
Getty Center
www.flickr.com/CREATIVE COMMONS

1200 Getty Center Drive, Los Angeles, CA 90049
Tues. — Fri. and Sun. 10:00 a.m. — 5:30 p.m.
Sat. 10:00 a.m. — 9:00 p.m.
May 30 — Aug. 29, 2014 open Fri. to 9:00 p.m.
Admission: free with $10.00 parking
Drive: around 45 minutes

You do not have to be a history buff or an art major to appreciate the Getty Center in Los Angeles. As if the fantastic views, beautiful architecture and sprawling gardens were not enough to entice you, perhaps the interesting exhibits on display will grab your attention. Stroll through hallways lined with ancient Greek pottery, view a towering sculpture in the modern artists' gallery or even snap a photo of a real Van Gogh painting in the Impressionists' hall. Take your time exploring the countless galleries and even chat with some of the passing security guards or docents — they know the best places to view the gorgeous gardens.
Ford Amphitheatre
2580 Cahuenga Blvd., East Hollywood, CA. 90068
Mon., 7:00 p.m.
Admission: free
Drive: around 45 minutes
This is for those who feel the need to get up and groove. Monday nights at 7:00 p.m., the Ford Theater hosts JAM Sessions, interactive music and dance nights where the audience can get involved by playing instruments, learning new dance moves or just having a blast in general. The sessions are free and incorporate a variety of music and dance styles, from hip-hop and samba to swing-dancing and Bollywood. Grab a group of friends and a pair of your most comfortable shoes for a night of music and movement.
Los Angeles Farmer's Market
www.wikipedia.com/CREATIVE COMMONS

6333 W 3rd St, Los Angeles, CA 90036
Mon. — Fri. 9 a.m. — 9 p.m.
Sat. 9 a.m. — 8 p.m.
Sun. 10 a.m. — 7 p.m.
Admission: free, but bring pocket money
Drive: about 45 minutes

The Downtown L.A. Farmer's Market is the place to beat the heat during the summer. Browse through the merchants' fare of fresh produce and baked goods while enjoying a nice, cool ice cream from Bennett's or Gill's Old Fashioned. From May 29 to August 29, the Farmer's Market will be hosting free concerts featuring L.A.'s local jazz and eclectic musicians at the Market's West Patio on Thursdays and Fridays from 7 p.m. — 9 p.m. Drop by to enjoy the show after a day of sampling the Market's variety of foods from Cajun and Greek to Brazilian and French.
Downtown Los Angeles Art Walk
411 South Main Street, Los Angeles, CA 90013
2nd Thursday of every month, around 12 p.m. — 10 p.m.
Admission: free, but bring money for the food trucks
Drive: around 30 minutes
If you are looking for something a little edgier for your summer nights, try out the downtown L.A. Art Walk. Start from South Main Street and make your way in a self-guided tour of downtown L.A.'s best local art galleries. The arts are not solely limited to the galleries, either — there are art-related events spilling out into the streets as the community celebrates the vibrant culture of Los Angeles artists. While enjoying the party, stop by one of the famed L.A. food trucks for the local taste. You can follow certain trucks on Twitter so you can spot them easily at the Art Walk or choose randomly on sight, from mobile eateries like The Boba Truck to Me So Hungry burgers.