Associated Students event provokes action against slavery
"Breaking Bondage" raises student awareness of human trafficking in the United States.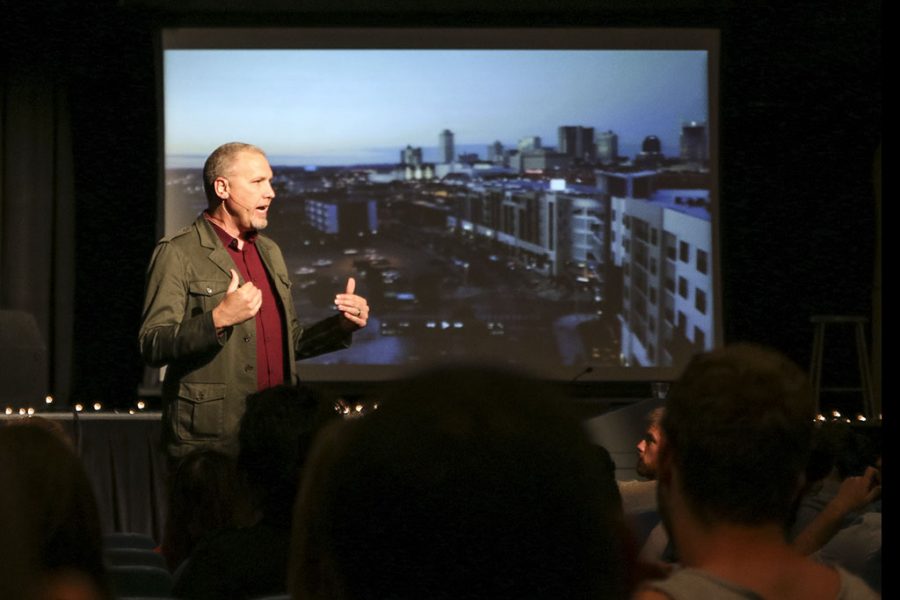 Jenna Schmidt, Writer
May 7, 2014
Jake Larson, who works for XXX Church, an online organization that helps people caught in sexual sin and pornography to find God's redemption and grace and escape their addictions. | Tomber Su/THE CHIMES
When students think of slavery, they typically think of a far-away country, culture and time unrelated to them and their modern lives. With an event held Tuesday night in Sutherland Auditorium, Associated Students showed how relevant the issue is to us by shedding light on the slavery in our own country and in our own cities.
The event, titled "Breaking Bondage," was held to raise awareness of the human trafficking industry in our own backyards throughout the cities and neighborhoods of the United States.
TAKING ACTION
Jenny Williamson, CEO of Courage Worldwide, an organization dedicated to the rescue and restoration of women and children involved in human trafficking, spoke to the audience about the importance of realizing how close the problem is — as well as the solution.
"God is the 'how,' OK?" Williamson said. "So you just dream something big and something crazy, and he is never going to say that it's too much for him."
WAKING UP BOLD
Over the past few years, Courage Worldwide has established two houses solely for the restoration of enslaved young women and children in Northern California and Tanzania, and plans to build more.
Williamson shared her experiences, which have fueled her passion for ministry. Not only has she had a family member of hers been trafficked before, but she calls the young women enslaved in or rescued from the trafficking industry her "daughters."
"Not only have I found something to live for, but I found something to die for," Williamson said. "And that makes us incredibly dangerous in enemy territory. You come from needing courage … to one day just waking up bold."
However, the United States is still in a transitional period regarding the business of human trafficking. Human trafficking is a relatively new topic broached in church circles and law enforcement training, and this has continued the "far-removed" mindset of modern Americans.
SPARKING INTEREST
The truth is that human trafficking is a $32 billion industry in practically every city in the United States, and that the average age that girls are lured into this industry is between 12 and 14 years old, according to Williamson. In the opening video shared by Courage Worldwide, an unidentified speaker noted that the only way to not see the slavery in any town is to not look for it.
Several of the students in attendance at the event shared that the information has spurred them to learn more about the industry; for some, it has encouraged them to take a larger role in battling human trafficking.
"God has really put the issue of sex trafficking on my heart, and social justice in general," sophomore psychology major Crystal Mohr said. "So I came in not needing extra chapel credit, just wanting to learn more. It was really encouraging knowing that someone does have a house for saving girls."
Even if students wandered into Sutherland needing one more chapel credit to round off the semester, the information and passion of the narratives certainly brought to light an issue often pushed to the back burner.
"I attended the event for chapel credit. It ended up being a life-changing event," said freshman English major Pamela Fernandez. "It was very eye-opening and encouraging … Jesus is not a comforter for Christians who are comfortable."
GETTING INVOLVED
Williamson emphasized the fact that she has seen God use anything that can be offered, and that using something you are passionate about is the best way to be involved. Everything from CDs, documentaries and music videos to spaghetti dinners, bracelets and bake sales have been a part of raising funds and awareness.
"I am a songwriter. I'm sure that this will be a topic that infiltrates my lyrics," said freshman music in worship major April Cisneros. "I also just plan to continue informing myself about the issue and having conversations with others about it."
Students can also commit their time and prayers by volunteering at homes or organizations, which can be found locally if one takes the time to look. Cisneros shared that a Biola professor had informed her of a trafficking ministry in her hometown of Lancaster, Calif. where Cisneros hopes to volunteer during the summer.
"One of the things that the speaker said is that it's hard for a lot of these people to believe in a good person because they have never even met a good person," Cisneros said. "Because everyone at Biola is claiming to be a Christian, I believe it is each student's responsibility to do something, even if it is just becoming informed or praying about it."