The mission next door
Local missions offer students opportunities to serve outside of Biola.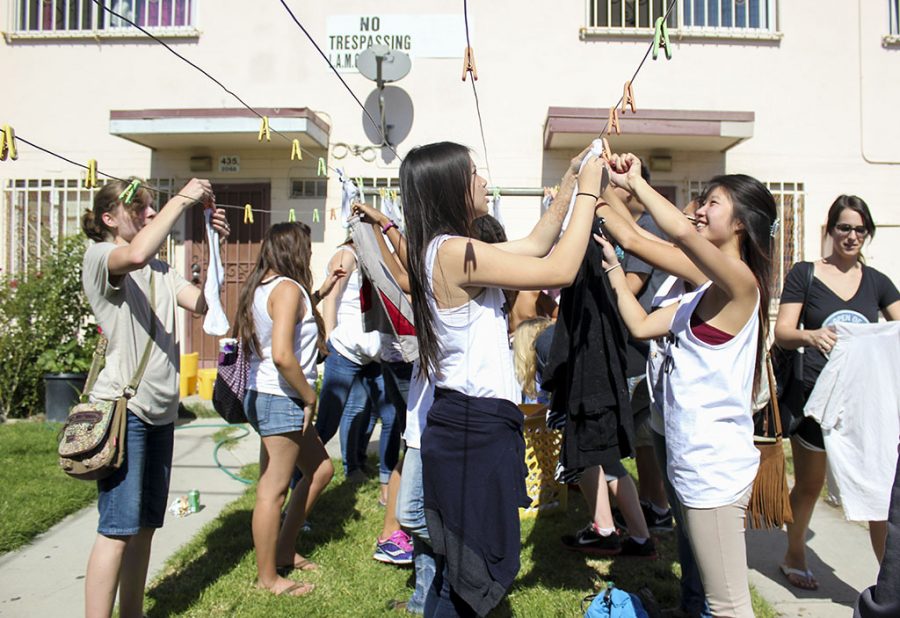 Jenna Schmidt, Writer
March 11, 2014
From left to right, juniors Allison Mack, Kiara Ray Bernal, Jessica Thong and sophomores Eva Kong and Rachael Clifford help hang clothes to dry at the Dream Center in downtown Los Angeles. | Karin Jensen/THE CHIMES [file photo]

Looking to engage in mission in So Cal? Check out these 11 opportunities. No passports or visas required.

Founded 50 years ago, Teen Challenge reaches out to teenagers and young adults struggling with drug and alcohol addictions, providing a faith-based solution to aid them in their recovery. They primarily assist ethnic minorities, women and the urban poor.

The Lighthouse works with special needs individuals to provide them with emotional, physical, spiritual and academic support. Located only 40 minutes from the Biola campus, the foundation meets at Coast Hills Church in Aliso Viejo, Calif. from 7-8:30 p.m. each night.

The California Outreach Organization is working to eliminate hunger for senior citizens and low-income families throughout Los Angeles, Orange County, Riverside and San Bernardino. Volunteers can donate time, food or money to the organization.

The Prototypes foundation of Southern California rebuilds the lives of young adults, men, women, children and whole families who have suffered from domestic violence, mental illness or substance abuse. The program works for the health and stability of the whole family, so while individuals may be admitted to the program, volunteers are always available to counsel close friends and family members.

The HOP/ICS program reaches out to the homeless individuals and families of Los Angeles, and welcomes volunteers to share any time, funds or skills available to them. Volunteers can help those aided by the program by treating them at health clinics, training them in career skills or connecting them with legal assistance or spiritual counseling.

The Geffen Playhouse of Los Angeles uses theater, music, art and literature to enrich and encourage disadvantaged schools, urban low-income families and local student artists, musicians and authors. Applications are being accepted now for their Lights Up program, which partners with over 40 non-profit organizations in L.A. to provide veterans, low-income seniors, at-risk youth and homeless families with creative workshops and study discussions.

The Slavery No More foundation's goal is to work directly with key organizations that eliminate human trafficking and educate others about the prevalence of modern human trafficking across the world. By learning more about the cause, donating funds or time, or getting directly involved with Slavery No More or one of its many affiliated groups, volunteers can aid the anti-slavery movement.

The Dream Center of Los Angeles provides for the needs of over 50,000 individuals and families each month through medical treatment, rehabilitation programs, foster care intervention, shelters for both the homeless and trafficking victims, legal aid, basic education, career skills, spiritual counseling and more.

Celebrate Hope is a Christian drug and alcohol rehabilitation center located in Orange County that integrates reconciliation with God and family in its approach to healing and recovering individuals from substance abuse. The program is affiliated with Saddleback Church in Lake Forest, Calif.

Located an hour away from the Biola campus, the Jeremiah Project 51 in Winnetka, Calif., supports the anti-bullying movement in primary and secondary schools around the county. Student volunteers mentor younger students, partnering with them in spiritual, mental and emotional counseling.

The Los Angeles chapter of Inner City Outings assists inner city students by providing them with outdoor hikes to enrich their physical and mental health as well as their social skills. Volunteers are always welcome to join to the students on hikes around Long Beach and Orange County.