2014 SCORR Conference aims for peace through diversity
SCORR Conference aims to educate students on diversity and racial reconciliation.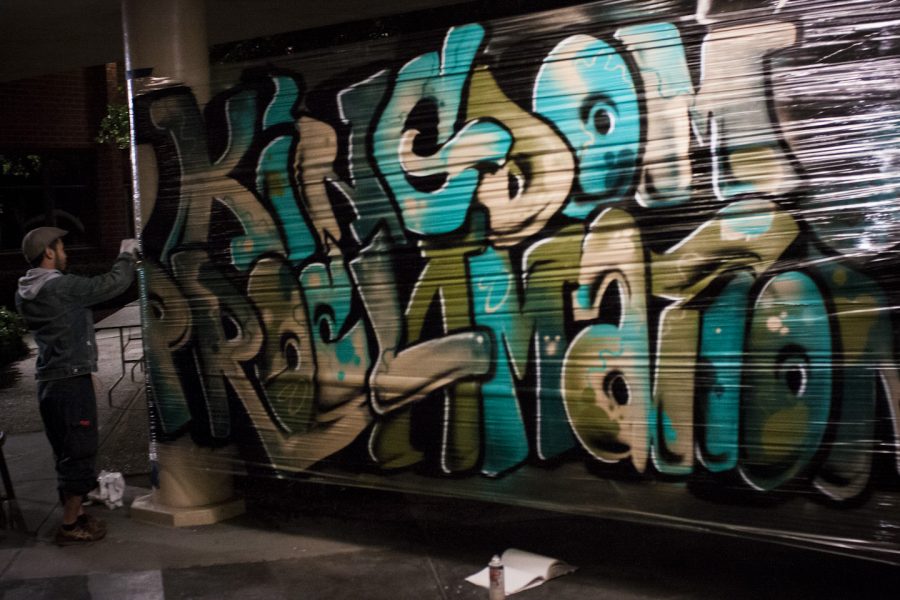 Jenna Schmidt, Writer
February 19, 2014
A graffiti artist puts the finishing touches on his piece, "Kingdom Proclamation," outside Sutherland Auditorium. This piece was created during the 2013 SCORR Conference. | Grant Walter/THE CHIMES [file photo]
As Biola students plunge into another semester, peace, rest and unity can seem pretty far away. However, this weekend's Student Congress on Racial Reconciliation conference offers a new aspect of reconciliation that brings these ideas to a communal level: "Shalom."
SCORR BRINGS COMMUNAL RECONCILIATION
As part of SCORR, the conference is attended by students, faculty and staff from numerous universities around the country. Attendees come to learn about and celebrate cultural, ethnic, gender and racial differences and to come together as the body of Christ.

The "Shalom" theme for the 18th annual SCORR conference is in reference to the Biblical term of peace and unity. Glen Kinoshita, the conference founder and director, hopes students can come away with a practical view of shalom in everyday life.
"First we have to learn how to see it in the scriptures, because it permeates throughout the scriptures," said Kinoshita. "It talks about for us as people to bear with one another, forgive one another, let the peace of Christ rule in your hearts — that's something that we all can grasp as much as any individual, as well as a community. Even though it doesn't necessarily come right out and say the word shalom, this is a manifestation of shalom."
Kinoshita drew from Colossians 3, one of many examples of shalom throughout the Bible. Shalom in everyday life, he said, is exemplified in compassion, kindness and the kind of love "which binds everything in perfect harmony" and unites us through our diversity.
"The diversity of God's people and the breath of God's kingdom is very evident, that that's what should be happening, as far as people of different backgrounds," Kinoshita said. "I think if we know how to hear one another, understand one another, empower one another and do it in such a way that it brings shalom, that's what we want to see."
TORREY HONORS PROFESSOR TO SPEAK
Torrey Honors Institute professor and conference speaker Jamie Whitaker Campbell adds that the conference will build upon the idea of shalom as rest from a communal perspective that permeates everyday life.
"Shalom speaks to the peace that is being pursued by a community of believers who are working to reconcile themselves one to another in Christ," Campbell said. "In this context, we're wanting to shift over to a more communal concept of participating in that kind of rest."
The concept of shalom doesn't just include peace and rest in Christ, Kinoshita added, but encompasses many other aspects of life, primarily human thriving.
"The message is that it's a lifelong journey of commitment. And that's just one passage," Kinoshita said. "There's passages that speak of how caring for one another means as a community we are strengthened, and as individuals, we benefit from that as well."
Through this image of communal shalom, Campbell also believes that reliance on God plays a huge part in practicing shalom as a lifestyle every day.
Campbell will be speaking with communication studies professor Dorothy Alston Calley on the subject of third culture.
"Third culture is when someone has spent the majority of their childhood outside of their passport country," Campbell explained. "For example, I grew up in Japan, even though I'm an American citizen. So I'm third culture because I'm neither American nor Japanese."
Although third culture is less prevalent in society, it is still a perspective to consider with the idea of reconciliation.
A CALL TO AWARENESS
"I think people aren't aware just how many third culture adults there are in and amongst us at Biola," Campbell said. "I think we're only familiar with missionary's kids, but really anybody who spends that amount of time outside of their passport country is third culture, and third culture adults see the world differently."
As the conference approaches, Multi-Ethnic Programs and Development student leaders such as senior journalism major Tonika Reed are also eager to see how the conference uses so many varying perspectives to tie together and shape the concept of shalom.
"My senior year of high school, I actually came to SCORR conference," Reed said. "It was one of the things that actually catapulted my decision to come to Biola, because I saw that Biola isn't just a whole homogeneous group of people. I got to experience diversity in a way that I'd never experienced before."
Reed hopes her fellow students can take a posture of learning and know that shalom in the community means to engage with others, especially in communities they wouldn't normally engage themselves. She believes this brings joy and healing to both people involved.
"Attending churches that aren't like yours, going to events that you just wouldn't normally go to — little things like that can help you actually become a fuller person," Reed said. "They can help you experience God in ways that you never thought you could experience him before."