Treat yourself this Halloween: restaurants, attractions and shows to visit
Unique Halloween alternatives to the traditional routine of trick-or-treating.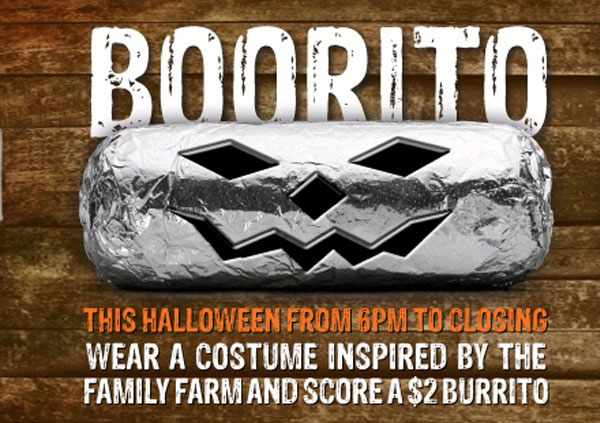 Let's be honest. It can get exceedingly dull and slightly repetitive going through the same yearly motions of walking door to door in hopes of receiving the king-size Reeses and Snickers bars. Instead, Biola students can visit any one of the Halloween alternatives below for a new way to enjoy the night of the 31st.
Courtesy of Creative Commons

Chipotle
4 p.m. – 10 p.m.
Come dressed in your costume and pay only $3 for a burrito, burrito bowl, salad or an order of tacos.
Courtesy of Creative Commons

Disneyland
8 a.m. – 8 p.m.
Wear your costume, visit Mickey's Halloween Party or stroll through the hundreds of unique hand-carved pumpkins, masses of villains and overall creepy halloween decorations surrounding the theme park.
Courtesy of Creative Commons

Knott's Scary Farm
7 p.m. – 1 a.m.
Visit the park ready for a scary night. Stick close to your friends and watch your back as you check out the five new mazes and terrorizing attractions.
Courtesy of Creative Commons

Universal Studios
7 p.m. – 2 a.m.
Universal Studios has transformed its back lot into a Hollywood Horror Night attraction. Check out the mazes, trams and scare zones all based on well-known frightening films and TV series such as The Walking Dead, Evil Dead and Insidious.
Courtesy of www.fanpop.com

12 a.m. – 2 a.m.
Come watch this slightly risque play that spoofs all Hollywood horror movies. Playing at the Landmark Nuart theater, purchase your ticket online for $11.
Courtesy of www.sinisterpointe.com

Sinister Pointe Haunted House
7 p.m. – 11 p.m.
Starting at $17, stop by this self-accredited "hillbilly backwoods house" and experience a different fright as you walk through every room.