Ministry of the Week: Apologia serves to equip students intellectually
The Apologia ministry seeks to teach students apologetics in order to preach the gospel in American culture.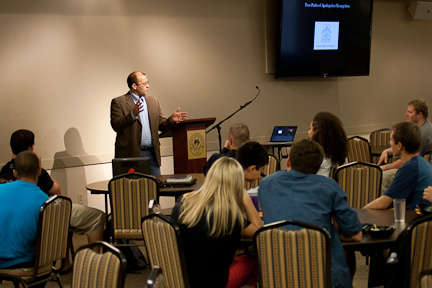 The Apologia luncheon on Wednesday, Oct. 10 featured Jason Oakes, a professor from the biblical studies department. | Grant Walter/THE CHIMES
Instead of cramming the word down someone's throat or senselessly arguing with them, the Apologia ministry seeks to equip students with the apologetic tools to remove roadblocks and barriers like atheism, moral relativism and skepticism.
Running for at least five years, Biola's Apologia Ministry seeks to help students use their intellect in not only worshipping the Lord, but also in bringing others to Christ. This year, however, the ministry is going a little bit further by helping students struggling with doubt. Ministry director Desiree Montgomery, a senior history major, joined the ministry last year with a deep passion for apologetics after transferring from Southeast University in Florida. She finds the best aspect of the ministry is learning from the students while serving and helping them grow.
"Students bring information from every background, and we're all equipping each other to go out and use these things to preach the gospel in the American culture," Montgomery said.
Students appreciate variety of topics
One such student is freshman Cody Dulmus, affectionately known as "Big D" by those in the ministry. Montgomery feels that she has learned much from Dulmus, who always brings his apologetics books to meetings.
However, Apologia's Thursday meetings are not the only outlet for students to be enlightened by the ministry. Every month, Apologia holds luncheons in the Caf banquet room. The most recent meeting on Wednesday, Oct. 10 featured Jason Oakes, a professor from the biblical studies department, speaking on worldviews, apologetics and love for others. There will be another in late November featuring another biblical studies professor, Rick Langer, though the topic is undecided. While these luncheons are appreciated and enjoyed by those in Apologia, favorite topics differ among the students. Senior communications major Caitlin Bendall has enjoyed many of them, but was greatly influenced by that two specific luncheons.
"The two that have stood out to me the most was one with J.P. Moreland speaking on miracles, because at that time I didn't know much of anything about how God works today with miracles, and the one with Steve Porter because he really helped me to understand the doctrine of atonement in a clear and concise way," Bendall said.
Others, like Montgomery and junior business major Kyle Weir, say their favorite luncheon was a discourse on God's directive to wipe out the Canaanites by Clay Jones, a biblical studies professor.
"It's not something you're going to get in church or hear a lot about. Those are the brutal, blunt things those outside the church are going to ask about," Weir said.
Outreach and collaboration
However, Apologia is not only serving those who are either part of the ministry or who attend the luncheons. Currently, Apologia is working on a collaborative effort with the California School Project ministry.
"Mainly, we want to try to empower their leaders so they can empower the leaders they're teaching on high school campuses," Montgomery said.
Apologia is also in the process of working on a possible collaboration with Biola's Evangelical Mormon Interaction ministry. Apologia hopes to take part in a dialogue with a group of Mormons, using their apologetic knowledge to question their thinking.
Weir believes that we should have a reason for everything we do, but not enough Christians have a reason for their faith, as it says in 1 Peter 3:15
"They just believe that it's what they've done their whole life. It's not taught and reinforced enough, and I feel it's at the center of evangelism and outreach," Weir said. "Apologetics is of doctrinal importance and it's pushed under the rug too often. I'd like to see more people have a desire to learn more about their faith and apologetics."