Glorifying God and the road to PRISM
Bradley Naden, a transfer music major, shares his story and how he hopes to glorify God through his participation in The King's Men.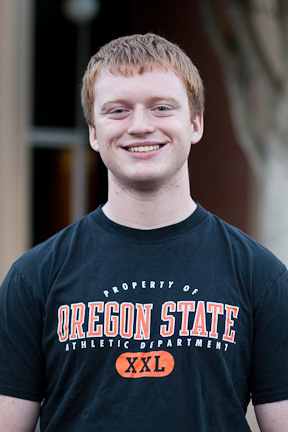 Bradley Naden transferred to Biola this fall from Oregon State University, principally because he wanted to glorify God with his music. A transfer into the class of 2016, the music performance major is emphasizing in voice.
"I just felt like the music I was doing there was more to bring myself glory and praise, and God was really showing me how much more joy I can receive by giving it back to him," Naden said of his time at Oregon State.
While at first he enjoyed the various opportunities to sing at OSU, he felt increasingly purposeless there. Naden was drawn to Biola because of the music program, but also for the opportunities for ministry available.
"I have a heart for public speaking and sharing the gospel too, so if I can combine the two, I feel like that's what God's setting out for me," he said.
More than about sharing Christ
A new member of The King's Men, Naden notices a significant difference between that group and his previous ministry group at OSU.
"The King's Men is more about sharing Christ. I mean, we'll give a good performance, but it's more about showing God's love to people, and that's what I want to be involved in," Naden said. He would like to sing as part of a chapel band during his years at Biola.
The road to get to Biola wasn't easy for Naden, even though he has been singing since he was five years old. He auditioned for scholarships and qualified, which he wholly attributes to God's plan, saying that he had to learn to trust in God's provision. In addition to his involvement in music and classes, he also works at Eagle's Nest.
Being a part of the Conservatory of Music at Biola has been an incredible experience for Naden. He especially values his teachers at Biola.
"They care about me doing well," he said, describing how even a music theory class, which would usually be his least favorite class, has been truly enjoyable at Biola.
Extending beyong students
Naden is not the first in his family to attend Biola. His grandmother attended Biola as a music major in 1958, when the campus was still in downtown Los Angeles. She was involved in a Biola performance of the opera "Don Giovanni," and is excited that Naden is attending and also studying music.
His involvement in the Conservatory includes singing in the chorale, which performed in the annual PRISM concert last weekend.
The Conservatory's PRISM concert occurred once again during Biola Weekend, with two performances on Oct. 6. Families, students, friends and faculty attended the concert, which featured a wide variety of styles from the Conservatory's main musical groups.
President Barry Corey attended the 2 p.m. concert with family and said he enjoyed it.
"This is a great display of the breadth of Biola's talent all across the Conservatory, from fun pop stuff to classical to jazz to spiritual. I just thought it was fantastic. I just sit here amazed at the quality," Corey said. "I couldn't be prouder of our students."