Students learn and respond at Resurgence Conference
At the first-ever Resurgence Conference, students were challenged by a lineup of world-renowned speakers who taught on the theme, "Because Jesus Lives, We Live For Jesus."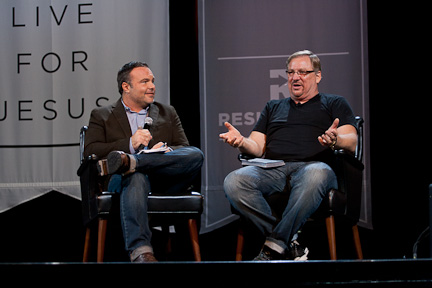 Born without limbs, Nick Vujicic challenged attendees to dare to believe in the power of God. | Grant Walter/THE CHIMES
It was not only biblical studies majors who benefited from the first-ever Resurgence Conference on Oct. 9-10, which brought together eight well-known pastors and evangelists for what the conference tagline called "a lifetime of lessons in two days of teaching." The conference drew a number of Biola students and proved to be beneficial even for those who aren't planning to go into full-time ministry.
Held at Mariner's Church in Irvine, the conference stemmed from the Resurgence ministry of Mars Hill Church.
"[The ministry aims to] train Christians and churches around the world to lead gospel-driven lives and ministries," according to the he ministry's website. Speakers like Rick Warren, Greg Laurie, Mark Driscoll, Lecrae and Nick Vujicic sought to train ministry leaders by sharing wisdom they have gained through years of ministry, Justin Dean, community relations director at Mars Hill Church, wrote in an email.
Students convicted by session content
Junior Kelby Songer, a human biology major and conference attendee, said that Grammy-nominated hip-hop artist Lecrae spoke to her exactly where she is at right now.
Lecrae spoke on the first day of the conference about engaging with culture rather than segregating from it, giving anecdotes about his experience as a Christian rapper in the morally corrupt rap music scene. He encouraged attendees to stop seeing a divide between sacred Christian culture and the secular world and to get in the thick of it instead, for culture's sake.
"We need to paint a radically different picture of what it looks like when God gets a hold of us," Lecrae said.
These words resonated with Songer. She recently got a job as a waitress in a restaurant but has been assigned to the bar area. Serving alcohol to customers made her uncomfortable, as she felt like she was enabling them to get drunk, but Lecrae's talk helped change this mindset.
"I realized I was totally creating the whole sacred-secular divide. That doesn't show anyone in the restaurant Jesus. How selfish and haughty of me to think I'm too good for the bar. I'm so glad that I heard that," Songer said.
Future pastors trained and equipped
The conference also spoke to those who are seeking full-time ministry. Jack Franicevich, a sophomore business major, heard about the conference via Facebook and said that he blindly bought a ticket without knowing much about it beyond reading the Resurgence blog. He is hoping to become a pastor and and found the principles introduced at the conference to be thought-provoking.
"The theme that I'm seeing over and over here is that people are getting the opportunity to do something that they love or are passionate about and see fruit from that," he said. "That's the thing running in my head: 'What if you could inspire your church so much to let people with talents shine, show them how what they're doing is affecting things for the good?'"
Also at the conference was Biola alumnus Kevin Zimmerman ('12), who wanted to gain wisdom to aid him in his role as junior high director at High Desert Church in Victorville. He said that the speaker who impacted him the most from the first day was Greg Laurie, who spoke about the importance of preaching Jesus and keeping the gospel central to all sermons.
"In the church, [the gospel] is so easy to lose sight of. I don't think people lose sight of that intentionally, but ultimately, people get so caught up in programming to meet the congregation's needs," Zimmerman said. "I think the biggest thing I'm going to take away from this is just remember Jesus, remember grace, remember the cross."