Stay awake during finals with caffeine cake
Coffee cake made with instant coffee gets Biolans ready for finals.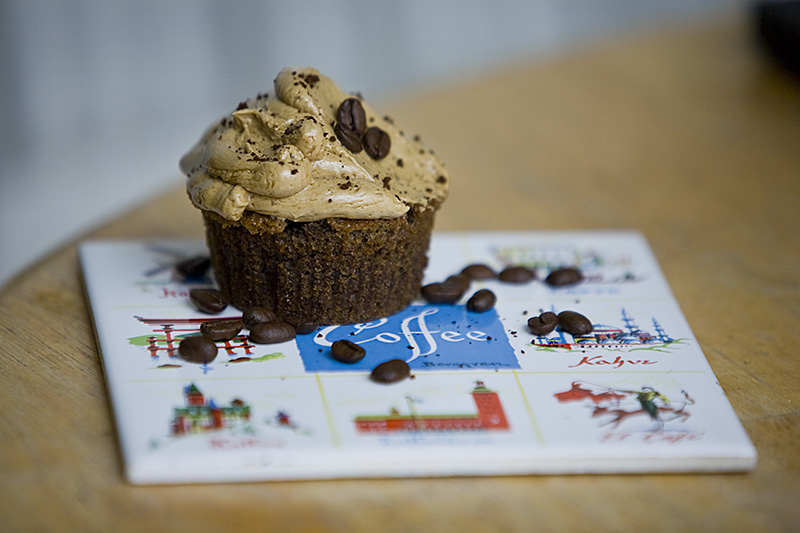 Not all caffeine rushes come from a hot cup of coffee. This week Felicia Heykoop shares a recipe for a cake pick-me-up perfect to get any student through finals week. | Kelsey Heng/THE CHIMES
To preface this article, I am going to tell you a story.
There was once a Biola freshman who was overwhelmed with finals. She had never done the college thing before and was scared that she was not going to pass –– anything.
She stayed up very late getting slap happy from studying and eating junk food.
Her friends encouraged her to drink chai bombs from Common Grounds, but one sip made her feel like she had tumbled into an Indian Disneyland during Christmastime.
Remembering how close it was to Christmas, and how much she disliked Disneyland, and how she would rather be in India than in America taking exams, she passed on the chai bomb.
After a few nervous breakdowns, a blank mind during a New Testament exam and many tears into the shoulder of her boyfriend's hoodie, she finished her finals and slept for days.
The end.
The moral of this story is that if only the college freshman had known about the wonders of caffeine and sugar that are not necessarily in chai bombs, this story could have ended much more happily.
To prevent this story from happening again, now that it is my final semester of college, I have devised a plan involving my favorite thing: cake.
I bring it to you now, dear reader, in hopes that your finals will be much easier and more efficient.
But please note, this coffee cake is not the kind you have with coffee. The cake is literally coffee.
You have been warned. Not only is this recipe advanced, but the results will propel you through finals like a rickshaw through the streets of Calcutta.
For the cake: (adapted from The Pioneer Woman)
-1 cup cake flour (or replace 1 tablespoon of a cup of regular flour with 1 tablespoon of cornstarch)
-1 cup sugar
-1/8 teaspoon salt
-1 stick of butter
-3 tablespoons instant coffee crystals
-¼ cup buttermilk (or ¼ teaspoon of vinegar in a ¼ cup of skim milk; let it sit for a few minutes to curdle before adding)
-1 egg
-½ teaspoon baking soda
-2 teaspoons vanilla extract
For the frosting: (adapted from Baker's Illustrated)
-2 eggs
-½ cup granulated sugar
-3 tablespoons instant coffee crystals dissolved in 3 tablespoons warm water
-Pinch salt
-2 sticks of butter, cut into quarters
-Powdered sugar
Directions
Preheat oven to 350 degrees. Line cupcake tins with paper lining.
In a large bowl, mix sugar, flour and salt. Set aside.
Melt butter in pot over medium-low heat. Meanwhile, add the instant coffee crystals to ⅓ cup boiling water. Set aside.
Once the butter has melted, add the coffee mixture.
Let it come to a boil for about 10 seconds, then turn off heat and set aside.
In a small bowl, add buttermilk, eggs, baking soda and vanilla. Mix until well combined.
Pour the butter/coffee mixture into the flour mixture. Stir gently. You do not have to mix it completely.
Add in the egg mixture and stir gently until well combined. Pour into liners by transferring batter into a spouted measuring cup. Batter will be a liquid. Bake for 20 to 22 minutes or until set. Let cool completely.
For frosting: combine eggs, granulated sugar and salt in a bowl. Bring a saucepan half full of water to a simmer on the stove, and place a bowl over the saucepan.
Whisk gently and constantly until mixture is smooth and yellow-gold, about four minutes.
Remove from heat and beat with an electric mixer on medium-high until mixture is light and fluffy and room temperature, about five minutes.
Reduce speed to medium and add the butter one quarter at a time. When all the butter is mixed, turn mixer up to high and mix for one minute.
Add the coffee mixture. If frosting seems too thin, add increments of powdered sugar until the frosting is fluffy and light. It feels like an absolute dream in your mouth.
I would like to extend a hearty "you're welcome" to your exam-addled brain in advance, but don't say I didn't warn you.