"Knowing Grace" combines spiritual disciplines with student reflections
"Knowing Grace," professor Joanne Jung's new book, explores 12 spiritual disciplines and includes student reflections on each of them.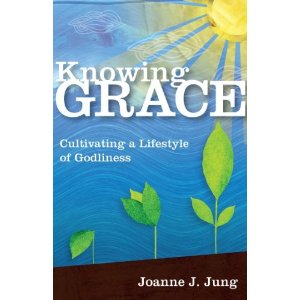 Bible professor Joanne Jung is a woman who understands the reverence in responsibility.
"I am mindful of the weight to carry when I represent God," Jung said.
Jung became greatly aware of this weight when beginning to write her new book, "Knowing Grace: Cultivating a Lifestyle of Godliness."
Seminar by Dallas Willard inspired Jung's book
As Jung's doctoral classes at Fuller Theological Seminary came to a close, she spent two weeks at an intensive seminar with Dallas Willard, author of books such as "The Spirit of the Disciplines" and "The Divine Conspiracy."
Much of the inspiration for "Knowing Grace" stemmed from that seminar.
Meaning of "means of grace"
Jung explained that the phrase "means of grace" was coined by English Puritans to refer to what is currently used to describe spiritual disciplines.
Jung continued to explain that now it seems "means of grace" is on one end of the spectrum while spiritual discipline remains on the other.
Jung then began to think, "I wonder if my students are fully aware of the benefits [of spiritual disciplines]?"
Some content includes student reflections
The idea for this book grew out of a simple invitation to speak at Biola's chapel. As she concluded her session at chapel, her fellow Bible professor Ken Berding encouraged her to explore the possibility of continuing to create content to use in her classroom.
"I didn't even know it would be a book," Jung said.
The book is broken into 12 chapters on disciplines such as prayer, confession, biblical hospitality and celebration.
The conclusion to each chapter contains Jung's favorite part, the "Reflections from the Heart," taken directly from her student's reflections on "means of grace" from class.
This is Jung's first book published; her second, covering her dissertation, will be released soon.
"I have continued to learn from my students," Jung said. "I am a life-long learner."
Jung thankful for students and colleagues
This book certainly would not have come about if it were not for Jung's students and colleagues, Jung said.
"The community here is unique," Jung said. "It is such an honor to work here."
She described her fellow biblical studies professors in the Bradley annex as the "Bradley boys."
"I am humbled by their friendship," Jung said. "There are no scholar divas here."
Jung also attributes much of her inspiration to her "new old dead friends, the Puritans."
"All of this comes together in this book," Jung said. "The goal is not to be experts, but to be familiar with God's voice."