Music education majors start first-ever music program at Eastwood Elementary School
Biola music education majors began the only music program Eastwood Elementary School has ever had, and they teach a music class there once a week.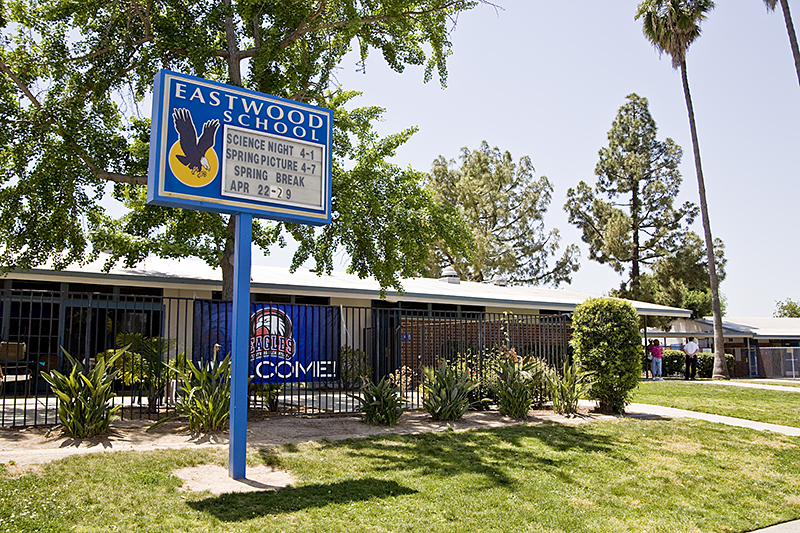 This semester, Biola music education students began the first music program Eastwood Elementary School has ever had, and they teach a music class there every Monday. | Kelsey Heng/THE CHIMES
In an age of budgets being cut, classes and departments being taken away and schools struggling to provide for student needs, Biola students are going against the trend and impacting the community by beginning a music department at Eastwood Elementary School in La Mirada, Calif.
Eastwood principal Yvette Cantu contacted the head of music education at Biola, Angela Park, eager to bring music to the elementary school through Biola's music education students. Park agreed to bring her students to Eastwood Elementary to teach in the school that had never before had a music program.
As a result of her conversation with Cantu, Park changed her syllabus for the 2011 spring semester and spent the first few weeks of class discussing teaching methods with her music education students. She brought eight of them to Eastwood Elementary for their first day of teaching on Feb. 28.
Practical experience for students at both schools
"I went into the [music education] class thinking that we would be in the classroom the whole time, but she [Angela Park] took what we were learning and made it into an actual experience," said freshman Sarah Moulton.
She and the seven other students were paired up and assigned to teach 15 fourth graders for 50 minutes every Monday in an afterschool program.
"The first day we were all kind of nervous and didn't know exactly how it was going to go," said Moulton. "But, when we left we were all really excited and could tell it was going to be a really good learning experience for us and the kids."
Teaching the elementary students about singing, beats and rhythm, these Biola students are enjoying the opportunity to use what they learned in the previous weeks of studying to form teaching methods that are easily received.
"Shockingly, none of the local elementary schools have music programs as part of the regular curricula anymore," Park said. "It has been cut out of the schools. This after-school program provides children with music classes while giving Biola music education majors hands-on experience."
Positive response to music program
Park said that the response from students, parents, the elementary school's principal and the school district's arts supervisor have been positive. She said they are all requesting that Biola continue this relationship.
"It's really encouraging to see the kids learning," said Moulton. "They come back every week and are able to tell us what they learned the week before. We are really seeing them grow."