Biola students create YouTube comedy "Dorm Series"
Hart Hall residents created "Dorm Series," a weekly Youtube comedy short about residence life.
Visualize this scenario: you are hanging out in a dorm room located in Hart. Out of the blue, a funny incident happens that arouses an inevitable chorus of laughter. Without letting the moment pass by, your friend comes up with the idea of reenacting the incident on camera with an additional touch of humor.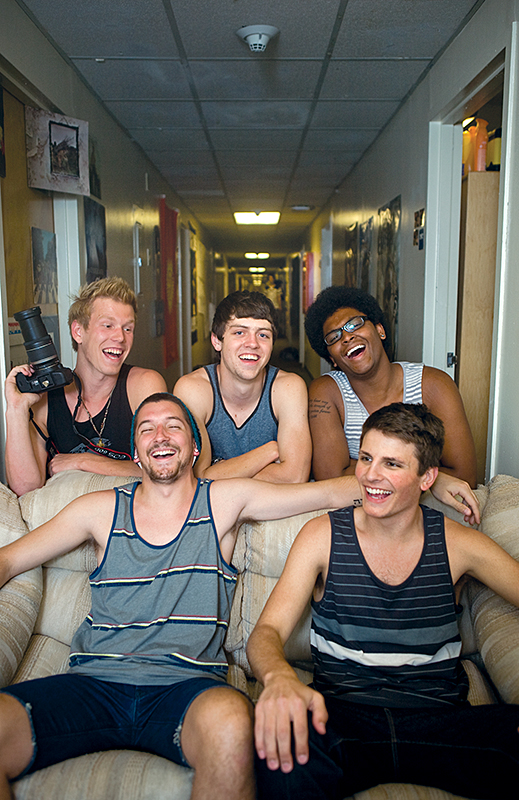 This is what Hart Hall residents have done. Despite its remote location, Hart's tightly-knit community has attempted to spotlight Biola's humorous side of residence life through an array of comical sketches on YouTube, titled "Dorm Series."
Web series began as extra-credit project
"It all started with the idea of me and Joseph wanting to gain some extra credit along with a random incident that triggered a productive attempt," said Hart resident Caleb Wheeler.
The extra credit opportunity was provided in their Intro to Mass Media class, and it involved crafting a video that would potentially become viral on YouTube. On a weeknight in Joseph Garret's dorm room, Garret and his freshmen floor-mates Caleb Wheeler, Luke Cheng and Corbin Randall, came up with the idea of producing their first video: "Nice Stomach."
The video begins with Garrett complimenting Cheng's midriff. After debating with Wheeler and Randall about whether it is nice, they eventually change their minds. As ordinary as the incident may seem, it triggered the production of following short videos. According to Garret, "Nice Stomach" was posted on YouTube and received over 900 views in the first month.
Garrett said the video took 20 minutes to record and an hour to edit before posting it on YouTube.
Creators recruited more actors for the series
Garret felt very optimistic after the success of their first video and immediately decided to gather several hall-mates who had the potential to act, film or edit videos. Freshmen Hunter Davis, Issac Pajo, Charlie Welikala and Jason Theophanes caught Garrett's vision, and Davis, Pajo and Thophanes have even worked together in the editing of the series.
Welikala and other actors like Wheeler and Cheng have played significant roles in improvising a majority of the videos.
"We lay out guidelines for what we will say and from there, we're off on our own," Wheeler said.
Actors display their natural personalities in series
In "Dorm Series," actors predominantly portray their real-life personalities with an additional touch of humor. Moreover, they avoid acting out superfluous lines that don't match with their natural personality.
In the films, Garret enacts the role of the protagonist. Wheeler, on the other hand, plays the role of Garrett's chum and provides deadpan humor.
"If Eminem would be comedic instead of angry, that would Caleb Wheeler," said freshman film major Paul Storm.
In the series, Welikala plays the role of Garrett and Wheeler's naïve friend while displaying his natural, optimistic personality.
Second video mixes comedy and fear
Garrett and Wheeler's proposal of having Welikala act in "Dorm Series" resulted in the production of their next video, "Room 248."
"Room 248" features Garrett's hall-mate, freshman Glenn Cook. Cook plays the role of a phantom-like murderer who lives in Room 248 and apparently murdered his old roommates. Welikala prefaces the video by telling Garrett and Wheeler the story behind the enigmatic room. Intrigued, Wheeler convinces Garrett to go into Room 248 with him. After persistent peer pressure from Wheeler's, Garrett eventually gives in.
As the story unfolds, Cook unexpectedly bites Garrett's neck after tormenting them. Garrett and Wheeler are left traumatized after the incident as Cook sits in between them on a couch. Cook apologizes for biting Garrett's neck, and the video ends with Cook asking Garret and Wheeler to be his friends. Although the skit may be a little spooky, it still has a very comedic streak.
Series brings comedy to students
In addition to "Room 248," the "Dorm Series" crew has produced several more comedy shorts such as "The Buddy System," "Hide and Seek" and "Audition," which have appealed to many students at Biola.
"Their quirky and random comedy will definitely help them in future endeavors as they continue to make people laugh," said freshman Nathan Childres.
Extensive time commitment required of creators
In spite of their rigorous academic schedules, Garrett's team has persisted in the time-consuming production of these skits.
"We usually spend about four hours filming and another four editing," Garrett said.
In addition, about 17 guys on Heat are film majors. "Together, we have embraced our contributions to 'Dorm Series' as an experience that will amplify our knowledge in the field of film," Hunter said. "No one is a leader, we are all contributors."
Creators seek wider audience for series
At the moment, the "Dorm Series" crew is working with freshman Matthew Little with the intention of dilating the spread of Dorm Series both inside and out of the "Biola Bubble." Little is a film major who has recently finished writing and producing his first film, "Tattoos." He has previously worked on several Biola films such as "Cardboard Dreams," and "My mind the love story."
Little promotes and distributes the comical series through social networks like Facebook and Twitter. Furthermore, he is attempting to exhibit "Dorm Series" on Biola's website as a way of representing Biola's humorous side and engaging prospective students.
"My goal as the producer is to make sure that the production goes smoothly and use my talents to improve Dorm Series as much as possible," Little said.
Casting agent interested in representing the series
A Hollywood agent is currently observing "Dorm Series." By legal terms of privacy, her name cannot be disclosed –– however, the story behind her connection with "Dorm Series" can. Junior Trevor Miller was featured in "Audition" and after watching the video, his mother was fascinated by what the boys were doing and called Miller's casting agent. In their conversation, Miller's mother shared Garrett's project with the casting agent. Intrigued by this project, Miller's agent got in touch with him and talked about opportunities of possibly representing "Dorm Series."
Partnership with YouTube
The series has built a partnership with YouTube in which YouTube places ads on their videos. They have their own channel on Youtube's website where their array of videos is listed for everyone to see. Moreover, the Dorm Series Crew has endeavored to publicize two videos per week and continually appeal to flocks of viewers.
"If we could put a smile on someone's face, our goal has been accomplished," Garrett said. "If not, we still had a blast in our intent."