Biola students sport t-shirts to support Japan
Biola students are reminded of an appropriate Christian response to tragedy every time they see a Pray for Japan t-shirt around campus.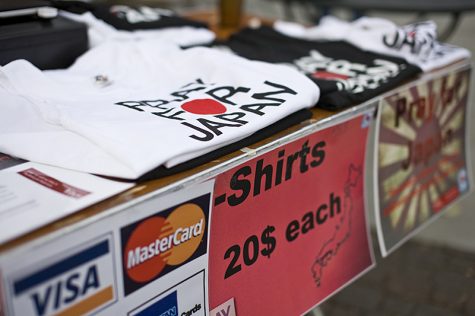 "Pray for Japan" shirts are popping up all over campus as freshman Matthew Little continues to sell them. The funds from the shirts benefit CRASH Japan relief teams. | Kelsey Heng/THE CHIMES
A tidal wave of prayers from Biola approaches Japan as freshman Matthew Little brings a message known as "Pray for Japan" into the hearts of Biolans through T-shirts.
Little, born and raised in Japan as a missionary kid for 12 years, seeks to promote an active response to the cataclysmic occurrence there.
Biola freshman heads campus efforts for Japan
"Once the tsunami ravaged Japan on March 11, a passion to help those who I once grew up with was aroused within me. Notions of contributing to the cause kept running through my mind that weekend and on Sunday night I decided to do something about it," Little said. "Determined to aid the cause, I agreed to spearhead this clothing trend that would promote a Christ-like approach to the incident."
According to the New York Times, an expected death toll of 20,000 people has been recorded in Japan and restorations costs are expected to range from $122 billion to $235 billion. On top of that, over 13,000 people have been recorded missing. With that in mind, Little embraced the vision of aiding relief efforts in Japan by raising as much money as possible for its reconstruction.
Little began funding for the cause by setting up a table in front of the Caf on March 14th. The table displayed posters with "Pray for Japan" imprinted on them along with a small box for those who were willing to give donations. Additionally, Little managed to expose British Broadcasting Corporation's newscasts on Japan through speakers that were linked to his laptop.
Pray for Japan message translated to t-shirts
That same day, word of Little's intents drew a Christian screen-printing business known as Faith Enterprise into the objective.
Faith Enterprise is managed by Andrew Salazar, who also prints apparel for the nursing department at Biola. At 11:45 p.m. that night, Little received an email from Missions Conference co-directors Rebekah Peace and Michelle Welke. The email notified him about one of Salazar's employees, named Joseph Blodgett, who heard about Little through Peace, and sought to assist him in his intents of aiding Japan's relief.
T-shirt campaign brought to campus
The next day, Little didn't squander the opportunity of getting in touch with Blodgett. After a 15-minute phone conversation, they agreed to launch the clothing trend together at Biola. Blodgett facilitated a bridge of mutual assistance between Little and Faith Enterprise, as they endeavor to aid Japan reliefs. Salazar and his employees, including Blodgett, manufacture the "Pray for Japan" shirts. Little, on his part, purchases the shirts and sells them at Biola.
"The shirts are $20. Eight dollars go to the making of the shirts and the rest is donated to a Japan relief team known as CRASH Japan," Little said, "CRASH Japan is currently raising money in hopes of sending Christian relief teams to Japan. On the week of March 14, they anticipated to raise around $100,000. By March 19, over $200,000 was raised for the cause, and the amount proliferates."
T-shirts spreading outwards to the community
"The word is spreading all around," Salazar said. "The shirts are being sold on faith-ent.com where contributors can also donate to the cause. On top of that, they are also sold at nearby ministries like Southlands Church in Brea, and soon at APU."
Many students at Biola have caught Little's vision of assisting those who are crying out for help in Japan. In a week, about 155 shirts were sold and the numbers continue to multiply. Not only are students contributing financially to the cause, but they are also serving as walking advertisements of a faith-driven approach to the catastrophe.
Prayer will leave biggest impact on Japan
"This is definitely beneficial as we approach such calamity with faith," said freshman Tim Spand.
"Some college students don't have enough money to contribute financially, but that doesn't mean material things is all we can do," Little said. "This is why it is called 'Pray for Japan.' Even more than money, what they need is our prayers. They may have been wrecked by a deadly tsunami, but we will hit their shores with a tsunami of prayers that will flood their lives forever."