The secret life of professor Matthew Weathers
Professor Matthew Weathers brings humor and color to mathematics — and YouTube.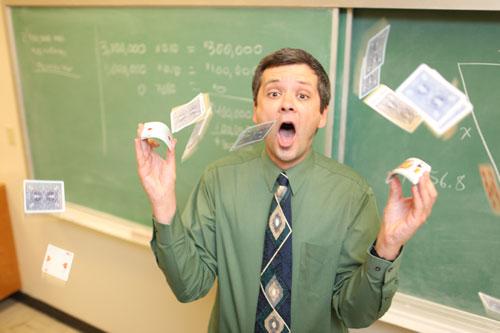 Every school needs a professor that has the best reviews on Ratemyprofessor.com; a professor that brightens your day during class by bringing color to an often not-too-interesting subject. That inimitable professor on Biola's campus is Professor Matthew Weathers.
Students around campus look forward to taking his class, Nature of Mathematics, where they learn about the history of math to help them understand today's math. Faculty look to his expertise in Blackboard. But there is much more to Weathers than what students see in his classroom or his exceedingly popular YouTube videos.
Weathers was born in Orange County, but grew up as a missionary kid in Mexico, Dallas and Tucson, Ariz. His parents were missionaries in Mexico for seven years in a jungle seven hours south of Mexico City. Although he spent a large amount of time in Mexico, Weathers said that he doesn't speak too much Spanish. He did brush up on his Spanish when he went to high school though. The experience has stuck with him ever since.
"The best food you can get in Mexico is homemade corn tortillas made off the comal," Weathers said.
The people he lived with made the corn and then made the tortillas completely out of scratch. He lived in a village in the mountains 5,000 feet up in a jungle that he claimed was never hot.
"When people think of Mexico, they think of Baja, (California) where it's hot all the time, but I never experienced that," Weathers said.
The village where he lived had no running water or electricity. They used a lantern with kerosene and had to fetch their water from the nearest stream and sterilize it with iodine — Weathers knew the epitome of "roughing it."
Weathers is the oldest of four and his three younger siblings are missionaries in places like Togo (West Africa), Bangladesh and other closed Muslim countries. However, Weathers said that he doesn't feel "called" to be a missionary.
"All my siblings are missionaries and I'm the bad kid," he joked.
Throughout his high school years, he liked to play with computers and read books. Weathers participated in an academic decathlon team and bonded very closely with the rest of the missionary kids that went to high school with him. Bible translators were kicked out of Mexico for a number of years because of the socialist government in the late '80s and early '90s and during this difficult time, his family lived in Texas and Arizona.
Weathers found out about Biola from a friend who was a year older than him and had plans to come here. Another friend of his in the same grade decided to attend Biola as well, and they were both delighted when they came for a campus visit. The dorm that he called "home" on campus was the "old Horton," which was a mirror image of Emerson but housed both men and women. He also lived on three different floors in Hart during the summers he spent on campus, working for the computer science department. After debating which major to choose, he ended up majoring in both math and computer science.
Apart from being a studious Biola student, he would set time aside to create unforgettable memories with his friends.
"They threw me in the Biola swimming pool on my birthday at 2 a.m.," Weahters said. "Maybe not my favorite."
He did spend much of his time doing homework but still managed to participate in most of the fun-filled, traditional floor events.
"I went on four GYRADs my first semester," Weathers added.
He never had teaching in mind. He would always help his younger sister with her math homework and his mom would always comment on how he would make a good teacher, which he refused to believe.
"I spent the next 10 years trying to prove her wrong," Weathers said.
Instead, he proved her right. In the fall of 2005, Weathers started teaching Nature of Math.
"I like asking interesting questions or telling interesting stories but with a smaller class, it's easier to do tricks on them," he said.
When asked about his famous Halloween and April Fools' Day videos, he says he simply posted them and let them be.
"I [just] upload them on YouTube so my students can see them," he said. "Then other people started looking at them that weren't from Biola."
Weathers' Halloween video received 1.5 million views, and his most recent April Fools' video, which had a cameo appearance from President Corey, has amassed 2 million views so far.
The video was aired on a BBC show called "Click," which is a technology-related television show in the U.K. Weathers said he likes making videos for educational purposes and for entertainment.
He wants students to "learn a little of math and also gain appreciation for the history of math and how it fits into God's creation."