The story so far: Jesus and the mural
Biola finds itself smack-dab in the middle of art history, mural memorabilia and cultural commentary with Twitchell's "The WORD."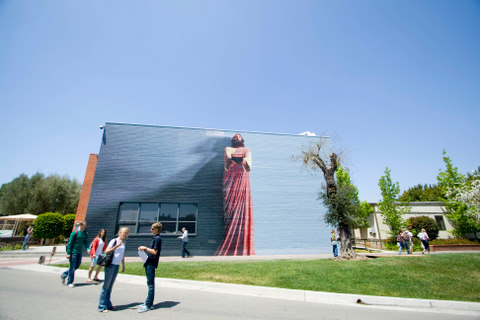 With over 1,000 public murals, Los Angeles is sometimes referred to as "the Mural Capital of the World." Leading the L.A. pack is muralist Kent Twitchell, having created over 18 major works locally, including the Latino "111th Street Jesus," a 100-foot by 60-foot portrait of Michael Jackson that recently appeared in the LOOK gallery show and two murals on two pieces of the Berlin Wall for the 20 year anniversary of the fall of the wall.
Biola finds itself smack-dab in the middle of art history, mural memorabilia and cultural commentary with Twitchell's "The WORD." The mural is well known enough to be featured in Ben Stein's "Expelled!" and the New York Times Magazine.
So how did such a famous painting become a provocative figure?
"The WORD," or the Jesus Mural, as it is more commonly known, was a Biola art class project that began in 1989 and was finished in the summer of 1990. For over a semester, dozens of students worked with paint, brushes and scaffolding. Normally, Twitchell works on commission. But with "The WORD," he made his only exception to the rule, donating all his time and the materials needed for the larger-than-life savior.
"I remember thinking this Jesus standing there so high with the Bible in his hands made an incredible statement," said Biola alumnus Chrissy Stauffacher-Aldin, one of the painters. "Sure it wasn't a typical [Bible] picture like the one of a shepherd holding his lost sheep, or Jesus by the well or feeding the multitude, but it brought together two incredible biblical and theological notions: God made flesh and Jesus being the Word; a condensed approach of John chapter one! Such a big painting brings you above … brings you to really realize what a great big God we do have, and that his Word is precious, he holds it in his own hands, and is worth reading … and that he's a God worth knowing for real!"
Twitchell wanted a theologically and historically accurate Jesus. Therefore, Jesus must be Jewish, since God sent ais Son to a particular people at a particular time and place, to be the Savior to all. He invested serious research before beginning the mural, visiting Israel numerous times, observing physical features and characteristics. Only when he discovered the Russian Jewish model Jay Gam was Twitchell satisfied.
The first attack on the Jesus Mural surfaced at Biola in the spring of 1993, when several students returned from a diversity conference in which they informed sociologist Tony Campolo that Biola had a giant painting of a "white supremacist" Jesus on campus that really bothered them, according to an article by professor Barry Krammes, who has organized several dialogue events over the mural.
"Go back and tear it down," Campolo responded.
The art department quickly arranged a meeting between the disgruntled students and artist Kent Twitchell, who spent over five hours dialoging. Near the end, he volunteered to pay to have the mural sandblasted off the wall. But when faced with this option, students halted.
"Surely they didn't want to destroy the image," says art and philosophy alumnus Renee Jorgensen Bolinger ('09). "There was intent behind the specific portrayal of Jesus – and besides, it wasn't necessarily bad art. Twitchell gave them an option that helped to solve their dilemma; he proposed that the students show their diversity by putting up more icons that accurately presented the face of Biola that they wanted to show."
But SURGE scholarship recipients including Hispanic alumnus Jessica Hofer Wilkinson remember the Multi-Cultural Relations office using posters to label the mural, "a symbol of oppression." About every four years with the enrollment rollover, a new wave of students would complain about the mural.
Other students of color disagreed, saying "The WORD" does not offend them.
During one such flare-up in 2008, Krammes issued a historical position piece to document the facts about the "The WORD."
"Kent's image of Jesus, a bit intimidating and reserved, finds its parallel in ancient … church domes," Krammes stated. "The centrality of Christ and the massive scale in which He is always painted in these high ceiling church interiors, speaks of His presence permeating all things. Twitchell's Christ is an expansive vision of the … all-encompassing Christ who unites male and female; slave and free; Jew and Greek; east and west so that distinctive differences melt away in His all consuming love. Two subtle shadows to the left of Christ reference the trinity.''
"The whole notion that someone is oppressed by the image … of the one who set you free from things like death, sin and the grave is ridiculous," said alum Donté Apperwhite. "I used to think the mural should be removed because non-Biolans often come to wrong conclusions about it and the university, but, with the current 'debate,' I believe that the statement of its remaining presence is more important."
Local resident Mary Hernandez Spickler, of Burbank, believes the mural helps her in her spiritual walk when she walks through campus.
"It reminded me that Jesus is bigger than any battle I may have," Spickler said.
So this coming week, Biola will explore the stakes of this battle for Jesus, who is stronger than any battle himself.