Swim team comes out strong at PCSC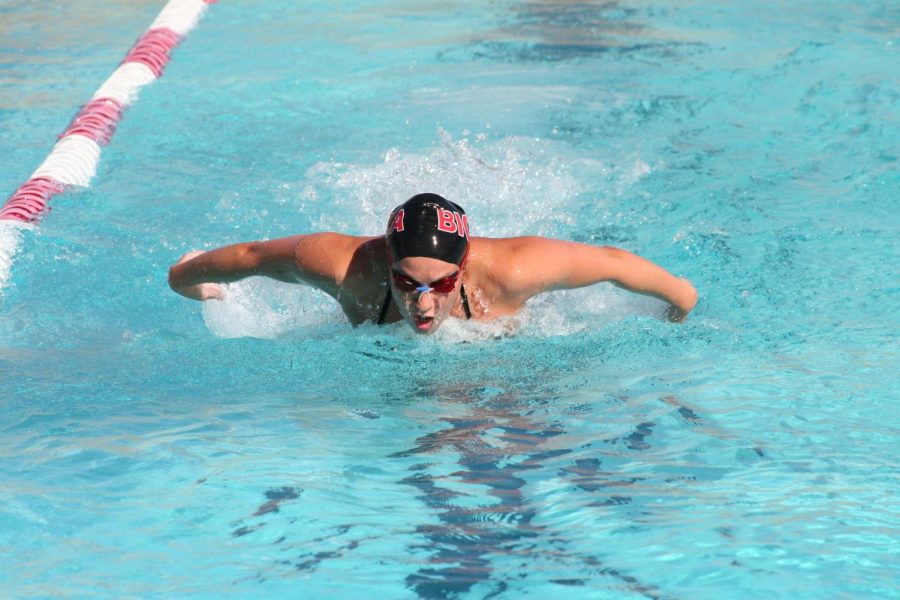 The men's and women's swim teams turned in some impressive results as they opened up the 2007-2008 swim season at California Baptist University in Riverside on Friday and Saturday, Oct. 12-13, for the Pacific Collegiate Swim Conference (PCSC) Invitational.
The nine-school meet was one of the largest in history, including NCAA Division I and II schools such as Pepperdine, Loyola Marymount and the University of Alaska.
The pentathlon portion of the meet began on Friday while the relays were held on Saturday. The pentathlon consists of swimmers competing in five individual events, with overall placement determined by an average of all the times.
On the women's side, freshman April Smith represented Biola well with a combined time of 6:38.44 and fifth place finish in the long IM (individual medley). Smith was the lone Eagle on the women's side to finish with top 10 honors.
The men's side faired better, with sophomore Zach Perkins finishing sixth in the short medley pentathlon with a time of 2:46.34.
"I felt pretty confident going into this meet," Perkins said. "Our team is training hard and looking strong in the water right now. It should be a great season, and I was definitely excited to see what the men's and women's teams could do last weekend."
Sophomore Ben Oviedo finished fifth overall in 5:49.36 in the men's long medley pentathlon.
There were several national qualifying times over the weekend. Female qualifiers were Erika Johnson in the 200 and 500 free, Smith in the 100 free, 100 Breast and 200 IM, and Sarah Warkentin qualified in the 100, 200 and 500 free.
The male qualifiers were Paul Mendoza in the 200 and 500 free, Ben Oviedo in the 100 back, 100 fly and 200 IM, while Perkins made the grade in the 50 and 200 free.
Head Coach Eddie Shepard was pleased with his team's performance after weeks of preparation.
"I think that the team did very well for an early season meet," he said. "This meet was as much a workout for the swimmers as it was a competition. I worked them very hard. I was also very impressed with their performance and how well everyone swam on such little rest."
On Saturday both the men and women's teams took the water for the relay portion of the meet. The women faired well nabbing a seventh place finish, while the men finished fourth.
The swim team hits the water again in Pomona against Pomona-Pitzer and Cal State East Bay on Nov. 3.