Siding with Seltzer
The women's volleyball coach is finding tim for family in the midst of a monumental season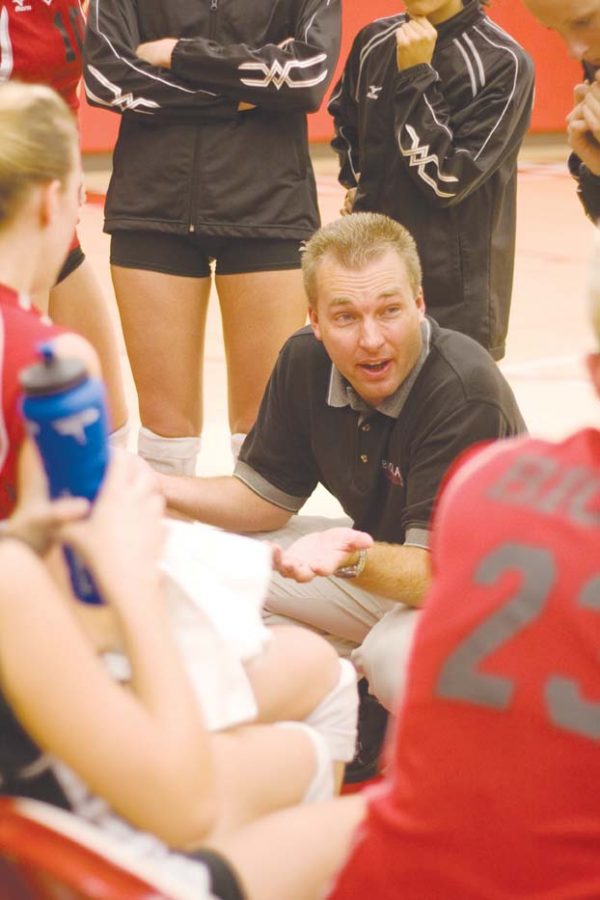 Believe it or not, there is a former "Nestle Quik" poster boy roaming the Biola campus.
While people around campus know Aaron Seltzer as the head women's volleyball coach, few know him as that Nestle Quik kid — a family secret his wife, Jen, exposed.
But for 33-year-old Seltzer, who is going into his sixth year coaching at Biola, it has never been about Nestle; it has been about following a life-long passion in volleyball.
Seltzer began playing volleyball in junior high, like so many kids who play sports as a way to get involved. He continued in high school, playing volleyball and basketball at El Modena Vanguard. After graduating in 1992, he began coaching one year later at his alma mater from 1993 to 2000, stepping up as their head coach in '95.
He simultaneously coached club and high school while attending classes at UC Riverside before transferring to play volleyball for two years at Cal State Bernardino. Seltzer majored in Liberal Studies with an emphasis is Kinesiology.
The Newport native came to Biola thanks to a family friend and former player Katie Finnerty. Finnerty's family heard of the opening and encouraged Seltzer to apply. But he wasn't convinced right away.
After meeting the girls and sitting down with his wife, the Seltzer family was receptive to the idea of coaching at a Christian university. He finalized the deal by making a two-year commitment to Biola, succeeding coach Ryan McGuyre.
It didn't hurt that Tuan Nguyen, Biola's assistant volleyball coach, has been a family friend of Seltzer since his freshman year in high school and was one of the main people who encouraged him to coach. Now, the two have coached together for all but one of the last fifteen years. Mrs. Seltzer believes their success has something to do with them playing off each other .
A lifetime of experience has given Coach Seltzer a love for competition in general. Even so, it does not stop him from being good friends with Azusa's head coach, Chris Kiefe, among others in the GSAC.
"The GSAC competition is a lot of fun," he said. "But off the court, most of us coaches are friends." However, coaching is not Seltzer's only job.
He's a third generation commercial insurance agent and owns his own company, "High Tower," a name chosen from the book of Psalms.
On the court, the gritty coach has sacrificed a lot for the girls, and it is apparent that he is more than happy to do it. The last five seasons, the husband and father of two missed out on plenty of dinners to attend 6 p.m. practices.
Thankfully, this year, things are different.
Seltzer's wife, seems more than happy to share her husband's precious time with the girls, but expressed her gratitude after the athletic department agreed to change practice time to earlier in the afternoon for this season.
"The recent change in practice time has really made a difference in our family time together," Mrs. Seltzer said. "We are able to connect better, and he has more time to just play with the kids, which is so important because daddies play with kids differently than mommies."
Although volleyball controls much of his time, Coach Seltzer's family and being a father to 3-year-old Isaac and 17-month-old Elijah is the first priority.
"When I'm not on the court, I'll spend every moment with my kids and my wife," the coach said without hesitation. "We go to Disneyland once or twice a week after practice."
Seltzer is so thankful to have his wife to support him in everything he does.
"It's important for [Jen] to be involved and important for me to have her involved — just so people understand that my wife and my family [are] my number one after the Lord."
Despite being the face of the famous chocolate powder mix years back, Seltzer has followed his passion in volleyball. From his coaching techniques to his daily life, it's apparent Aaron Seltzer is a happily married, God-fearing role model, who happens to be a sports fanatic as well.