Office fever spreads across campus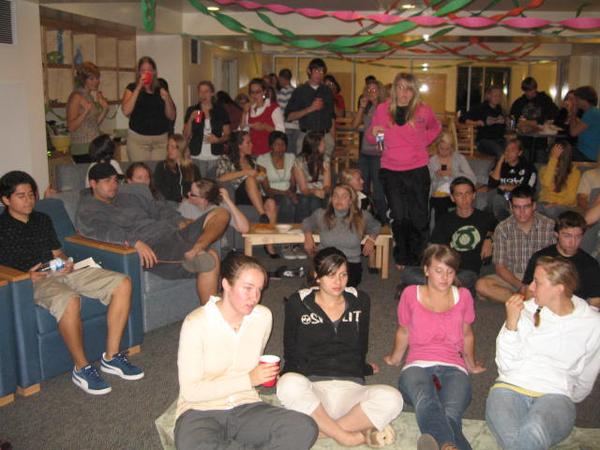 Last night, in dorm rooms, lounges and apartments throughout Biola, students gathered around their television sets to watch the latest installment of The Office. The hit NBC show premiered its fourth season with an hour-long special episode filled with its signature humor. The event was so highly anticipated that Biola students attended and planned Office parties.
In the Tropicana Apartments, a small soiree was hosted by seniors Andrew Bucek, Andrew Mahler and Patrick Flynn. They treated their guests to a spread of snacks that looked something like what Pam would have laid out in the Dunder Mifflin conference room.
Anticipation was beginning to peak at 8:55 p.m., but come 9 p.m., all was silent. A flash of static across the television screen sent a unison gasp of horror through the crowd of approximately 23 people. Fortunately for viewers, the show was interrupted for no more than a second or two.
Mahler said he and his roommates threw a party "for fun and to enjoy some community with neighbors and friends." Mahler also said that The Office is, "probably the best show I've ever seen in my life."
Attendee Brittany Lane, a senior, is a big fan of the show. "I like that the characters resemble people from real life," she said. "Watching their interaction is really hilarious and quoting them is about twice as hilarious."
Back on campus, Hope South was also celebrating. In fact, they decided to turn their all-hall into an Office premiere party. Approximately 100 people filled Hope's second-floor lounge. Streamers hung from the ceiling, Office caricatures and a poll titled, "Who's Your Favorite Character?" were scribbled on the glass windows (Office heartthrob Jim won). During commercial breaks, residents played Office trivia for prizes.
Junior Megan Barbour, a resident assistant in Hope South, said the residence life staff knew they could not compete with must-see TV's season premieres.
"Originally, we had the date set for this night. Once we realized it was premiere night, we decided to work with it instead of against it," she said.
Sophomore Katherine Daniel was thankful that the premiere was incorporated into Hope South's all-hall.
"I'm glad they're watching it," Daniel said. "I was worried about not having TVs."
"It seemed to be a great community-building party," said Krista Hegenbart, Hope South's rsident drector. She also speculated about why The Office is so popular on Biola's campus: "It's such a random, funny show. I think it just hits the humor of this generation."
However, the show was not well-received by all. Phillip Domfeh, a freshman, said of the premiere, "I thought it was lacking. They're kind of cashing in on The Office." Domfeh went to a small get-together in Thompson Hall to view the episode.
One of the show's loyal followers on campus, Office enthusiast and senior Brandi Johansen, said she's a fan of The Office simply because "it's the most amazing show possibly ever made."
If you missed last night's premiere you can visit www.nbc.com/The_Office to view the episode in its entirety. Be sure to tune into NBC next Thursday at 9 p.m. for the second episode of the award-winning show.