Biola responds to Jena 6 trial
Prayer vigil focuses on racial tension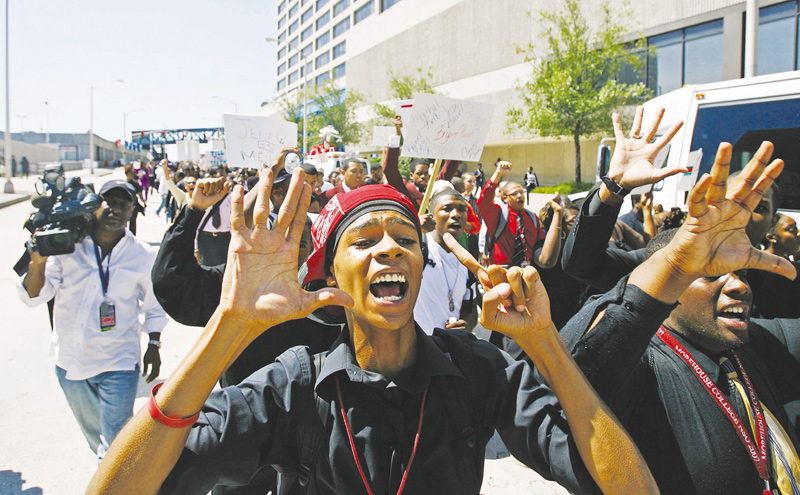 Sophomore Biola student Eileen Evind spent this week passing out fliers for a prayer meeting. Evind was surprised when she received weird looks since fliers are so ordinary at Biola. The flier was an invite to a time of prayer for what she believes is a social injustice.
Last night Biola students gathered in prayer. The reason: the Jena, La. trial. Organized by Evind and Biola alumnus Chelsea Albano, the meeting brought approximately 15 Biolans together calling out to God to deliver justice for the controversial trial going on today.
The night kicked off with informative video clips from Collateral News. Following the videos, Albano led the group in prayer asking, "Where is the church in this situation. Where is Biola? Where is the media?"
The prayer meeting last night was in response to an uprising in the small town of Jena, La. As the video clip explained, it all started Sept. 2006 after a black student at Jena High School asked school officials if he could sit under a tree traditionally used by white students during school breaks. The next day three nooses painted in the school's colors were hung from the tree. The students held responsible were expelled, but the expulsion was soon reversed because school considered the incident a prank.
In protest, black students organized a sit-in under the tree. District Attorney Reed Walters came to the school and threatened the protesters, claiming he could "take [their] lives with a stroke of [his] pen."
Several events took place afterward. On Nov. 30 the school building was set on fire. No suspects were found, but locals attributed it to the racial tension. The following day white students ganged up on a black student and beat him up. On Dec. 2 a white male pulled out a shotgun on three black students in a convenient store. The black students took the shotgun away from the man and were arrested for theft of a firearm. The white male received no punishment.
Two days later Justin Barker, a white student who had racially taunted black students at a party days before, was beaten up by six black students. Barker suffered from facial cuts and bruises and was released from the hospital the same day. That night he attended a social function.
The six students involved, known as the "Jena 6," were arrested and charged with attempted second-degree murder and conspiracy. One of the six, 16-year-old Mychal Bell, was sentenced to a maximum of 22 years in prison; an all-white jury and judge convicted Bell. The decision was originally revoked and brought back to trial because he was tried as an adult, but today a hearing will be held to make a final decision.
The fate of the "Jena 6" will be determined as well. Approximately 50,000 protesters are expected to show up, including African-American leaders the Rev. Al Sharpton and the Rev. Jesse Jackson. People were encouraged to wear black to show their support.
Albano, who planned on rallying in Jena herself, said she felt God asking how this incident impacts Biola.
"This is racism happening today. It is very overt, and for white people it is hidden," Albano said. "They can't see the structure of racism, I hope this will expose it."
For more information, visit www.colorofchange.org.