Volleyball storms past Pt. Loma, Hope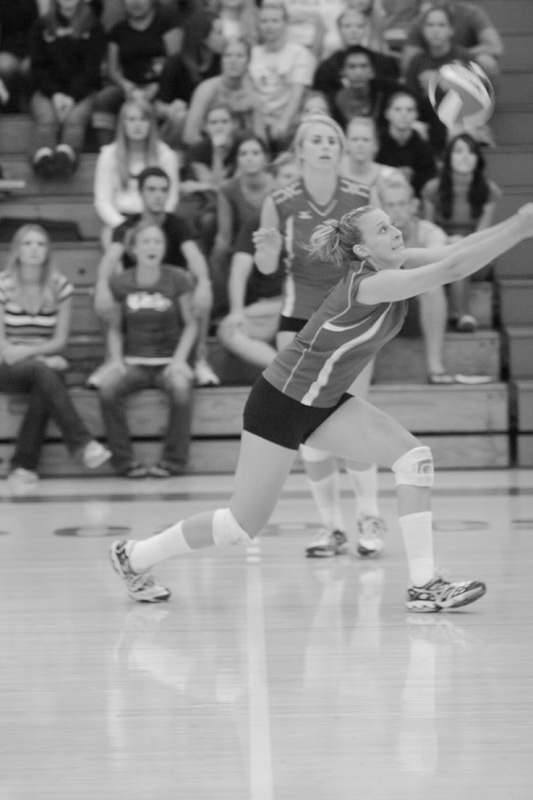 With another week gone by, the No. 5 ranked Eagles refused to lose winning two more games. With the victories, they have improved their record to 12-0 overall and 5-0 in conference.
The Eagles played host as No. 7 ranked Point Loma came to try and spoil Biola's perfect season last Saturday. The Eagles came out strong in the first game against their opponent, jumping to a 9-4 lead. But the Sea Lions weren't ranked No. 7 by mistake. They fought back and brought the game to a late 24-24 tie.
Biola was able to take advantage of a pair of errors by Point Loma making the score 27-24, and soon after put the game away with a service ace by senior defensive specialist Caroline Rutenbar.
The second game went back and forth until Biola was able to break a 12-12 by going on an impressive 9-1 run. The streak was too much for Point Loma, and the Eagles easily put away game two winning 30-19.
With thoughts of another sweep floating in the air the Eagles came out strong in the third game jumping out to a 7-1 lead. The Sea Lions stormed back to make the score 18-17.
Unfortunately for Point Loma that was all the fight they had left. With two more attack errors for Point Loma, the Eagles went on to win 30-24 completing yet another sweep and improving to 11-0.
Senior opposite hitter Brittany Wing finished the evening with an impressive 16 kills, seven digs and four blocks along with four assists, while junior outside hitter Kelsey Mitchell had 14 kills in 27 attacks and did not commit an error throughout the entire match.
The Biola women's next match came on Tuesday night against and at Hope International University. The Eagles came out with an early lead, but Hope was able to fight back and fought off three game points. It was again not enough, though, as Hope finally lost 30-24.
In game two Biola jumped out to a 6-0 lead thanks to five consecutive service points by Rutenbar. Yet again, Hope came back after a timeout with their own 6-1 run. Biola maintained momentum and overpowered Hope throughout the game. They continued their back-and-forth style of play, which has been common this season, but won again, 30-20.
In the third and final game the Eagles established the lead early and held it the rest of the way. They dominated all categories pushing the lead to 17-7, and won it 30-17 for the sweep. With the loss for Hope, the Royals fall to 3-5 and 1-4 in conference.
Coach Seltzer expressed how pleased he was with the team's performance.
"It has been great, and I am most impressed," Seltzer said. "Everyone is happy with everyone; they do such a great job staying together and the team has good chemistry."
With the Eagles now sitting pretty at12-0, junior setter Christina Perkins explained what it means to be undefeated.
"Teams are preparing for us, and we have to make sure we are equally prepared," Perkins said. "We have a target on our backs, and we have to be prepared for that."
"The best part, winning or losing, is the group of girls," she added. "They are all such women of God. They make everything worthwhile, and I wouldn't change anything about them."
The Eagles have been impressive in every match they play and look to continue their dominance this Saturday at home against Concordia University.