Una invades Chain Reaction
Biola students' band can both reflect and rock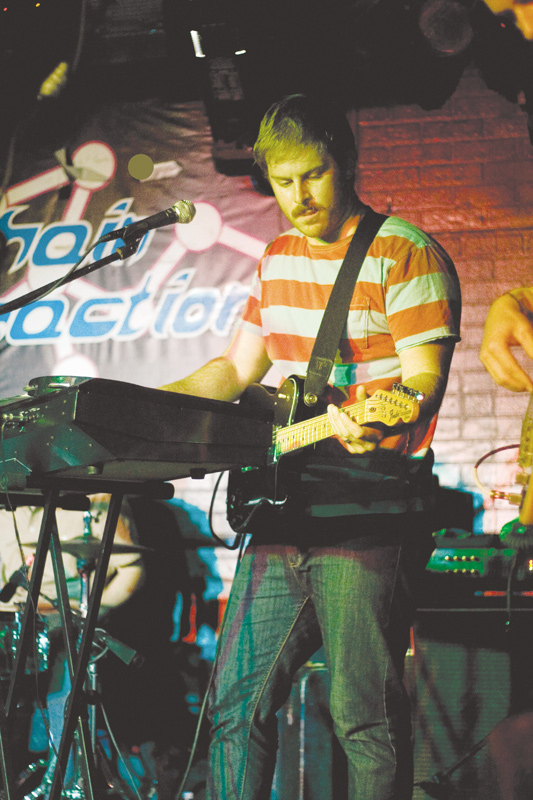 The lights are down, and the band begins to play. As the band Una, composed of current and former Biola students, plays their first song at popular Anaheim venue, Chain Reaction, the sound mixing is off, the vocals are turned too far down, and the bassist can't hear himself in the monitors.
However, Una plays through their first song, "Sunrise," with professionalism, ignoring the technical difficulties. Eventually, the sound is fixed to a point where the band has somewhat decent sound quality, and Una is off to the races on another concert.
As the concert progresses Una transitions from heavier rock songs like "The Empire" and "Justice" to softer, more piano-driven songs like "Purity's Song" and "Loyalty's Remorse." Unlike most bands, Una is able to mix these two divergent styles into one distinctive sound; even on their slower songs, they can still rock with energy and their harder-sounding songs often digress into a sweet-sounding and softer bridge. They showcase their abilities to rock out without losing control of their material, but they can also be reflective, focusing on the more delicate instruments, such as the piano.
Una is anchored by the wide-ranging lead singer, Brandon Burch, who transitions from soaring to soft and poetic vocals with talent and ease. He is accompanied by lead guitarist, Mark Becklund, and bassist Patrick Grafton-Cardwell, who are as wide-ranging and solid on their instruments as Burch is with his voice. The current drummer and newest Una member, Dustin Wolfe, was nearly perfect during their performance, nailing almost every note and cue.
This is a new beginning for Una; they've been writing music and practicing for months now, and their concert on the 17th debuted their new material. Their new album's tracks work together to follow a grand storyline.
"It came from writing one song … we thought, 'What if we could write a symphonic piece with movements relating to a story or progression?' and that worked out to writing a storyline," Grafton-Cardwell explained.
"We wrote and story-boarded the story for a good two months," Becklund said.
For now Una is just touring and performing their new music live, as well as getting ready to prepare for recording.
"Spring semester, springtime we want to be in there," Burch said when asked when recording will take place.
For now, Una fans will just have to wait to be able to take home the new songs, but there are plenty of opportunities to hear them played live. Una's next concert will be this Friday, Sept. 21, at Fullerton-based venue, the Alley. The Alley concert is a unique opportunity — a Battle of the Bands that will allow the winner the chance to open for Jimmy Eat World at one of their performances.
To find out more information about Una's music and their upcoming concerts, visit the band's MySpace, www.myspace.com/listentouna.