Try these recipes to satiate your quarantine boredom
Impress your family with your newfound cooking skills.
Develop a new skill while in quarantine by cooking with ingredients you probably already have at home. The recipes below require simple ingredients but make delicious, unexpected treats. 
AEBLESKIVERS 
A traditional Danish recipe, these three-dimensional pancakes are best paired with Lingonberry jam and lemon curd. You will need a circular pan like this one and an electric egg beater to whip the egg whites. If you do not have an Aebleskiver pan, this batter also makes fantastic pancakes or waffles. 
Time: 1 hour
Servings: 4-5   
2 eggs
2 cups flour
2 teaspoon baking powder
1 tablespoon white sugar
½ teaspoon baking soda
½ teaspoon salt
4 tablespoon melted butter
2 cups buttermilk
To make the batter, mix all of the dry ingredients, sifting the flour to prevent clumps. Separate the egg whites and yolks and whip the whites into stiff peaks. Set the whites aside and add all of the wet ingredients together, including egg yolks. After, mix the wet and dry ingredients together, preferably with a whisk to avoid clumps. Then, fold in the egg whites. After turning on the stove to medium, brush butter into the holes of your pan, and then fill each divot with batter to the top. 
After four minutes, rotate the orbs out of the pan 90 degrees—a skewer or a fork seems to work best for this. Then, add batter to the empty space left by the rotation and turn the pancake all the way over to create a perfect orb. It takes some practice, so be patient. The end result is definitely worth it. You can also fill them with Nutella before flipping to have a gooey chocolate treat. 
ESPRESSO AND BROWNED BUTTER CHOCOLATE CHIP COOKIES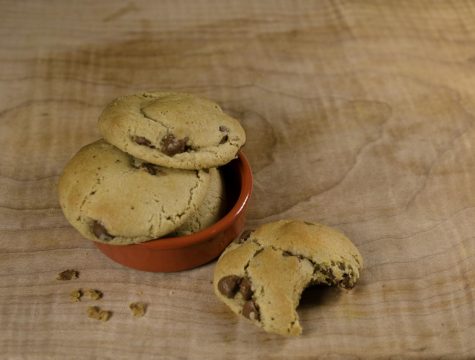 Step the classic chocolate chip cookie up a notch by using this recipe, but adding a teaspoon of espresso powder and browning the butter. Instead of creaming the butter with the sugar like the traditional recipe, melt the butter on the stovetop and stir until it turns a slight golden brown. This requires a close watch, as it will easily over-brown and leave you with burned butter. The butter should be golden brown, smelling like caramel. It needs to cool before adding to the cookie dough, so pour into a liquid measuring cup and put in the freezer for about 10-15 minutes. To supplement the moisture that has evaporated off during the browning process, add cool water to fill to the two–cup line. These cookies taste best when frozen overnight to allow the flavors in the dough to develop.
OAT MILK
The latest fad in coffee shops, oat milk is a creamy and nutty milk substitute. Although this particular recipe does not froth well, it works well in just about anything else. It tastes better than any store-bought version and is surprisingly easy to make. You will need a cheesecloth or thin dish towel and a high-speed blender or food processor.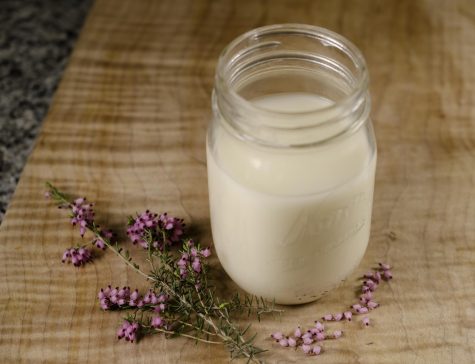 Time: 15 minutes
Servings: 3-4 
½ cup rolled oats 
2 cups of water 
1 tablespoon maple syrup
1 teaspoon vanilla 
Add all the ingredients to the blender or food processor, and blend for 35-40 seconds. There should be some bubbles on the surface. Then, placing a thin cloth over the surface of a bowl, pour the contents of the blender over the dishcloth. None of the oat mixture should make it into the bowl without passing through the cheesecloth, so you may need a helper to hold the strainer in place.  
Allow it to drain for a few minutes, then squeeze the dishcloth until nothing but oat granules are left over. Some recipes and food bloggers recommend straining twice, but it is not necessary. Store it in an airtight container for up to five days. 
BUTTERNUT SQUASH CHICKEN BOWLS
If you miss Chipotle, you can make something even better at home. This recipe can be embellished to taste, but the basic concept remains the same.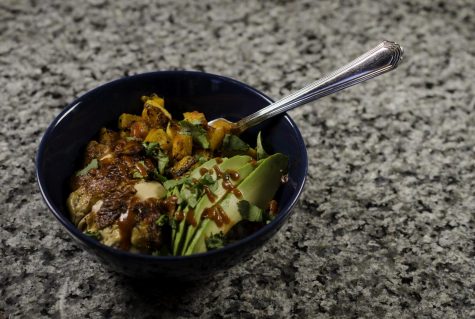 Time: 45 minutes
Servings: 5 servings
Cooked chicken
Butternut squash 
Avocado
Cooked brown rice
Olive oil
Pepper
Salt 
Sriracha or salsa (optional)
Lime wedge (optional) 
After peeling and gutting, cut the squash into half inch cubes. Then, toss with olive oil, salt, pepper and herbs de Provence. Heat the oven to 400 F, and pop it in for about 30 minutes, flipping the cubes halfway through so they are evenly browned. If you have a personal vendetta against squash, feel free to roast sweet potatoes instead and pair with chimichurri sauce. 
To assemble the bowl, begin with brown rice. Then, add chicken breast, squash and avocado. Sriracha really balances the sweet and savory of the butternut squash and is best placed on top. Feel free to add some lime juice on top as well. 
DESSERT CREPES
These can be filled with a variety of things, making a perfect breakfast option for a large group of people. You can try strawberries and whipped cream, bacon and maple syrup, or bananas and chocolate sauce, as pictured. Making the perfect crepe is an acquired skill, so approach with patience. For the perfect flip, use a low-walled nonstick pan and a thin spatula. 
Time: 45 minutes 
Servings: 6 
2 eggs 
1 cup flour
¾ cup milk
½ cup water 
3 tablespoon melted butter
1 ½ tablespoon sugar 
1 teaspoon vanilla
Whisk or blend all the ingredients together and allow the mixture to rest in the fridge for 30 minutes. While the batter is resting, warm the pan on medium-low. 
Add a quarter cup of batter to the pan and swirl the pan until the batter forms an even, thin layer. When the edges begin to turn golden brown, sandwich a spatula underneath the edge and trace it all the way around before attempting to flip the crepe all the way over. After you finish cooking the crepes, fill them with whatever your heart desires.