Your life in lyrics, courtesy of Justin Sinclair
Music alumnus tells stories through song.
It is one thing to have a favorite song that you listen to all the time, but it is another to have a song that tells your personal story. Alumnus Justin Sinclair seeks to do both. Since graduating in 2018, Sinclair has been working in LA as a songwriter and producer, collaborating with artists such as The Brilliance and Jenny Owen Youngs. 
His biggest project is releasing songs under his artist moniker, Brother James, where he releases songs deeply inspired by monasticism. In time, he may release one or more full-length albums under that name. Yet, Sinclair is most interested in working with those outside the world of musicians and crafting their tales through song.
BEATS OF THE BEATLES
Over the past six years, he has written many songs on commission for prayer services, churches, memorials, weddings and anniversaries. Some of these songs were commissioned by Spiritual Development for Fives chapels and Thursday Morning Prayer services, such as Omniscient Mourner, which he wrote as an invitation for the Church to weep with him. He also wrote a song called Rise to Life for Redeemer Church La Mirada, which addressed some pain the congregation was going through at the time, and was based on passages the church was exploring.
"I don't think most other songwriters enjoy working with people who aren't musicians as much as I do," he said. "But I love [it]. The everyman can realize they have a story to tell—that their story deserves to go into a song."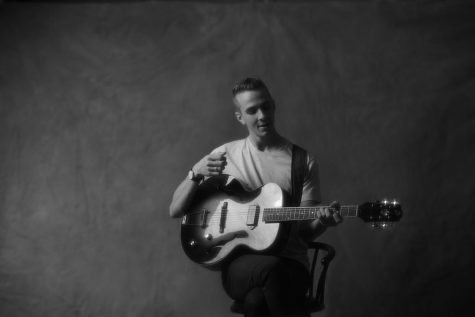 Sinclair describes his own genre as singer-songwriter, straddling the line between jazz, pop and folk. He lists the Beatles as one of his musical influences, which shows in Sinclair's melodies, harmonies and lyrics. Sinclair says it's the lyrical phrasing in his music that strongly mirrors McCartney's, the musical complexity, chord choices and melodic movements, and "a certain musicality to especially McCartney's songwriting" that he's picked up from years of listening to their music. After a show, someone even came up to him and said his music sounded like Paul McCartney's.
"I grew up on the Beatles," Sinclair said. "That was my family's playlist. Paul McCartney was my [musical] foundation."
The Brilliance, a two-man band he discovered at a time when he questioned his faith, is also very important to him. 
"I had suicidal thoughts and was depressed," he said. "Their music [served as] a balm."
He listened to the song "May You Find a Light (Reprise)" almost every day during that time. Having just let go of his faith for the first time, he says the lyric, "lost and weary traveler searching for the way to go… May you find a light to guide you home" was exactly what he needed to hear. He said the chorus of their song "Love Has a Way" also "gave him something hopeful to hold onto and sing over and over."
Sinclair worked for The Brilliance last spring, and did some backend work for Pomplamoose about a year ago, a YouTube band he admired for their "quirkiness" when he was in junior high and high school. He also got the chance to do string arrangements for a Christian record label.
THE PROCESS
According to Sinclair, writing a song for someone is interesting and different every time. For his clients, the experience is usually a new one as well. The process has multiple layers—for instance, if the song is for a wedding, he will spend time getting to know the couple and hearing the story they want to tell. Sometimes, he helps the couple by asking questions to help them see their story in a new way—When did they first meet? What was their first date? What were some significant moments in their relationship?
"Everyone has moments in their life they want to remember," Sinclair said. "Some capture those by taking photos. I capture those in the form of a song. [My clients] give me lyrics, and concepts, and ideas, that I can weave into a story."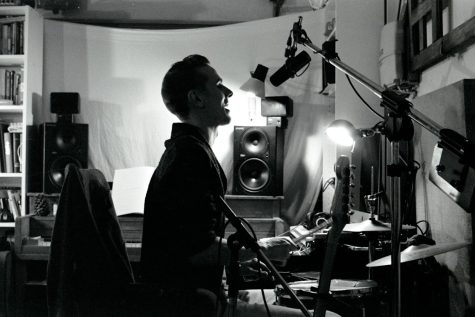 Next, he brings the story into the studio with his instruments, and decides the best way to tell the story musically.
"I play most instruments," he said. "In my room I have several guitars, bass, a trombone, some keyboards. But I've recognized my strength is writing the songs, and there are others who play those [instruments] better than me. So I can oversee the whole process, but then work with others who really know their craft, so that we can make a great work of art."
The results are unique to each client. One of his clients played their custom song as the bride walked down the aisle, and again for the couple's first dance.
"That was the most meaningful thing I've ever seen—that their story was playing while they were dancing," Sinclair said.
The couple even decided to have the song recorded professionally, with help from The Brilliance. The song will be released on streaming services this year.
SONGWRITER SINCLAIR
Sinclair's long-term goal for the next 10 years is to write songs with pop artists, in addition to recording for Brother James and hopefully releasing several EPs in the next year or two. In the meantime, Sinclair will continue writing commissions. Aside from storytelling for companies, he wants to do more anniversaries and memorial services.
"But it's really kind of [for] anyone who wants to tell a particular moment or meaningful story," Sinclair said. "Any person or community who feels they could benefit from their story being told in song or condensed into a work of art."
He also uses music to offer compassion and comfort to those who have been hurt by the church and religious organizations. His latest song, "I Had to Dig," shows the difficulty and pain in the church, helping others open up to the light that is in it. As someone who has experienced that pain, Sinclair wants this song to convey the light and peace and comfort, and to offer what is good in Jesus.
"I really hope that my music, as Brother James, tells my story that illuminates my pain and joy and experiences and spiritual journey, and of wrestling with doubt, and makes others come to see themselves in a more beautiful and true way," Sinclair said. "Now I'm telling other people's stories and being a source of light and compassion and joy into their lives and offering joy and peace through my music."