Women's basketball hopes unity brings success
The Eagles drive home faith in action as the basis for their upcoming season.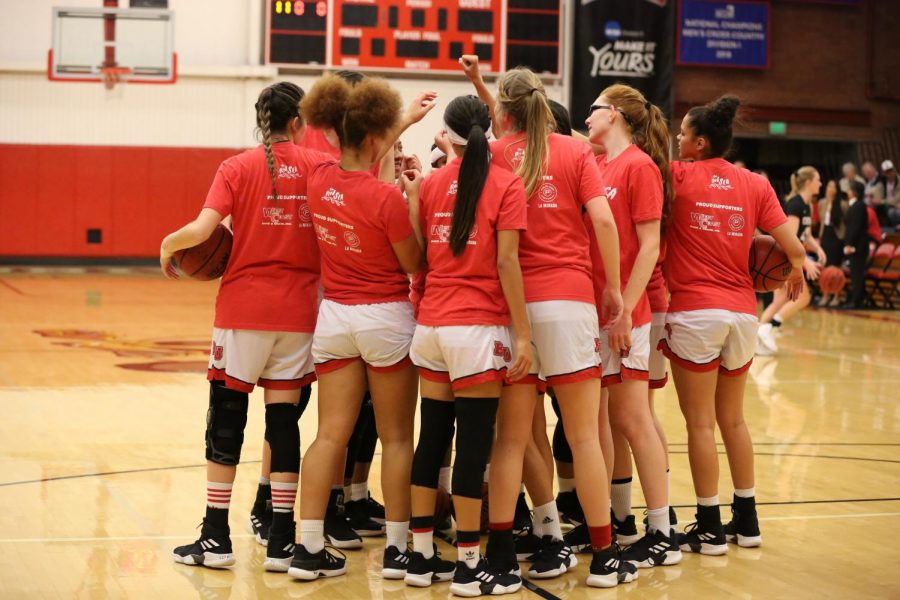 (This story was originally published in print on Oct. 31, 2019).
Phillipians 2:2 says, "Complete my joy by being of the same mind, having the same love, being in full accord and of one mind and purpose." Head coach Alan Nakamura is forming his team's structure around this verse and being one in the same heart. Year after year, Nakamura continues to tailor his Eagles around staying biblically focused.
"Our main goal for this year is to build team unity, to be one team together," Nakamura said. "Our goal is to take a group of individuals and help them have love and care for each other, and really commit to playing."
That message is resonating with his players. They understand that unity is necessary to be a real championship-contending team.
"Changing our mindset was the first step," said senior guard Jelissa Puckett in an email. "Staying mentally strong and together is what's going to get us there. Usually with girls' sports teams there is drama and 'he said, she said,' but we don't have any of that. Sometimes we go at it in practice but afterwards we are a family. It's like I have 13 adoptive little sisters."
Integrating faith into the works of the athletes has given the women an opportunity to bond as a sisterhood in both athletics and as siblings in Christ.
"We always have each other's backs and hang out off the court. It is like no other team I have been a part of," sophomore guard Aysia Johnson said.
VERSATILE ROSTER
Women's basketball disappointed last year as they rounded out the 2018-19 season at 11-17 overall and 9-13 in the PacWest conference. But the 2019-20 season is right around the corner. Their first game is against California State University, Los Angeles on Nov. 8 and the Eagles are  healthy and looking strong. Women's basketball lost only two seniors, forward Sara Dougan and forward Jessica Shill. Coming into the season, they gained four freshmen, guard Stephanie Lee, forward Madi Chang, forward Jordan Rabe and forward Jaden Randell. The Eagles also replaced some of the old coaching staff with two new assistant head coaches, Ciara Iglehart and Sabrina White. 
DYNAMIC DUO
"Our new assistant coaches have added a lot of love and passion, enthusiasm, knowledge and experience to our staff," Nakamura expressed. "I think our players have really appreciated and benefit to their contribution. We have, I believe, the best group of assistant coaches in the conference and beyond. I am very thankful for the gifts and talents and personalities that they bring to our team."
The dynamic duo of assistant coaches brings a headstrong force to the team. The standard of excellence upheld by the coaching staff is not an easy task, and the Eagles face a healthy amount of grit from their extended coaching staff. Having leaders who are intensely passionate with a deep love of the game is highly beneficial in seeking to perfect play.
"They yell…a lot and get on us. But it's out of love and you can feel it," Puckett said. "They're tough. They challenge us and push us everyday, on and off the court. They are really set on making us better people and better leaders in things outside of basketball."
The Eagles have enlisted a D1 transfer, Jana Thomas-Reid from the University of New Orleans. Her energetic play is helping to set the pace for the rest of the squad.
"We have a versatile team," Nakamura said. "We added some height and physicality, so we feel we can play multiple styles, whatever will work best for that game. We have recruited intentionally to develop a really versatile team."
Biola has collectively decided to strive for a PacWest Championship. The bar is set high for the Lady Eagles, but Nakamura has put his team in the best position possible with his loving, faith-filled coaching staff and determined athletes. The team's quote is a motto that is meant to inspire and direct throughout the year, starting now, "receive and give like a champion."
About the Writer
Andi Basista, Sports Editor
Andi Basista is a junior journalism major who loves basketball, underground music and is highly appreciative of a good beach day.

[email protected]



Originally from a small farm town in Ohio, I have put aside my corn shucking gloves to embrace a new life in the Angel City to study sports journalism. It is true what they say about culture shock and LA traffic. I am used to being late to work because of getting stuck behind a John Deere tractor, but now it is because of gridlock...