Men's cross country wins PacWest Championship for the second year in a row
Meanwhile, the women's team finished 2nd at the conference championship.
Biola men's and women's cross country found themselves on top of the podium for the third year in a row at the 2019 PacWest Conference Championships at Ted Craig Regional Park. The men's team continued to dominate the course and became back-to-back champions. The women ran into a second place tie with Academy of Art University.
Junior Mackenna Mason, senior Mandy Reyes and sophomore Grace Catena were the top runners for the women's team, each earning All-PacWest honors. All seven scorers from the men's team earned All-Pacwest honors, but it was senior Gabe Plendcio who was especially incredible as he defended his individual championship title.
Plendcio led the men from start to finish with a first-place time of 25:09.8. He had a massive lead throughout the race, sometimes as large as 25 to 30 second splits.
"It feels so good just to use the talents the Lord has given me to just come out here and run fast and bring glory to God. It is incredible." 
PERSISTENT PLENDCIO 
Plendcio was the obvious leader of the pack from the time the gun sounded at the beginning, but as he came into the second loop of the race he could feel a wood chip coming up through his shoe. 
"It was literally coming up into my foot and was super uncomfortable," Plendcio said. "I just really quickly stopped, leaned up against the rail, pulled this inch-long wood chip out of my shoe and then just kept on going."
Sophomore Brady DeHaven (25:21.3) and senior Ryan Thompson (25:22.0) were not too far behind him placing second and third, helping secure the first-place title for the Eagles.
CLOSE BEHIND
The women's team tied for second place with Academy of Art, just behind Fresno Pacific University. Mackenna Mason was the leading lady for the Eagles with her third-place finish with a time of 21:47.9. Mason earned All-Pacwest first team honors for her performance.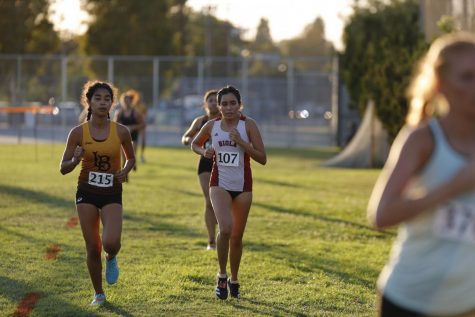 "Usually I hold back and kind of work with the group, but coach just said go, do your thing and try and run with the front pack. And that is just what I did today," Mason said.
Mason was neck-and-neck with first-place finisher Hasna Kaarour of Art U for a stretch of the race, but ultimately finished about 20 seconds back. 
"I do not regret how we started," said head coach Sean Henning about the women's race. "Just that last loop we needed to finish out."
The next Eagles to cross the finish line were Mandy Reyes and Grace Catena, both earning All-Pacwest third team honors. Reyes finished with a flat time of 22:37.0 and Catena followed her at 22:45.3. 
The Eagles will compete in Biola's first NCAA Division II postseason competition at the NCAA Division II West Region Championships in Monmouth, Oregon on Nov. 9. Both of Henning's teams will look to keep up their winning history as they take the course.