Softball splits doubleheader against Azusa Pacific
The Eagles shutout rivals APU in an eight-inning game one victory.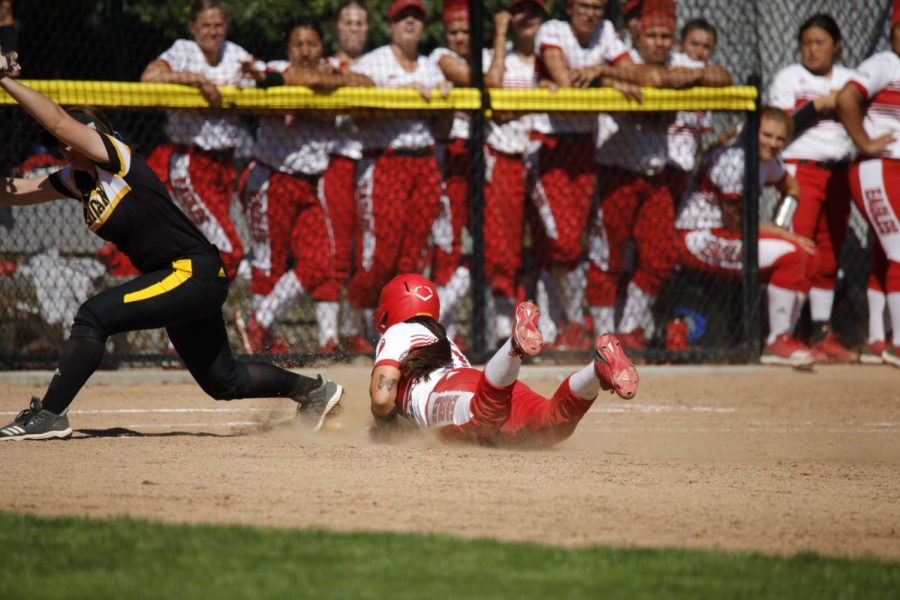 Softball took to the diamond at Azusa Pacific University on Thursday afternoon to battle out in a doubleheader against the Cougars. Biola shut out APU in the first game of the day, 1-0. However, the Eagles let game two slip away and the Cougars walked away with the final victory, 4-3.
PITCHING PERFECTION
Game one was a pitching war. Sophomore pitcher Paige Austin did not let the pressures of her opposers constantly reaching third base stunt her focus. Austin halted APU with a groundout and strikeouts in the final innings, forcing an extra inning. She tallied a total of 10 strikeouts and allowed for only one hit the entire game.
Sophomore third baseman Ruth Munoz and senior center fielder Areana Ramos both walked to base when senior first baseman Missy Poti came up to the plate. Poti hit a grounder to right field, allowing Munoz to score the winning run for the Eagles.
SECOND GAME STRUGGLES
Game two started with the Cougars putting up three quick runs by the end of the second inning. Biola trailed 3-0 up until the fifth when junior left fielder Haley Martinez scored thanks to a double from junior catcher Kayla Neff. However, APU did not let up and stopped the Eagles' momentum by bringing home another run, making it a 4-1 ballgame.
The Eagles gave their best efforts at one last rally. Freshman corner fielder Sicili Brittingham scored in the top of the sixth and Munoz touched home plate in the seventh, but it wasn't enough. The Eagles' regular season came to a close as the Cougars ceased to allow anymore advancements, defeating Biola 4-3.
Biola's seniors pitcher Kaile Chavez, designated player Hailey Boyett, shortstop Andi Hormel, Poti and Ramos all finished their final regular season game as Eagles after a bittersweet split at Azusa, California.
The Eagles (24-16 overall, 19-11 PacWest) will compete in the NCCAA Softball World Series from May 15 to May 17 in Botetourt, Virginia.
About the Writer
Andi Basista, Sports Editor
Andi Basista is a junior journalism major who loves basketball, underground music and is highly appreciative of a good beach day.

[email protected]



Originally from a small farm town in Ohio, I have put aside my corn shucking gloves to embrace a new life in the Angel City to study sports journalism. It is true what they say about culture shock and LA traffic. I am used to being late to work because of getting stuck behind a John Deere tractor, but now it is because of gridlock...