Track and field excel at the Bryan Clay Invite
The Eagles show their strength in a three-day invite between multiple schools.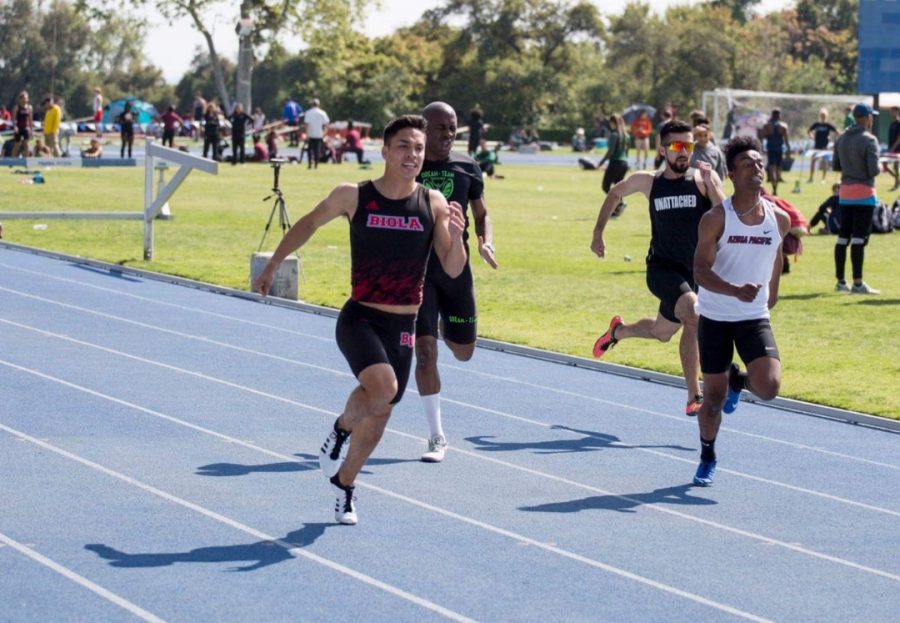 The Eagles have travelled all around LA in the past few days. From Azusa Pacific University to Cal State Los Angeles University to Cal State Long Beach University, Biola has made their presence be known. The end of the three-day long invitational finished at APU in the Bryan Clay Invite.
RECORD BREAKERS
Junior Paige LaBare finished the 100-meter 45th overall, beating her own record with a new time of :12.14. She carried along that same energy into the 200m race, finishing 72nd with a time of :25.24.
LaBare was not the only Eagle for the women to set personal-bests. Heidi Sowers placed 49th in the 100m hurdles with a time of :15.04. Sophomore Hannah Hubbard set her personal-best in the long jump, placing 40th with a mark of 5.52m. She took that time and beat it in the triple jump with a mark of 11.46m, putting her in 34th place.
Junior Shannon Howell and freshman Clara Haynes both excelled in the 1,500m. Howell finished 90th with her collegiate-best time of 4:45.13 while Haynes finished 96th, beating her previous time and setting a new personal best at 4:45.91.
CONTINUED DOMINATION
The men did not disappoint either. Sophomore Ryan St. Pierre ended his 1,500m distance run with a time of 3:56.75 which was a collegiate-best for Pierre. Freshman Mathias Davis finished the 400m with set his season-best time of :49.61. Junior J'Vaughn Singleton ended the triple jump in 31st with a season-best of 13.64. He then proceeded to dominated the 110m hurdles with a time of :15.46, earning him the 40th spot.
The Eagles will hit the track again on April 26-27 at APU to compete in the two-day long PacWest Championships Invite.
About the Contributor
Andi Basista, Sports Editor
Andi Basista is a junior journalism major who loves basketball, underground music and is highly appreciative of a good beach day.

[email protected]



Originally from a small farm town in Ohio, I have put aside my corn shucking gloves to embrace a new life in the Angel City to study sports journalism. It is true what they say about culture shock and LA traffic. I am used to being late to work because of getting stuck behind a John Deere tractor, but now it is because of gridlock...