Softball sweeps Notre Dame de Namur
The Eagles go up 2-0 in the first day of a four-game series against NDNU.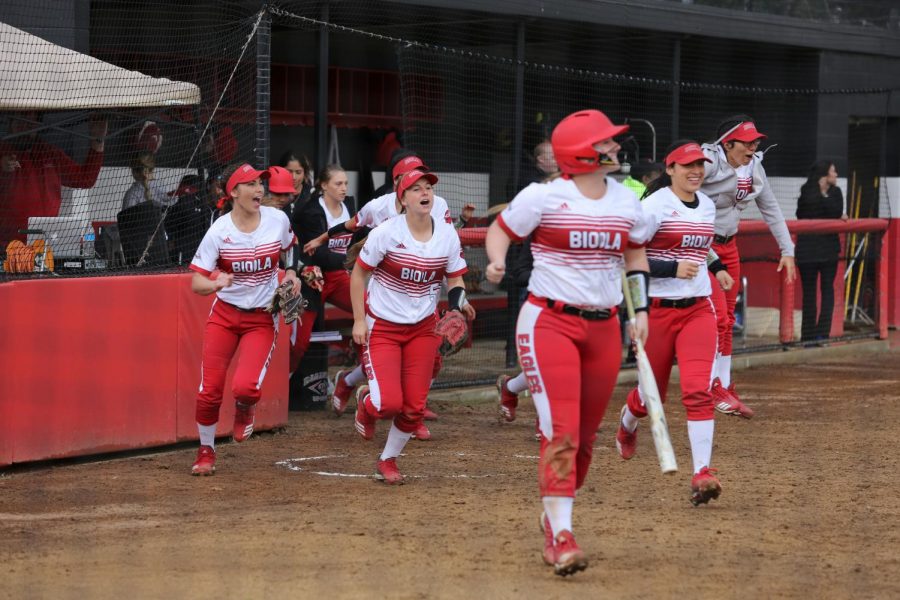 The Eagles traveled to Belmont, California today to compete in their first of two doubleheaders. The first game of the day started dry, however, Biola pulled themselves together and emerged with a victory, 6-2. The second game carried the same energy from the Eagles. They ended the game in the sixth inning through Biolas dominance, resulting in a 9-0 victory.
SLOW START
The Eagles started off the day slow. Both teams remained scoreless until the fifth inning when the Eagles put up three runs thanks to junior outfielder Haley Martinez and sophomore second baseman Tori Apodaca. Biola continued to make moves toward the plate throughout the sixth and seventh innings. Sophomore third baseman Ruth Munoz scored two runs for her team while senior first baseman Missy Poti and junior catcher Kayla Neff each brought home a run to pull the Eagles to victory.
ALL EAGLES
Game two was a shutout. Sophomore pitcher Paige Austin was spectacular from the plate, striking out eight Argonauts and only walking one.
The scoring frenzy started in the third inning, when freshman pitcher Jennifer Morinishi scored off a lead-off triple. The Eagles went off during the fifth, scoring four runs courtesy of senior shortstop Andi Hormel, Munoz, senior center fielder Areana Ramos and Poti. The sixth inning was more of the same. Sophomore catcher Ari Gonzales, Munzo, Ramos and senior pitcher Kaile Chavez all scored a run, each giving the Eagles their 9-0 win at the end of the sixth inning.
The Eagles (22-12 overall, 17-7 PacWest) will take on NDNU in another doubleheader tomorrow at 11 a.m. and 1 p.m. at Notre Dame High School.
About the Contributors
Andi Basista, Sports Editor
Andi Basista is a junior journalism major who loves basketball, underground music and is highly appreciative of a good beach day.

[email protected]



Originally from a small farm town in Ohio, I have put aside my corn shucking gloves to embrace a new life in the Angel City to study sports journalism. It is true what they say about culture shock and LA traffic. I am used to being late to work because of getting stuck behind a John Deere tractor, but now it is because of gridlock...