Athlete of the Week: Softball's Kaile Chavez
The senior pitcher led her team to a season-high scoring game of 11-6.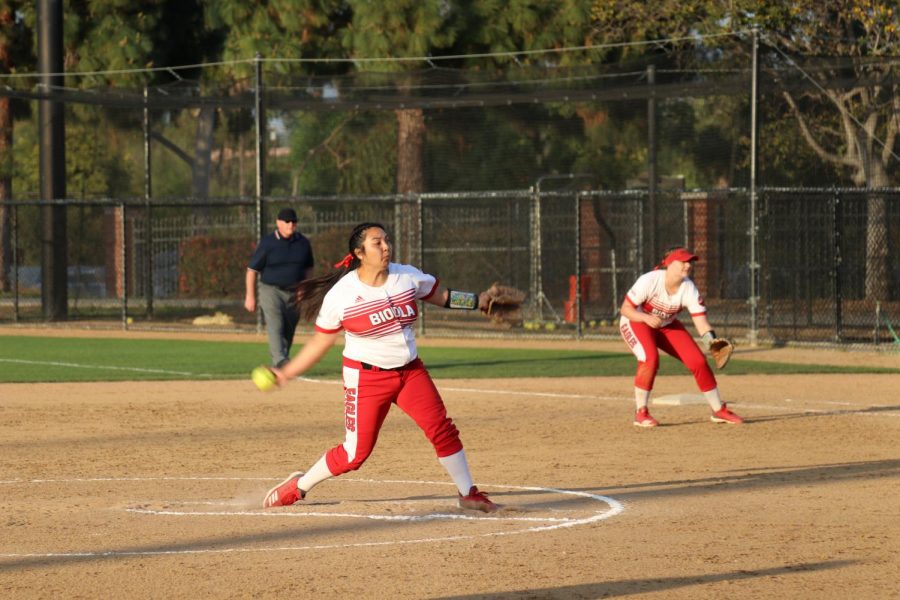 Kaile Chavez had a stellar series against Dominican University this past week. The Eagles completed the four-game sweep today, winning the first, 11-6, and coming back from behind to win the final game, 6-3. While Chavez contributed to this win, her biggest achievements came during game three of the series.
Chavez was exceptionally great during the first of two games today, dominating the Penguins through her powerful pitching. Chavez's solid stance from the mound contributed to the Eagles' highest scoring winning game of the 2019 season. Chavez allowed only one run the entire game before recording double back-to-back scoreless innings. She battled against 22 of Dominican's hitters, only allowing four total hits in the game. She has improved her pitching to an undefeated record of 2-0.
Chavez's outstanding achievements from the mound have brought her team multiple victories, and for that, she has earned the title of Chimes Athlete of the Week.
About the Writer
Andi Basista, Sports Editor
Andi Basista is a junior journalism major who loves basketball, underground music and is highly appreciative of a good beach day.



Originally from a small farm town in Ohio, I have put aside my corn shucking gloves to embrace a new life in the Angel City to study sports journalism. It is true what they say about culture shock and LA traffic. I am used to being late to work because of getting stuck behind a John Deere tractor, but now it is because of gridlock on the I5. However, I have quickly...