Softball dominates Silverswords in doubleheader
The Eagles took complete control of Chaminade in shutout second game win.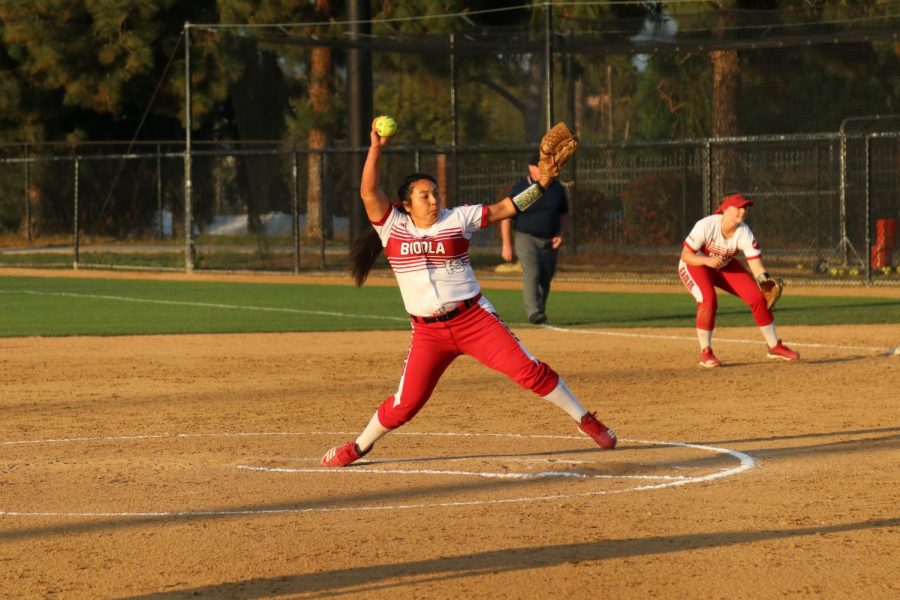 The Eagles took on the Silverswords of Chaminade University in a doubleheader this Monday at Freedom Field. The night was all Eagles as they scraped by and won the first game, 3-2, but came right back with a newfound energy to win big in game two, 11-0.
CLOSE CALL
It was a slow start for both teams. Biola and Chaminade both remained runless throughout the first three innings. The Eagles struggled to gain any headway as frustration came into play when their hits were not producing any runs.
It wasn't until freshman corner infielder Sicili Brittingham scored a run in the fourth inning that things started to pick up. Junior catcher Kayla Neff and senior first baseman Hailey Boyett each scored a run in the next inning to give the Eagles the lead.
Chaminade came back with one more run in the top of the sixth, making it a nail-biter for the fans. However, the team was able to hold the Silverswords down and took the close 3-2 victory.
The Eagles doubled the Silverswords in hits, 11-5.
"We kept enforcing this wall that has kinda been around us. We kinda play down to the level of our opponents as opposed to just playing consistently the way we know how to play, so I was really proud of the team to bounce back after that close game," said head coach Nikki Udria.
BIG SHUTOUT SECOND WIN
The Eagles entered the second game energized. Boyett hit a homer in the first inning to set Biola off on the right foot. Senior outfielder Areana Ramos brought in another run to put the Eagles up 2-0 right out of the gate.
"We all had high energy and kept the intensity up and hit the ball hard. We are going to keep it rolling," said freshman first baseman Caitlin Fowble.
The third inning was huge for Biola. Ramos, Brittingham, senior corner infielder Missy Poti, Fowble and senior shortstop Andi Hormel each scored a run to put their team up to a comfortable lead of 7-0. The fourth inning was more of the same. Ramos, Poti and Fowble each brought in a run to secure the shutout, 11-0.
"We came out and just really hit the ball the way I know we can and put some runs up on the board," Udria said.
In less than 24 hours Biola will take on the Silverswords once again. They will look to keep the same energy they brought out tonight and execute thoroughly.
"The game doesn't know what you did, so if you had a rough day today, then tomorrow you come out and have a better day. The thing is we had a great day today, so we got to go after it with the same intensity that we brought this last game," Udria said.
Biola (14-10 overall, 9-5 PacWest) will take on the Chaminade Silverswords in yet another doubleheader at Freedom Field tomorrow, March 26, at 4 p.m. and 6 p.m.
About the Writer
Andi Basista, Sports Editor
Andi Basista is a junior journalism major who loves basketball, underground music and is highly appreciative of a good beach day.

[email protected]



Originally from a small farm town in Ohio, I have put aside my corn shucking gloves to embrace a new life in the Angel City to study sports journalism. It is true what they say about culture shock and LA traffic. I am used to being late to work because of getting stuck behind a John Deere tractor, but now it is because of gridlock...